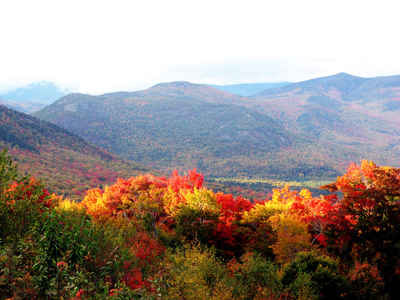 New Hampshire Counties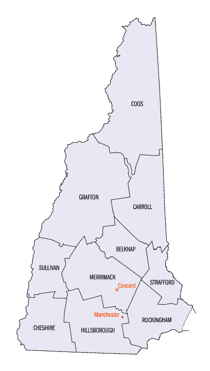 Click Image to Enlarge
New Hampshire Counties
There are currently ten Counties in the state of New Hampshire. Five of the counties were created in 1769, when New Hampshire was still an English colony and not a state, during the first subdivision of the state into counties. The last counties created were Belknap County and Carroll County, in 1840.
New Hampshire Counties: History and Information
Find a brief history of New Hampshire Counties
New Hampshire was named in 1629 by Captain John Mason of Plymouth Council for his home county in England. Algonquian-speaking peoples, including the Pennacook, lived in the region when the Europeans arrived. The first explorers in the area were England's Martin Pring in 1603 and France's Champlain in 1605. The first settlement was established at Odiorne's Point (now the port of Rye, New Hampshire).
Native American conflicts were ended in 1759 by Robert Rogers' Rangers. In 1774, before the American Revolution, New Hampshire residents seized a British fort at Portsmouth, and drove out the royal governor. In 1776 New Hampshire was the first colony to adopt its own constitution. Three regiments served in the Continental Army, and scores of privateers raided British shipping. New Hampshire did not adopt a state flag until 1909. Prior to that time, numerous regimental flags served to represent the state. The New Hampshire flag consists of the state seal centered on a blue field and surrounded by a wreath of laurel leaves with nine stars interspersed. New Hampshire was the ninth of the original thirteen states to ratify the Constitution
County
2000
Population
Square
Miles
County Seat
Created
Belknap County
56,325
401
Laconia
1840
Carroll County
43,666
934
Ossipee
1840
Cheshire County
73,825
708
Keene
1769
Coos County
33,111
1,801
Lancaster
1803
Grafton County
81,743
1,714
North Haverhill
1769
Hillsborough County
380,841
876
Nashua
1769
Merrimack County
136,225
934
Concord
1823
Rockingham County
277,359
695
Brentwood
1769
Strafford County
112,233
369
Dover
1769
Sullivan County
40,458
537
Newport
1827
---