New Hampshire State Almanac: Facts and Figures
Quick Facts, Figures, and Overview of the State of New Hampshire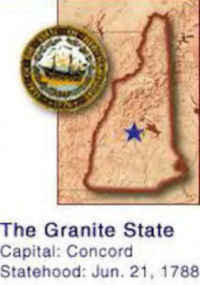 New Hampshire is one of the New England states of the US. The state is famous for its chilly winters and beautiful features. The scenic state covers a total area of 9,304 sq. miles and has common boundaries with Vermont, Massachusetts, Maine, Quebec (Canada), and the Atlantic Ocean. Captain John Mason received a grant for land in 1629. He named this land New Hampshire after the English county of Hampshire where he had enjoyed a number of years as a child.
Manufacturing and services (including tourism) are the leading industries of New Hampshire. Abundant water power turned New Hampshire into an industrial state early on, and manufacturing is the principal source of income. The most important industrial products are electrical and other machinery, textiles, pulp and paper products, and stone and clay products. Dairy and poultry, and growing fruit, truck vegetables, corn, potatoes, and hay are the major agricultural pursuits. Because of New Hampshire's scenic and recreational resources, tourism now brings over $3.5 billion into the state annually.
Official Name
New Hampshire
Capital
Concord
Nicknames
The Granite State ...and more
Motto
Live free or die
Location
Region
43.23159 N, 071.56007 W
New England
Northeastern
Constitution Ratified
1784
Statehood
June 21, 1788
9th state
Population
1,316,470 (2010)
137.78 sq. mi.
41st
Largest City
(by population)
10 largest cities (2010 est.):Manchester, 109,565; Nashua, 86,494; Concord, 42,695; Derry 33,109; Dover, 29,987; Rochester, 29,752; Salem, 28,776; Merrimack, 25,494; Hudson, 24,467; Londonderry, 24,129; Keene, 23,409
Bordering States
North: Quebec Province, Canada (Halls Stream forms part of the Northwestern boundary)
East: Maine and the Atlantic Ocean
South: Massachusetts
West: Vermont (Connecticut River forms almost all the Western border)
Coastline: 13 mi.
Major Industry
textiles, lumber, tourism, electronic equipment, software
Major Rivers
Androscoggin River, Connecticut River, Merrimack River
Major Lakes
Lake Winnipesaukee
New Hampshire Counties
10 Counties in New Hampshire
Largest County
(by population)
Hillsborough County
400,721 (2010)
876 sq. mi.
Largest County
(by population)
Coos County
1,801 sq. mi.
State parks
72
Presidential Birthplace
Franklin Pierce was born in Hillsborough (now Hillsboro) on November 23, 1804 (he was the 14th US President, serving from 1853 to 1857).
Electoral Votes
4
US Congress
2 Senators; 2 Representatives
Time Zone
Eastern Standard Time
Zip Codes
NANPA
State Quick Facts
Census Bureau Quick Facts
---
New Hampshire Climate and Weather

There are four distinct seasons in New Hampshire. The mountains are generally cooler and wetter than the rest of the state. Days are usually warm in that period and nights cool. Summer can be humid but is comfortable for the most part. Expect July to produce some days with temperatures above 90 F/32 C and nights with lows in the 50s F/10-15 C. Early fall expect warm-to-brisk days and cool nights in the fall (43-70 F/6-21 C, cooler in the mountains).

Though snowfall in any one area varies from year to year, there's usually snow cover all winter inland, with average snowfall from 50-70 in/127-178 cm in the south and 60-100 in/152-254 cm in the north. January temperatures range from lows of 5 F/-15 C to highs of 31 F/-2 C, though most places experience some days below 0 F/-18 C. At the summit of Mt. Washington (not a place most people will want to visit in the winter), temperatures can go down to -100 F/-73 C.

Highest Temperature
106 degrees
July 4th, 1911 - Nashua
Lowest Temperature
-46 degrees
January 28, 1925 - Pittsburg
Avg. Temp:
High - Low
82.6 degrees - 9.0 degrees

New Hampshire Points of Interest

Spectacular scenery and scores of outdoor activities and adventures help make New Hampshire a favorite travel destination.

Vacation attractions include Lake Winnipesaukee, largest of 1,300 lakes and ponds; the 724,000-acre White Mountain National Forest; Daniel Webster's birthplace near Franklin; and Strawberry Banke, restored buildings of the original settlement at Portsmouth. In 2003, the famous "Old Man of the Mountain"granite head profile, the state's official emblem, fell from its perch in Franconia.

New Hampshire Highest, Lowest, & Mean Elevations (Feet)

Mean Elevation: 1,000 feet

Highest Point Mt. Washington: 6,288 feet

The highest mountain in the northeast, Mount Washington. There is Cog Railroad running to the summit from the west and an auto road from the east. South of the peak is the AMC's Lakes of the Clouds hut. At the base of the east side is the AMC's Pinkham Notch Visitors Center. The highest surface wind ever recorded on earth was on the summit of Mt Washington, 231 MPH on April 12, 1934

Lowest Point:
Atlantic Ocean
Sea level

New Hampshire Land Area (Square Miles)

Geographic Center
In Belknap County, 3 mi. E of Ashland
Total Area
9,349.94
46th
Land Area
8,968.10
95.93%
Water Area
381.84
4.07%
Forested Land Area
86.3%
Dimensions
(Length - Width)
190 miles -,70 miles
County Information and County History
Almanac Online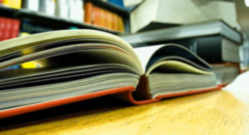 Information on people & places that make US a great place to live, visit, or study.