Oklahoma State Cartoon Character
GUSTY®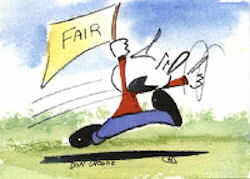 Adopted in 2005
GUSTY® is Oklahoma's official state cartoon character, thanks to a statute established in 2005.
In 1954 a cartoon character was created by Don Woods to be used on his TV weather shows in Tulsa, Oklahoma as a way to illustrate the weather forecast. Sometimes he drew GUSTY enjoying the warm sunshine or diving for cover in a "Frady Hole" during a tornado. Today Gusty is famous. Gusty is Don Woods' legal trademark and is in the Smithsonian Museum in Washington D.C. and the Gilcrease Museum in Tulsa, Oklahoma.
History of Adoption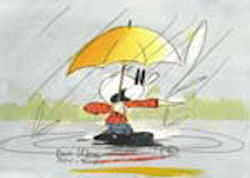 Senate Bill 464, by State Sen. Scott Pruitt and State Rep. Pam Peterson, would make Wood's creation "the state cartoon character" of Oklahoma.

Woods created the cartoon character to illustrate weather news when he began working for a Tulsa television station in 1954. The unveiling of each day's Gusty cartoon - normally drawn on live TV - became an evening ritual for many Tulsa-area families until Woods retired in 1989.

"Don Woods would depict the weather in the cartoon," Peterson said. "If it was a windy day, he would draw Gusty's umbrella blown inside out. Families would gather each evening to see what he would draw and they could write in and request a picture and receive the original drawing. When Don retired in 1989, the requests were stacked high - there were thousands - because it was so popular."

The cartoon creation became so famous that the Smithsonian's Institution's registrar requested a drawing of Gusty.

Since his retirement, Woods has been honored with an award from the Oklahoma Association of Broadcasters, declared a Tulsa Press Club TV Icon, and recognized by President George W. Bush.

Pruitt and Peterson, both Tulsa Republicans, said Senate Bill 464 is just one more way to honor Woods' career.

"I think Gusty would be a good representative for our state," Peterson said.

-SB 464 by Sen. Scott Pruitt and Rep. Pam Peterson makes GUSTY the official state cartoon character. The bill was passed as an emergency measure by a vote of 43-0.
Oklahoma Law
The law designating GUSTY« as the official Oklahoma state cartoon character is found in the Oklahoma Statutes, Title 25, Section 25-98.9.
Title 25. Definitions and General Provisions
Section 25.98.9
§25-98.9. State cartoon character.
GUSTY« is hereby designated and adopted as the state cartoon character of the State of Oklahoma.
Added by Laws 2005, c. 32, § 1, emerg. eff. April 6, 2005.
---