Oklahoma State Grass
Indian Grass (Indiangrass)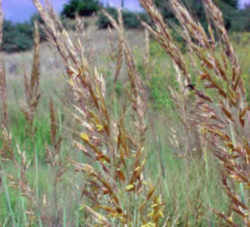 (Sorghastrum nutans)
Adopted on January 24, 1972.
Indiangrass, (Sorghastrum nutans,) was adopted as Oklahoma's state grass upon approval of Senate Concurrent Resolution No. 72, on January 24, 1972 introduced by Senator Ed Berrong of Weatherford.
After the mistletoe and Indian blanket came the redbud as state tree in 1971, Indian grass as grass in 1972, and the Oklahoma Rose in 2004.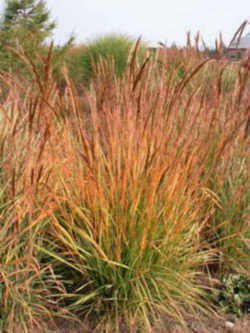 Indiangrass, or Little Bluestem, is a native warm-season prairie bunchgrass widely distributed in the United States throughout the Great Plains from Canada south to the Gulf of Mexico.
Both cold and drought tolerant, Indiangrass is a vigorous and robust perennial. Its roots can lay dormant for up to 5 years, waiting for better growing conditions. Fertile bottom soils with protection from the wind are the prime conditions for Indiangrass, but it also grows in sandy soils and on dry slopes, and can be found in almost any other soil type.
Stems grow from 3 to 5 feet tall, although they may reach as high as 8 to 10 feet. Blue-green leaves are smooth and flat, a half inch wide, elongated, narrow at the base. The panicle, or flower stem, is 8 to 12 inches long and bronze to yellow in color, turning into a golden plume when the seeds are produced. The plant spreads both by self-seeding and by underground rhizomes, which are short and scaly with fuzzy nodes.
As a forage crop, Indiangrass is most useful in the Central and Southern Great Plains. Domestic and wild grazing animals find it quite palatable while succulent (green); it can also be cut for hay.
Characteristics of Indiangrass, or Little Bluestem
Culm: Erect, hollow, 3 to 7 feet tall, nodes are fuzzy pubescent.
Blades: Flat, 2 to 24 inches long, .2 to .5 inch wide, pointed, taper to a narrow base, very rough, often glaucous, prominent midrib near the base.
Sheath: Upper shorter than the internodes, usually glabrous. Very prominent "rabbit ear" auricles.
Ligule: Membranous, thick, stiff, 2 to 4 mm long, flanked by pointed auricles.
Inflorescence: Narrow, oblong panicles, 6 to 12 inches long, that are large, dense and bronze-yellow. The apex is often nodding. At first the panicles are open, but are contracted and darker after flowering.
Spikelets: In pairs. Sessile spikelets hirsute 6 to 8 mm long, lanceolate, nearly circular in cross-section, perfect. Pedicellate spikelet represented merely by a hairy pedicel at one side of the sessile spikelet. The spikelets droop, are yellowish to reddish brown and covered with reddish brown hairs toward the base.
Awns: The .5 to .75 inch awn is bent and is twisted up to the bending point. The awn is longer than the spikelet.
Oklahoma Senate Concurrent Resolution No. 72
Introduced by Senator Ed Berrong of Weatherford.
THE STATE SENATE
Monday, January 24, 1972

SENATE CONCURRENT RESOLUTION NO. 2

SENATE CONCURRENT RESOLUTION NO. 72 - By Berrong

A CONCURRENT RESOLUTION DESIGNATING AND ADOPTING INDIANGRASS, SORGHASTRUM NUTANS, AS THE STATE GRASS OF OKLAHOMA.

WHEREAS, The State of Oklahoma not designated or adopted any State Grass; and

WHEREAS, Indiangrass has been in the past, and remains today, one of the most productive, palatable and important native grasses in Oklahoma; and

WHEREAS, Oklahoma means "Home-of-the-Redman" and has a greater population of Indians than any other state; and

WHEREAS, Indiangrass grows in every county in the state; and

WHEREAS, Indiangrass is one of the most beautiful native grasses.

NOW, THEREFORE, BE IT RESOLVED BY THE SENATE OF THE 2ND SESSION OF THE 33RD OKLAHOMA LEGISLATURE, THE HOUSE OF REPRESENTATIVES CONCURRING THEREIN:

SECTION 1. Indiangrass, Sorghastrum nutans, is hereby designated and adopted as the State Grass of the State of Oklahoma.
Taxonomic Hierarchy: Indiangrass
Kingdom: Plantae - Plants
Subkingdom: Tracheobionta - Vascular plants
Superdivision: Spermatophyta - Seed plants
Division: Magnoliophyta - Flowering plants
Class: Liliopsida - Monocotyledons
Subclass: Commelinidae
Order: Cyperales
Family: Poaceae ⁄ Gramineae - Grass family
Genus: Sorghastrum Nash - Indiangrass
Species: Sorghastrum nutans (L.) Nash - Indiangrass
---