Oklahoma State Fruit
Strawberry
(Genus Fragaria)
Adopted on May 19, 2005.
Skiatook students were at the State Capitol Thursday morning, May 19, 2005, as Governor Henry signed legislation making the strawberry, (Genus Fragaria,) Oklahoma official state fruit.
Henry held a Ceremonial Bill Signing for House Bill 1762, authored by Representative Joe Sweeden of Pawhuska. The idea for House Bill 1762 was presented last spring by fifth grade students in Pam Bell's class at Skiatook Intermediate Elementary School. The students found that while the state has more than 40 state emblems, it had no official state fruit.

Students came up with the strawberry, noting that they are grown in at least eight Oklahoma counties. The Oklahoma Cooperative Extension Service says strawberries are also the number one fruit crop for home plantings in Oklahoma. The bill was introduced this legislative session and passed through both houses with great support.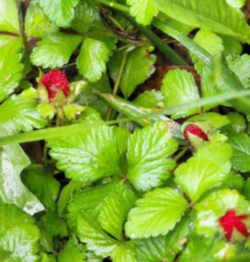 The garden strawberry (or simply strawberry Fragaria ?ananassa) is a widely grown hybrid species of the genus Fragaria (collectively known as the strawberries). It is cultivated worldwide for its fruit. The fruit (which is not a botanical berry, but an aggregate accessory fruit) is widely appreciated for its characteristic aroma, bright red color, juicy texture, and sweetness. It is consumed in large quantities, either fresh or in such prepared foods as preserves, fruit juice, pies, ice creams, milkshakes, and chocolates. Artificial strawberry aroma is also widely used in many industrial food products.
The garden strawberry was first bred in Brittany, France, in the 1750s via a cross of Fragaria virginiana from eastern North America and Fragaria chiloensis, which was brought from Chile by Am??-Fran?is Fr?ier in 1714. Cultivars of Fragaria ?ananassa have replaced, in commercial production, the woodland strawberry (Fragaria vesca), which was the first strawberry species cultivated in the early 17th century.
Technically, the strawberry is an aggregate accessory fruit, meaning that the fleshy part is derived not from the plant's ovaries but from the receptacle that holds the ovaries. Each apparent "seed" (achene) on the outside of the fruit is actually one of the ovaries of the flower, with a seed inside it.
OKLAHOMA CITY (Feb. 9, 2005) - While most people tend to think of big business and trial lawyers as the major lobbying forces in Oklahoma government, a new crop of lobbyists are becoming key players at the State Capitol - and they're all in elementary school.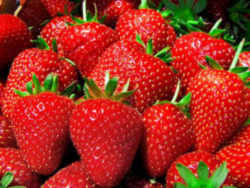 Just one week after news that a class of Bridge Creek fifth-graders is pushing for a bill promoting a fitness plan for fifth-grade students statewide, Rep. Joe Sweeden announced today that fifth-graders from Skiatook have convinced him to file legislation to designate the strawberry as the official state fruit.

After conducting in-class research about their state in February of last year, the two fifth-grade classes taught by Pam Bell at Skiatook Intermediate Elementary discovered that while Oklahoma has over 40 state emblems, including a state bird, a state rock and a state percussive musical instrument (the scissor-tailed flycatcher, the rose rock and the drum, respectively), it does not have a state fruit.

Upon careful consideration, weighing the fact that strawberries are grown in at least eight Oklahoma counties, the classes voted that the strawberry should be the state fruit, with watermelon as the runner-up. After the students received approval for the proposal from all 175 fifth-grade students at Skiatook Elementary, Bell contacted Sweeden, D-Pawhuska, the state representative for the Skiatook area, who agreed to carry House Bill 1762 before the Legislature, in hopes of making the emblem official.

"I think it is always great when young people show a keen interest in their state, its native culture and the legislative process," Sweeden said. "Whenever we can help to encourage that interest, we have a great opportunity to instill state pride within Oklahoma's future leaders."

At least two other bills this session were originally inspired by Oklahoma elementary school students. Third-through-sixth-graders from Moore persuaded Sen. Kathleen Wilcoxson, R-Oklahoma City, to file a bill to make the selenite crystal the official state gem. And a fifth-grade class from Bridge Creek served as the inspiration behind legislation authored by Rep. Susan Winchester, R-Chickasha, that would establish a program designed to encourage fifth-grade students throughout Oklahoma to practice regular exercise and healthy living, while simultaneously educating them about their state.

In order to truly understand where the Skiatook fifth-graders were coming from, Sweeden visited the school after being notified of the class' legislative intentions. While there, he explained the Oklahoma legislative process to the students, outlining for them the various steps a bill must go through before it can become law.

According to Sweeden, who during his six years in office has often visited classrooms in his district to help educate students about state government, Bell's class also contacted their other state legislator, Sen. J. Berry Harrison, requesting his help in seeing HB 1762 pass in the Senate.

"Ms. Bell and her class told me their goal is to come to the Capitol and watch the House proceedings when the bill reaches the floor," Sweeden said. "They want to lobby for the bill, make phone calls, whatever it takes. My hope is that they can witness firsthand the governor signing their bill into law. Who knows, maybe we could even have him come out to Skiatook Elementary and sign the bill for the whole student body to see."

Sweeden said HB 1762 has been assigned to the House Rules Committee, and he has personally asked committee Chairman Sue Tibbs to allow the measure to receive a hearing.

"I'm very excited about the opportunity to help these students learn more about the legislative process," Sweeden said. "While they're at it, they could potentially be a part of history in-the-making."
History of the Strawberry
Wild strawberries have been growing in Italy since 235 BC. It is unknown when they started growing in North America, but when European settlers landed in Virginia in 1588, they discovered strawberries growing. Massachusetts settlers ate strawberries grown by American Indians as early as 1643.
In 1714, a French naval officer found a flowering strawberry plant in Chile. The plant was sent to a French horticulture center where the plant crossed with a North American strawberry plant. The result was a much larger berry than those grown elsewhere. Today's berries can be traced back to these plants.
Strawberries spread to California, and by the early 1900's were being grown on a large scale. Today, over 30,000 acres are planted in California each year which results in around one billion pounds of strawberries each year. Overall, California provides 80% of all the strawberries grown in the United States.
Oklahoma Laws
The law designating the strawberry as the official Oklahoma state fruit is found in the Oklahoma Statutes, Title 25, Section 25-98.10.
Title 25. Definitions and General Provisions
SECTION 25-98.10

§25-98.10. Official state fruit.

The strawberry is hereby designated and adopted as the official fruit of the State of Oklahoma.

Added by Laws 2005, c. 63, § 1, eff. Nov. 1, 2005
Taxonomic Hierarchy: Strawberry
Kingdom: Plantae - Plants
Subkingdom: Tracheobionta - Vascular plants
Superdivision: Spermatophyta - Seed plants
Division: Magnoliophyta - Flowering plants
Class: Magnoliopsida - Dicotyledons
Subclass: Rosidae
Order: Rosales
Family: Rosaceae - Rose family
Genus: Fragaria L. - strawberry
---