New Hampshire State Fruit
Pumpkin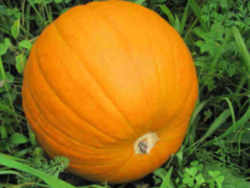 (Cucurbita mixta)
Adopted in 2006.
In 2006, the General Court adopted the pumpkin as New Hampshire official state fruit
Dan Gorenstein of New Hampshire Public Radio reports on the quest of a group of 3rd- and 4th-graders to make the pumpkin the official state fruit.
Fifteen third and fourth grade students from Wells Memorial came to persuade the agriculture committee that the state's representative fruit should be the pumpkin. Teacher Kathy Frick says the seed for pushing pumpkins came from civics class.
Keene, New Hampshire, holds the world's record for the most split pumpkins at almost 30,000 pumpkins. Throughout the fall, in every county, you will find fields and farm stands brimming with this bright, beautiful fruit.
It's an $8 million crop in the state. Souther says, it's the kind of business that should be promoted. Looking at first constituency in Northern New Hampshire, Committee Chair David Babson asked Johnny Silk to defend the pumpkin.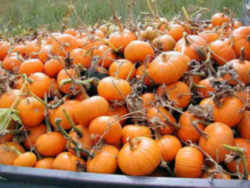 Pumpkin is the name of a plant that refers to certain cultivars of squash, most commonly those of Cucurbita pepo, that are round, with smooth, slightly ribbed skin and deep yellow to orange coloration. The thick shell contains the seeds and pulp. Some exceptionally large cultivars of squash with similar appearance have also been derived from Cucurbita maxima. Specific cultivars of winter squash derived from other species, including C. argyrosperma, and C. moschata, are also sometimes called "pumpkin". In New Zealand and Australian English, the term "pumpkin" generally refers to the broader category called winter squash elsewhere.
Pumpkins, like other squash, are thought to have originated in North America. The oldest evidence, pumpkin-related seeds dating between 7000 and 5500 BC, were found in Mexico.
Since some squash share the same botanical classifications as pumpkins, the names are frequently used interchangeably. One often used botanical classification relies on the characteristics of the stems: pumpkin stems are more rigid, prickly, and angular (with an approximate five-degree angle) than squash stems, which are generally softer, more rounded, and more flared where joined to the fruit.
Pumpkins belong to any of four species. Physical characteristics and use typically distinguish "pumpkins"from other squash. There are four basic types of pumpkins: small (4-6 lbs), intermediate (8-15 lbs), large (15-25 lbs) and jumbo (50-1500 lbs). Botanically, pumpkins are classified as a fruit but they are generally regarded as a vegetable. Pumpkins are generally hand harvested when fully mature, like winter squash. They are produced on trailing annual plants that have large usually 5-pointed leaves. Pumpkins, like all cucurbits, require a long, warm growing season. Pumpkins are direct-seeded after all risk of frost has passed, uniformly irrigated, shallow-rooted and bee-pollinated. The fruit can vary in size, color and shape and range from 3lbs to over 1500 pounds in weight. The rind of the fruit is soft, thus harvested pumpkins must be handled with care. Pumpkins tend to be strong flavored with a coarse flesh that makes them unsuitable for baking. Pumpkin seeds can be roasted and are a healthy snack. Pumpkins yield 15,000 pounds per acre and sell for 6 cents to 20 cents per pound. Generally pumpkins are marketed as an ornamental crop, the primary market being the Halloween season. In 2010, the world record pumpkin weighed 1,810 lbs
The color of pumpkins is derived from the orange pigments abundant in them. The main nutrients are lutein and both alpha and beta carotene, the latter of which generates vitamin A in the body.
The word pumpkin originates from the word pepon, which is Greek for "large melon", something round and large. The French adapted this word to pompon, which the British changed to pumpion and later American colonists changed that to the word that is used today, "pumpkin".
Pumpkin Day fetes students who lobbied for state fruit

By MEGHAN PIERCE
Union Leader Correspondent
October 10. 2012 11:32PM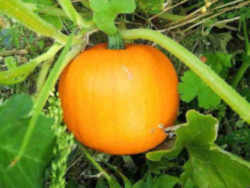 Six years after Governor John Lynch went to wells Memorial School in Harrisville to sign a bill naming the state fruit the pumpkin into law, he returned Wednesday and reunited with the Pumpkin Kids, including 16-year-olds Johnny Silk, Matthew Stone and Rusty Wilder, former Wells students who proposed the bill to state legislatures. (MEGHAN PIERCE/Union Leader Correspondent)

HARRISVILLE - Gov. John Lynch met up with the Pumpkin Kids at Wells Memorial School Wednesday and talked with current students about the monumental achievement of 15 Pumpkin Kids who lobbied the state in 2005 and 2006 to name the pumpkin the state fruit.

Hanging over the cafeteria in the small grade school of just over 40 students is a banner that reads Wells Memorial School, Home of the Pumpkin Bill.

Last year, after realizing many students had no idea what the banner meant, current principal Emily Hartshorne instituted annual Pumpkin Day.

Students dress in orange, participate in a pumpkin-themed crafts or activities and most importantly learn about the 15 third and fourth graders of the school who in the 2005 and 2006 school year drafted and presented the Pumpkin Bill to state legislators.

Twelve of the Pumpkin Kids, who are now high school sophomores and juniors, returned to Wells Memorial on Wednesday to reunite with Lynch, who signed the bill into law at the school in the spring of 2006.

"You got big,"Lynch said to Johnny Silk, 16, of Harrisville who now attends Keene High School.

Their retired teacher Kathy Frick also attended.

State government and history was part of the curriculum, she said.

"We were reading about some kids in Florida who had lobbied the governor to officially make the orange their state fruit. And they asked me 'does New Hampshire have a state fruit?' And I said I don't know and so I looked it up and told them it didn't and they said, 'Can we do that,' and I said 'I don't see why we couldn't.'"The students wrote their testimony, testified to state legislators and lobbied, she said.

"They filed the bill in the fall and they signed it into law in the spring."

Former state Rep. Dave Babson of Ossipee also attended the Pumpkin Day, saying it was the best experience of his 13 years in the state house.

"I was chairman of the committee when the bill came through,"he said. "The best part was when the parents would come up to me and say, 'I learned more than my kids did.'"Lynch was surprised when Babson said he had asked a Concord apple grower to testify for the apple instead.

"I called him up and said you can't have these kids come in here without any competition,"Babson said.

Silk was the student who without hesitation defended the choice of the pumpkin to legislators as opposed to the apple saying it was already the state fruit of many states, including Vermont. Still the argument stung at the time, he said.

"There were so many states' that had apples as state fruit that we were shocked,"Silk said.

Lynch and the Pumpkin Kids told the story of the Pumpkin Bill to the current students of the school and their memories of its passage.

Most bills do not end up becoming laws, Lynch explained. "It's very, very hard to get a bill passed into law."

"I think it was pretty amazing that us kids could have such an impact on adults twice the size of us,"said Galena Walker, 17, of Harrisville, who is a Keene High School sophomore.
New Hampshire Law
The law designating the pumpkin as the official New Hampshire state fruit is found in the New Hampshire Statutes, Title 1, Chapter 3, Section 3:24.
TITLE I: THE STATE AND ITS GOVERNMENT
CHAPTER 3: STATE EMBLEMS, FLAG, ETC.
Section 3:24 State Fruit.

3:24 State Fruit. - The pumpkin is hereby designated as the official state fruit of New Hampshire.

Source. 2006, 93:1, eff. July 5, 2006.
Taxonomic Hierarchy: Pumpkin
Kingdom: Plantae - Plants
Subkingdom: Tracheobionta - Vascular plants
Superdivision: Spermatophyta - Seed plants
Division: Magnoliophyta - Flowering plants
Class: Magnoliopsida - Dicotyledons
Subclass: Dilleniidae
Order: Violales
Family: Cucurbitaceae - Cucumber family
Genus: Cucurbita L. - gourd
Species: Cucurbita mixta Pang. - pumpkin
---