New Hampshire State Sport
Skiing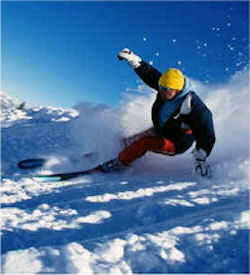 Adopted on May 19, 1998.
Skiing is the state sport of New Hampshire. It was adopted on May 19, 1998.
New Hampshire in winter will excite your senses, nourish your spirit and inspire your imagination. There's nothing like New Hampshire's legendary big mountains to get alpine skiers and snowboarders dreaming...and there are some wonderful family-size mountains, too. Cross country ski networks range from a few kilometers across snow-covered golf courses to 100+ kilometer world class trail networks. Many cross country centers offer snowshoeing, while many alpine resorts have snowtubing runs with lifts.
Ski New Hampshire is the official source for alpine and cross country ski conditions. Many Ski NH alpine and nordic resorts provide adaptiveskiing programs for the disabled. Details are given on the Ski NH website.
New Hampshire and the Emergence of an American Ski Industry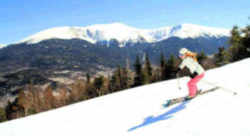 Posted on June 4, 2014 by admin

by Jeffrey R. Leich, Executive Director, New England Ski Museum
First published in Historical New Hampshire, Volume 63, Number 2 (Fall 2009)

NEW HAMPSHIRE was the epicenter of American skiing from the 1930s into the 1950s when the focus shifted west to higher mountains and deeper, more consistent snowfall. Skiing first became popular as a sport and recreation in the late nineteenth and early twentieth centuries in northern Europe, notably the Scandinavian countries, Germany, and Austria. As the new sport crossed the Atlantic, it became established in and around the northeastern port cities of New York and Boston, which had hinterlands noted for hills and mountains, snowy winters, resorts, and established transportation networks. Due largely to its proximity to Boston, New Hampshire rose to an early, though brief, prominence as a site for recreational skiing in the United States. The state's influential role was due as well to the passionate interests of three distinct groups: the Scandinavian working-class immigrants who flooded into the Berlin paper mills in the late 1800s; the Dartmouth Outing Club students who became enamored of the sport in the 1910s and 1920s; and the generally older, more staid membership of the Boston-based Appalachian Mountain Club.
s a result of these positive influences, New Hampshire became established as a skiing hub by the early 1930s, just as the popularity of the new sport was beginning to escalate. Dartmouth followed closely new skiing developments on the Continent, and downhill skiing techniques, developed in Europe by professional ski instructors such as Hannes Schneider, were popular in the teens and twenties.. Many who learned skiing in Dartmouth and other college outing clubs kept up the activity as they moved into a variety of careers, becoming advocates for the sport. Owners of summer inns in the White Mountains and elsewhere quickly saw the potential for a winter season; state agencies also foresaw future revenue and mounted publicity campaigns....
New Hampshire Law
The law designating skiing as the official New Hampshire state sport is found in the New Hampshire Statutes, Title 1, Chapter 3, Section 3:22.
TITLE I THE STATE AND ITS GOVERNMENT
CHAPTER 3 STATE EMBLEMS, FLAG, ETC.
Section 3:22

3:22 State Sport.
Skiing is hereby designated as the official state sport of New Hampshire.
Source. 1998, 94:1, eff. July 18, 1998.
---