Nebraska Geography: The Land
Geography and Landforms of Nebraska

Find an overview of Nebraska geography, topography, geographic land regions, land areas, and major rivers.
Access Nebraska almanac, furnishing more details on the state geography, geographical and land regions, climate and weather, elevation, land areas, bordering states, and other statistical data.
Nebraska is bordered by South Dakota on the north and by Colorado and Kansas on the south. On the east, Nebraska is bordered by Iowa and Missouri, and on the west, by Colorado and Wyoming.
Major Nebraska rivers include the Missouri, the Niobrara, and the Platte. Nebraska is located in the center of the continental United States.
The far northwestern corner of the Nebraska includes a small area of Badlands where wind and water have shaped the sandstone and clay into strange natural formations. Toadstool Park, part of the Ogallala National Grasslands, is part of this area.
Nebraska Highest, Lowest, & Mean Elevations

Mean Elevation
2,600 ft.
Highest Point
Johnson Township, Kimball County
5,424 ft.
Lowest Point
Missouri River
840 ft.

Nebraska Land Area (Square Miles)

Geographic Center
In Custer County, 10 mi. NW of Broken Bow
Longitude: 99° 51.7'W
Latitude: 41° 31.5'N
Total Area
77,353.73 sq. mi.
16th
Land Area
76,872.41 sq. mi.
99.38%
Water Area
481.31 sq. mi.
0.62%
Forested Land Area
1.9%
Dimensions
(Length - Width)
430 miles - 210 miles
---
The state comprises two major land regions:
Dissected Till Plains
Great Plains of Nebraska
Dissected Till Plains
The Dissected Till Plains occupy much of Iowa, eastern Nebraska, northwest Missouri, and small parts of northwest Illinois, southern Minnesota, and northeast Kansas. This area was glaciated, uplifted, and subsequently eroded into a flat-to-rolling terrain that slopes gently toward the Missouri and Mississippi River Valleys. Natural vegetation is a mosaic of tallgrass bluestem prairie and oak-hickory forest with oak savannahs characteristic of transition zones. Bottomland hardwoods grow in river valleys.
Dissected Till Plains in the eastern part of the state rise to the Great Plains in the north central and northwest parts of the state. This area cover the eastern fifth of Nebraska. It consists of rolling hills criss-crossed by streams and rivers. The Dissected Till Plains are farm country and fields of corn, soybeans, sorghum grain, and other crops blanket the region.

Great Plains
The Great Plains of Nebraska lie to the west of the Till Plains and extend across the state into Wyoming and Colorado. Loess covers the central and south-central Great Plains. This area can be rough and hilly. A relatively flat area in the southeastern section, interspersed with lakes and wetlands, is farmed intensely. This area, about 7,000 square miles, is called The Loess Plains.
Nebraska Landscape and Landforms:
Central Mixed-grass Prairie
The majority of the Central Mixed-grass Prairie occurs in central Kansas and Nebraska, with a small portion in southern South Dakota. The northern and western portions are covered by the Nebraska Sandhills, an area of rolling, irregular dunes interspersed with gently sloping valleys and numerous small wetlands. The remainder of the physiographic area is a dissected loess plain drained by several major rivers. Whereas all of the uplands are naturally mixed and tallgrass prairie communities, the larger river valleys support northern floodplain forests.
Central Shortgrass Prairie
The Central Shortgrass Prairie Physiographic Area covers much of eastern Colorado and smaller portions of western Kansas, southwestern Nebraska, and southeastern Wyoming.
The region contains flat to gently rolling topography, with occasional canyons and bluffs. Elevations within Colorado range from about 975 m (3,200 ft.) in Prowers County to about 1800 m (6,000 ft) around Limon and near the foothills of the Rockies. Principal rivers include the South Platte, Arikaree, Big Sandy, Republican, and Arkansas. Precipitation is low, less than 50 cm (20 in) per year with most of that falling in spring and summer; total precipitation varies greatly between years at a given location and varies significantly more than in mixed grass or tallgrass systems (Wiens 1972). Mean monthly temperatures range from -12°C (1°F) in winter to 38°C (10°F) in summer. Localized severe weather is not uncommon, and blizzards, hailstorms, and tornadoes occur in most years.

The dominant habitat in this physiographic area is shortgrass prairie. Shortgrass is dominated by two low-growing warm-season grasses, blue grama and buffalo grass; western wheatgrass is also present, along with taller vegetation including widespread prickly-pear cactus and yucca, and cholla in the south. Sandsage prairie is found where sandy soils occur, and is dominated by sand sagebrush and the grasses sand bluestem and prairie sand-reed. Mixed grass (needle-and-thread, side-oats grama) and tallgrass (big bluestem, little bluestem, switchgrass) communities occur locally
West River
West River is comprised of those areas west of the Missouri River in North Dakota and South Dakota, including the Black Hills, as well as a small portion of northwestern Nebraska. It is predominantly a grassland, with riparian woodlands along major waterways and coniferous forest in the Black Hills and other isolated highlands in the west. This area is a mixed grass prairie, but is considerably drier than either the Northern Mixed Grass Prairie physiographic area to the east or the Nebraska Sandhills of the Central Mixed Grass Prairie to the south. Because it was not recently glaciated, it lacks the prairie potholes so important to wetland birds. Large areas in the western portion of this area are highly dissected landscapes known as "badlands."
US Geography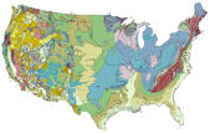 Geography is a field of science dedicated to the study of the lands, the features, the inhabitants, and the phenomena of the Earth.