Nebraska State Almanac: Facts and Figures
Quick Facts, Figures, and Overview of the State of Nebraska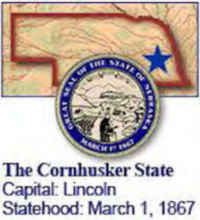 Nebraska is one of the West North Central states of the US. It is literally located in the heart of the United States. Nebraska encompasses a total land area of 77,354 sq. miles and is edged by Missouri, Iowa, South Dakota, Colorado, Kansas, and Wyoming. Nebraska named after the Platte River from the French meaning "broad river." The Omaha Indians called the river "iboa'pka" also meaning "broad river."
Nebraska has traditionally been known as an agricultural state. By the 1990s, although it remained one of the leading grain-producer with bumper crops of sorghum, corn, and wheat. More varieties of grass, valuable for forage, grow in this state than in any other in the nation. The state's sizable cattle and hog industries make Dakota City and Lexington among the nation's largest meat-packing centers., Nebraska had a diversified economy, dominated by services and manufacturing as well. Manufacturing has become diversified: Firms making electronic components, auto accessories, pharmaceuticals, and mobile homes have joined such older industries as clothing, farm machinery, chemicals, and transportation equipment. Oil was discovered in 1939 and natural gas in 1949.
Official Name
Nebraska
Capital
Lincoln
Nicknames
Cornhusker State (1945), Tree Planters State ...and more
Motto
Equality before the law
Location
Region
40.81640 N, 096.68817 W
Great Plains
Midwest
Northwestern
Constitution Ratified
October 12,1875
Statehood
March 01, 1867
37th state
Population
1,826,341 (2010)
22.26 sq. mi.
38th
Largest City
(by population)
10 largest cities (2010 est.):Omaha, 408,958; Lincoln, 258,379; Bellevue, 50,137; Grand Island, 48,520; Kearney, 30,787; Fremont, 26,397; Hastings, 24,907; North Platte, 24,733; Norfolk, 24,210; Columbus, 22,111

Bordering States
North: South Dakota
East: Iowa and Missouri (Missouri River forms the Eastern boundary)
South: Kansas
South West: Colorado
West: Wyoming
Major Industry
farming (corn, soybeans, wheat, sorghum), grain processing, meat-packing the Air Force Strategic Air Command,
Major Rivers
Missouri River, Niobrara River, Platte River, Republican River
Major Lakes
Lewis and Clark Lake, Harlan County Lake, Lake C.W. McConaughty
Nebraska Counties
93 Counties in Nebraska
Largest County
(by population)
Douglas County
517,110 (2010)
331 sq. mi.
Largest County
(by area)
Cherry County
5,961 sq. mi.
State parks
87
Presidential Birthplace
Gerald Rudolph Ford was born in Omaha on July 14, 1913 (he was the 38th US President, serving from 1974 to 1977).
Electoral Votes
5
US Congress
2 Senators; 3 Representatives
Time Zone
Central Standard Time
Zip Codes
NANPA
State Quick Facts
Census Bureau Quick Facts
---
Nebraska Climate and Weather

Nebraska enjoys warm summers, generally dry winters, moderate humidity and plenty of sunshine. Early evening thunderstorms are common in summer, especially central and east. Tornados strike the state on a regular basis as Nebraska is in America's Tornado Alley

January is the coldest month, with average high temperatures near 20 degrees. July is the warmest month, with average high temperatures near 80 degrees. Much hotter summers and harsh, cold winters are not uncommon.

Annual precipitation amounts range from 20 - 30 inches in the east and central, while the west has much drier conditions.
Highest Temperature
118 degrees
July 24, 1936 - Minden
Lowest Temperature
-47 degrees
February 12, 1899 - Camp Clarke
Avg. Temp:
High - Low
89.5 degrees - 8.9 degrees

Nebraska Points of Interest

Chimney Rock Historic Site; the State Capital Building in Lincoln and the University of Nebraska; Omaha and it numerous cultural events and family entertainment options; Scotts Bluff National Monument, Agate Fossil Beds, Homestead, and Scotts Bluff National Monuments; Chimney Rock National Historic Site; a recreated pioneer village at Minden; SAC Museum near Ashland; the Stuhr Museum of the Prairie Pioneer Grand Island; Boys Town; the Sheldon Memorial Art Gallery and the Lied Center for the Performing Arts at the University of Nebraska in Lincoln; the State Capitol in Lincoln; the Joslyn Art Museum in Omaha; the Henry Doorly Zoo in Omaha; Museum of Nebraska Art in Kearney; Museum of Nebraska History in Lincoln; and the University of Nebraska State Museum in Lincoln and much, much more.

Nebraska Highest, Lowest, and Mean Elevations (Feet)

Mean Elevation: 2,600 feet
Highest Point: Panorama Point; Johnson Township, Kimball County: 5,424 feet

In the extreme southwest corner of the Banner County, thirty three miles from Kimball, rises the highest point in Nebraska overlooking three states, Nebraska, Colorado and Wyoming. This site, 5,424 feet above sea level, looks more like a rise in a pasture than the highest point in the state.

Lowest Point:
Missouri River
840 feet

Nebraska Land Area (Square Miles)

Geographic Center
In Custer County, 10 mi. NW of Broken Bow
Longitude: 99°51.7'W
Latitude: 41°31.5'N
Total Area
77,353.73 sq. mi.
16th
Land Area
76,872.41 sq. mi.
99.38%
Water Area
481.31 sq. mi.
0.62%
Forested Land Area
1.9%
Dimensions
(Length - Width)
430 miles - 210 miles
County Information and County History
Adams, Antelope, Arthur, Banner, Blaine, Boone, Box Butte, Boyd, Brown, Buffalo, Burt, Butler, Cass, Cedar, Chase, Cherry, Cheyenne, Clay, Colfax, Cuming, Custer, Dakota, Dawes, Dawson, Deuel, Dixon, Dodge, Douglas, Dundy, Fillmore, Franklin, Frontier, Furnas, Gage, Garden, Garfield, Gosper, Grant, Greeley, Hall, Hamilton, Harlan, Hayes, Hitchcock, Holt, Hooker, Howard, Jefferson, Johnson, Kearney, Keith, Keya Paha, Kimball, Knox, Lancaster, Lincoln, Logan, Loup, Madison, McPherson, Merrick, Morrill, Nance, Nemaha, Nuckolls, Otoe, Pawnee, Perkins, Phelps, Pierce, Platte, Polk, Red Willow, Richardson, Rock, Saline, Sarpy, Saunders, Scotts Bluff, Seward, Sheridan, Sherman, Sioux, Stanton, Thayer, Thomas, Thurston, Valley, Washington, Wayne, Webster, Wheeler, York
Almanac Online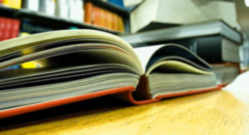 Information on people & places that make US a great place to live, visit, or study.