Hawaii Almanac: Facts and Figures
Quick Facts and Figures on the State of Hawaii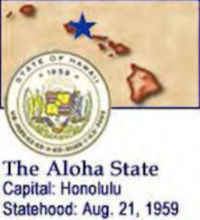 Hawaii Almanac furnishes quick facts and figures on the state, its history and geography; largest and smallest counties, largest cities; climate and weather, temperature, highest, lowest, and mean temperatures; elevations, lowest, highest elevations; total area, land area and water area, state forest and park areas; bordering states, electoral votes, number of senators and representatives to the US Congress, and other statistical data.
Use this almanac of Hawaii for information on local issues, politics, events, celebrations, people and business pertaining to the state of Hawaii that can be found online.
Hawaii is a Pacific state of the US. It consists mainly of the Hawaiian Islands, an archipelago near the geographic center of the North Pacific Ocean, and other islets unrelated geographically to the archipelago; in all, 8 main islands and 124 islets, reefs, and shoals. The major islands in order of size are Hawaii, Maui, Oahu, Kauai, Molokai, Lanai, Niihau, and Kahoolawe. The island archipelago is located some 2,000 miles southwest of the US mainland. The islands have been formed through continuous activity of tectonic plates. The active volcanoes of Hawaii are located in the southern half of the island named Hawa'i. The state of Hawaii is host to a whole variety of flora and fauna and a whole range of environments from its tropical climate to its high altitude. Hawaii Name: One theory has it that Hawaii name comes from a combination of the words "Hawa" and "ii" and means a small or new homeland; "Hawa" meaning a traditional homeland and "ii" meaning small and raging. The other theory is that the name comes from the traditional discoverer of the islands, Hawaii Loa.

As agriculture has declined in importance, the economy has diversified to encompass a large tourist business and a growing manufacturing industry. The temperature is mild, and cane sugar, pineapple, and flowers and nursery products are the chief products. Hawaii also grows coffee beans, bananas, and macadamia nuts. The tourist business is Hawaii's largest source of outside income.
Official Name
Hawaii
Capital
Honolulu
Nicknames
Aloha State (1959) ... and more
Motto
Ua Mau Ke Ea O Ka Aina I Ka Pono (The life of the land is perpetuated in righteousness.)
Location
Region
25.00201 N, 167.99880 W
Hawaii
Pacific States
Constitution Ratified
Statehood
August 21, 1959
50th State
Population
1,360,301 (2010)
188.62
42nd
Largest City
(by population)
10 largest cities: (2010) Honolulu, 387,170; Pearl City, 47,698; Hilo, 43,263; Kailua, 38,635; Waipahu, 38,216; Kaneohe, 34,597; Mililani Town, 27,629; Kahului, 26,337; Kihei, 20,881; Wahiawa, 17,821.

Bordering States
Major Islands: (Order by size)

Hawaii, Maui, Oahu, Kauai, Molokai, Lanai, Niihau, and Kahoolawe
Coastline: 750 mi.

Major Industry
tourism, agriculture (bananas, pineapples, macadamia nuts, taro)
Major Rivers
Wailuku River (on the island of Hawaii), Anahulu River (on the island of Oahu)
Major Lakes
Salt Lake
Hawaii Counties
4 Counties in Hawaii
Largest County
(by population)
Honolulu County
953,207 (2010)
600 sq. mi.
Largest County
(by area)
Hawaii County
4,028 sq. mi.
State forests
19
(over 109,000 ac.)
State park
52
(25,000 ac.)
Electoral Votes
4
US Congress
2 Senators; 2 Representatives
Time Zone
Hawaii-Aleutian
Zip Codes
NANPA
State Quick Facts
Census Bureau Quick Facts

Hawaii Climate and Weather

The Hawaiian Island's weather is very consistent, with only moderate changes in temperature throughout the year.

There are only 2 seasons: the summer months (called Kau in Hawaiian) that extend from May to October and the winter months (Ho'oilo) that run from November to April.

The average day-time summer temperature at sea level is 85 degrees F. (29.4 C) while the average day-time winter temperature is 78 degrees (25.6 C).
Highest Temperature
100 degrees
April 27, 1931 - Pahala
Lowest Temperature
12 degrees
May 17, 1979 -Mauna Kea
Avg. Temp:
High - Low
87.1 degrees
65.3 degrees

Hawaii Points of Interest

The endless variety of glorious beaches, especially Poipu, Sunset and Waikiki, the old whaling town of Lahaina, spectacular Kona Coast, Pearl Harbor, Haleakala National Park, Hawaii Volcanoes National Park and Kilauea, Na Pali Coast and Waimea Canyon. Among the major points of interest are Haleakala National Park (Maui), Puuhonua o Honaunau National Historical Park (Hawaii), Polynesian Cultural Center (Oahu), the USS Arizona and USS Missouri Memorial at Pearl Harbor, The National Memorial Cemetery of the Pacific (Oahu), and Iolani Palace (the only royal palace in the U.S.), and Bishop Museum - to name but a few.

Hawaii Highest, Lowest, and Mean Elevations (Feet)

Mean Elevation: 3,030 feet
Highest Point: Puu Wekiu, Mauna Kea: 13,796 feet

Mauna Kea is the tallest mountain in the Hawaiian Chain. Its summit rises to an elevation of 4205m above sea level and it is located on the island of Hawaii. It is the second largest in subaerial surface area of the five shield volcanoes that comprise the island of Hawaii.

Lowest Point:
Pacific Ocean
Sea level

Hawaii Land Area (Square Miles)

Geographic Center
Between islands of Hawaii and Maui
Longitude: 157°15.6'W
Latitude: 20°57.1'N
Total Area
10,930.98 sq. mi.
43rd
Land Area
6,422.62 sq. mi.
Water Area
4,508.36 sq. mi.
41.24%
Forested Land Area
42.5%
Dimensions
(Length - Width)
1600 miles - 93 miles
County Information and County History
---