Mississippi State Fossil
Prehistoric Whales

(Basilosaurus cetoides & Zygorhiza kochii)
Adopted on March 26, 1981.
A Senate Concurrent Resolution, designating these prehistoric whales, Basilosaurus cetoides and Zygorhiza kochii, as the state fossils, was adopted on March 26, 1981 with Senate Concurrent Resolution No. 557.

Basilosaurus ("king lizard") is a genus of early whale that lived 40 to 34 million years ago in the Late Eocene. The first fossil of B. cetoides was discovered in the United States and was initially believed to be some sort of reptile, hence the suffix -"saurus", but it was later found to be a marine mammal. Richard Owen wished to rename the creature Zeuglodon ("yoked tooth"), but, per taxonomic rules, the creature's first name remained permanent.
Basilosaurus had a wedged-shaped head up to 5 feet long with jaws containing two types of teeth. The teeth in the front, anterior, of the jaw had cone-shaped teeth which caught and held its prey while triangular-shaped teeth in the rear, posterior, of the jaw sliced them up. The type and amount of wear on the teeth of the Basilosaurus indicates that it likely ate fish and squid (Johnston 1991 Carpenter and White 1986).
The bones of Basilosaurus cetoides (Owen) and other primitive whales have been found throughout a belt across Louisiana, Mississippi, and Alabama where exposures of Middle and Upper Eocene marine strata, called the Moodys Branch Formation (or Marl) and the Yazoo Clay occur. The vertebrates were so common within some areas of this belt that local residents used them as andirons for fireplaces and blocks to support cabins. The bones and skeletons of Basilosaurus also have been found in Australia, Egypt, within other marine sediments of Upper Eocene age (Domning 1969, Johnston 1991, Thurmond 1981).
Basilosaurus is the larger and better-known of the two state fossils. It had a small head and a narrow body 50 - 80 feet long, giving it the look of a "sea serpent." The first specimen of this whale was found in 1832 along the Ouachita River, and since that time specimens have turned up regularly in Mississippi, Louisiana, and Alabama.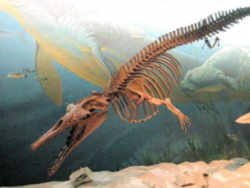 Zygorhiza ("Yoke-Root") is an extinct genus of basilosaurid early whale known from the Late Eocene (Priabonian, 38-34 Ma) of Louisiana, Alabama, and Mississippi, United States, and the Bortonian (43-37 Ma on the New Zealand geologic time scale) to the late Eocene of New Zealand (43 to 33.9 million years ago). Specimens reported from Europe are considered Dorudontinae incertae sedis.
Zygorhiza kochii was an archaeocete, a forerunner of the modern toothed whales (e.g., sperm whales, killer whales, porpoises, etc.) which lived during the Eocene epoch (approximately 37,000,000 to 56,000,000 years ago). Its fossilized remains are very rarely found in southeastern North Carolina. It was an impressive predator in those early oceans, reaching almost 20 feet in length.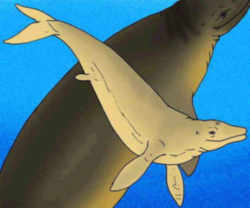 The name Zygorhiza means "yoke tooth"because of its primary meat-shearing molars having a twin, forked root. This ancient marine mammal had a long snout that contained many sharp teeth. The largest teeth (the second and third premolars) are 2 - 2? inches wide in a mature animal.
;Zygorhiza was a smaller whale, reaching only 20 feet, and had a more whale-like body form. The first well-preserved specimens of Zygorhiza were found on the Gulf Coastal Plain in the late 1800s, and a nearly complete skeleton was excavated near Tinsley in 1971.
Zygorhiza
was discovered by a man named Reichenbach in the early 1800s. The genus of
Zygorhiza
was created by Frederick True in 1908. ;The first complete skeleton was finished in 1834. The type species of
Z. kochii
was named by Remington Kellogg in 1936.
Frederick William True was a biologist and the first head curator of biology at the United States National Museum (now part of the Smithsonian Institution). Remington Kellogg was a naturalist and a director of the United States National Museum.
Mississippi Law
Mississippi Senate Concurrent Resolution No. 557 (adopted March 26, 1981).
Taxonomic Hierarchy: Basilosaurus cetoides
Kingdom: Animalia (animals)
Phylum: Chordata (having a spinal cord)
Subphylum: Vertebrata - vertebrates
Class: Mammalia (mammals)
Order: Cetacea (aquatic mammals)
Suborder: Archaeoceti (archaeocetes or zeuglodonts, extinct, primitive whales with teeth)
Family: Basilosauridae (late Eocene) - larger, more whale-like cetaceans
Genus: Basilosaurus
Species: Basilosaurus Cetoides
Taxonomic Hierarchy: Zygorhiza kochii
Kingdom: Animalia (animals)
Phylum: Chordata (having a spinal cord)
Subphylum: Vertebrata - vertebrates
Class: Mammalia (mammals)
Order: Cetacea (aquatic mammals)
Suborder: Archaeoceti (archaeocetes or zeuglodonts, extinct, primitive whales with teeth)
Family: Basilosauridae (late Eocene) - larger, more whale-like cetaceans
Genus: Zygorhiza
Species: Zygorhiza kochii
---