Find the Right School
Online Colleges
Campus Colleges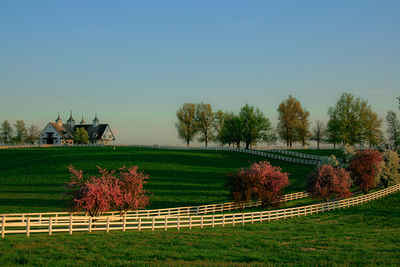 Kentucky Symbols
Agricultural Insect
,
Amphitheater
,
Arboretum
,
Bird
,
Bluegrass Song
,
Botanical Garden
,
Bourbon Festival
,
Butterfly
,
Center for Celebration of African American Heritage
,
Covered Bridge
,
Covered Bridge - Capital of Kentucky
,
Dance
,
Drink
,
Father of Newgrass Music
,
Fish
,
Flag
,
Flower
,
Fossil
,
Fruit
,
Gemstone
,
Horse
,
Language
,
Latin Motto
,
Mineral
,
Motto
,
Music
,
Musical Instrument
,
Nicknames
,
Original Soft Drink
,
Outdoors Musical of Kentucky
,
Pipe Band
,
Pledge
,
Quarter
,
Rock
,
Science Center
,
Seal
,
Silverware Pattern
,
Soil
,
Song
,
Sport Car
,
State Steam Locomotive
,
Tree
,
Tug-of-War Championship
,
Wild Animal Game Animal
National & State Symbols

Kentucky State Names (Etymology of Names)
Kentucky Name Etymology and State Nicknames
Appalachia
Kentucky, officially the Commonwealth of Kentucky, is a state located in the east south-central region of the United States. Kentucky is the 37th most extensive and the 26th most populous of the 50 United States.A significant portion of eastern Kentucky is part of Appalachia. Kentucky borders seven states, from the Midwest and the Southeast. West Virginia lies to the east, Virginia to the southeast, Tennessee to the south, Missouri to the west, Illinois and Indiana to the northwest, and Ohio to the north and northeast. Only Missouri and Tennessee, both of which border eight states, touch more states.
Kentucky is from the Iroquois Indian word "Ken-tah-ten," which means "land of tomorrow."
Kentucky nicknames
Bluegrass State

Hemp State

Tobacco State

Hemp State

Rock-Ribbed State

Dark and Bloody Ground
Kentuck is derived from an Iroquoian word "Ken-tah-ten" meaning "land of tomorrow"
Kentucky comes from the Wyandot Indian name for "plain" in reference to the central plains of the state.
One suggestion for the origin of the name "Kentucky" is that it means "dark and bloody ground", and this led to the state (actually its a commonwealth) being known as Dark and Bloody Ground
Commonwealth of Kentucky: The word Commonwealth comes from "commonweal" meaning 'for the good of all', or 'government based on the common consent of the people'. Kentucky is one (1) of just four (4) states to use this designation, the others being Massachusetts, Pennsylvania and Virginia. There is no actual difference between a state and a commonwealth.
Bluegrass State
Bluegrass is not really blue--it's green--but in the spring, bluegrass produces bluish-purple buds that when seen in large fields give a rich blue cast to the grass. Early pioneers found bluegrass growing on Kentucky's rich limestone soil, and traders began asking for the seed of the "blue grass from Kentucky." The name stuck and today Kentucky is known as the Bluegrass State.
Dark and Bloody Ground
By Daniel Boone from an Indian chief to describe battles between whites and the Creek, Shawnee, Chickasaw, Cherokee and other tribes, that took place along the Cumberland River in Kentucky and Tennessee..
Hemp State
Hemp was one of the two most notable crops of Kentucky. This nickname originated based on the importance of this crop to the Commonwealth.
The Rock-Ribbed State
Firm and unyielding, especially with regard to one's principles, loyalties, or beliefs: a rock-ribbed conservative or having ridges or cliffs of rock.
Tobacco State
Tobacco, the other notable Kentucky crop is the source of this nickname. At one time, about 2/3 of the national Tobacco crop was produced in Kentucky.
The Corn-cracker State
This nickname may have originated as a reference to the poorer people living in the mountainous regions of the Commonwealth. Another theory has it that this nickname is derived from a crane that was common in Kentucky. This crane was said to make a "craking" sound and was called a Corn-crake. Some have proposed that "Corn-cracker" is a corruption of "Corn-crake."
Kentucky Slogans
Unbridled Spirit (also on its license plate)
What does "Kentucky Unbridled Spirit" mean?
Here is the definition: "Kentucky is a place where spirits are free to soar and big dreams can be fulfilled. We relish competition and cherish our champions for their willingness to push beyond conventional boundaries to reach new heights of success."
How was "Kentucky Unbridled Spirit" chosen?
It was chosen through a popular vote. In the fall of 2004, the citizens of Kentucky got to vote their preference from among four choices. "Kentucky Unbridled Spirit" was the overwhelming choice. More than 55,000 people voted for it during the brand voting, and through each round, it was the runaway winner. Since then, the positive response to the new brand has been phenomenal.
(formerly, It's That Friendly)
(formerly) Where Education Pays
Kentucky Postal Code
Kentucky Resident's Name
Kentuckian - Official (recommended by U.S. GPO)

Corncracker - Official, unofficial or informal alternates
State Names

The etymologies of some US state names are more obvious than others, derived from the Spanish or French tongue. Though, more than half of the US state names come from Native American tribal languages, with several still a mystery to scholars and historians.