Kentucky State Symbols
Kentucky State Symbols, Emblems, and Mascots

Kentucky, the "Bluegrass State,"is known for its racehorses, musical traditions, local cuisine, and folk heritage. Kentucky boasts more miles of running water than any other state except Alaska. Students can explore Mammoth Cave, Cumberland Falls, and Lost River Cave, as well as attend the Kentucky Derby and Louisville Shakespeare Festival.
Daniel Boone and other frontiersmen settled in Kentucky in 1769. Kentucky's name comes from the Iroquois Indian word "Ken-tah-ten," or "land of tomorrow." Admitted into the Union in 1792, Kentucky is the 15th state and the first state west of the Appalachian Mountains. Today, Kentucky is associated with coal mines and horse farms and racing. America's most prominent horse race, the Kentucky Derby, is held in Louisville annually. Kentucky state horse is the thoroughbred, the cardinal is the state bird and Frankfort is the capital.
Kentucky State Symbols contains descriptions and pictures of the state symbols, emblems, and mascots of the state, which can be quickly accessed. This resource guide represents many of Kentucky state facts such as Kentucky state symbols, the state flower, the state gemstone, the state insect, the state tree, the state bird, the state animal, the state flag that flies over Kentucky, and the capital, as well as many more symbols, emblems, and mascots. These types of state directories are designed to help children learn, and are often used by children in the public and private education system as well as home schooled children.
Symbols

Symbol Name - (Species)

Agricultural Insect
Honey Bee
(Apis mellifera)
Amphitheater
Iroquois Amphitheater
Arboretum
Bernheim Arboretum & Research Forest
Bird
Cardinal
(Cardinalis cardinalis)
Birthplace of beer cheese
Clark County, Kentucky
2.275 Birthplace of beer cheese.
Clark County, Kentucky, is named and designated as the birthplace of beer cheese.
Effective:June 25, 2013
History: Created 2013 Ky. Acts ch. 124, sec. 9, effective June 25, 2013.
Birthplace of Newgrass Music
Bowling Green
Bluegrass Song
"Blue Moon of Kentucky"
Botanical Garden
UK Arboretum
Bourbon Festival
The Kentucky Bourbon Festival, Incorporated
Butterfly
Viceroy Butterfly
(Basilarchia archippus)
Center for Celebration
of African American Heritage
The Kentucky Center for African American Heritage
Covered Bridge
Switzer Covered Bridge

Covered Bridge -
Capital of Kentucky
Fleming County
Dance
Clogging
Drink
Milk
Father of Newgrass Music
Sam Bush
Fish
Kentucky Spotted Bass
(Micropterus punctulatus)
Flag
State Flag
Flower
Goldenrod
(Solidago spp.)
Fossil
Brachiopod

Fruit
Blackberry

Gemstone
Freshwater Pearl
Honey Festival
Clarkson Honeyfest
Horse
Thoroughbred
Kentucky Commonwealth Theatre
Devou Park Summer Classics Theatre of Covington
2.220 Kentucky Commonwealth Theatre.
Devou Park Summer Classics Theatre of Covington shall be designated as the
Kentucky Commonwealth Theatre.
Effective:July 14, 1992
History: Created 1992 Ky. Acts ch. 106, sec. 1, effective July 14, 1992.
Kentucky Shakespeare Festival
Shakespeare in Central Park of Louisville

2.210 Kentucky Shakespeare Festival.
Shakespeare in Central Park of Louisville, Kentucky, is hereby designated as the
Kentucky Shakespeare Festival.
Effective:July 13, 1984
History: Created 1984 Ky. Acts ch. 274, sec. 1, effective July 13, 1984.
Language
English
Latin Motto
"Deo gratiam habeamus"
Military School
Millersburg Military Institute
Mineral
Coal
Motto
"United We Stand, Divided We Fall"
Music
Bluegrass music
Musical Instrument
Appalachian Dulcimer
Nicknames
Bluegrass State
Original Soft Drink
Ale-8-One
Outdoors Musical of Kentucky

Stephen Foster Story
Pipe Band
Louisville Pipe Band
Pledge
Pledge of Allegiance to the Commonwealth of Kentucky
Quarter
Kentucky State Quarter
Rock
Kentucky Agate
Science Center
Louisville Science Center
Seal
Great Seal
Silverware Pattern
Old Kentucky Bluegrass
(Georgetown pattern)
Soil
Crider Soil Series
Song
"My Old Kentucky Home"
(Modern version)
Sport Car
Chevrolet Corvette
Steam Locomotive
Old 152
Tree
Tulip / Yellow Poplar
(Magnoliaceae Liriodendron tulipifera)
Tug-of-War Championship
Tug-of-War Championship
Wild Game Animal
Gray Squirrel
(Sciurus carolinensis)
---
---
US State Symbols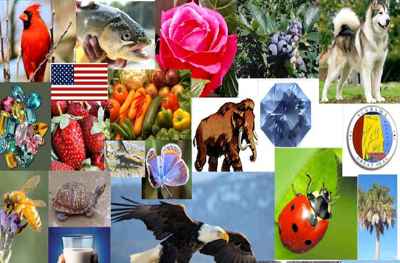 State symbols
represent things that are special to a particular state.
Colleges & Universities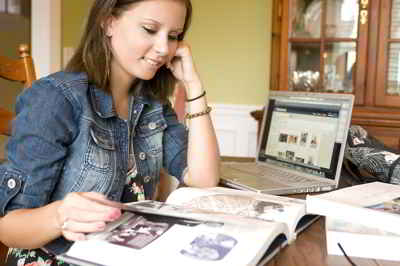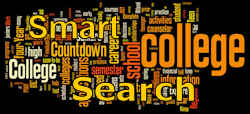 Get Your Degree!
Find schools and get information on the program that's right for you.
Powered by Campus Explorer