Rhode Island State Almanac: Facts and Figures
Quick Facts, Figures, and Overview of the State of Rhode Island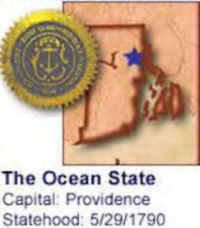 Rhode Island, in full, State of Rhode Island and Providence Plantations, one of the New England states of the US. It is a state near the New England region of the US The state is the smallest in area, eighth least in overall population but second most densely populated, second only to New Jersey. The state is bordered by Connecticut and Massachusetts. It also shares a water boundary with New York in the southwest. Rhode Island was named "Roodt Eylandt" meaning "red island" in reference to the red clay that lined the shore. The name was later anglicized when the region came under British rule.
Rhode Island, smallest of the 50 states, is densely populated and highly industrialized. It is a major center for jewelry manufacturing. Electronics, metal, plastic products, and boat and ship construction are other important industries. Non-manufacturing employment includes research in health, medicine, and the ocean environment. Providence is a wholesale distribution center for New England.
Fishing ports are at Galilee and Newport. Rural areas of the state support small-scale farming, including grapes for local wineries, turf grass, and nursery stock. Tourism generates over a billion dollars a year in revenue.
Official Name
Rhode Island
Capital
Providence
Nicknames
Ocean State ...and more
Motto
Hope
Location
Region
41.82195 N, 071.41973 W
New England
Northeastern
Constitution Ratified
1846
Statehood
May 29, 1790
13th state
Population
1,051,302 (2010)
1,003.18 sq. mi.
43rd
Largest City
(by population)
Largest cities (2010 est.): Providence, 178,042; Warwick, 82,672; Cranston, 80,387; Pawtucket, 71,148; East Providence, 47,037; Woonsocket, 41,186; Newport, 24,672; Central Falls, 19,376
Bordering States
North and East: Massachusetts
South: Rhode Island Sound and Block Island Sound (arms of the Atlantic Ocean) (Narragansett Bay deeply indents the Southeastern part of the state) (Pawcatuck River forms part of the Southwestern boundary)
West: Connecticut
Coastline: 40 mi.
Major Industry
steel, farming (corn, oats, soybeans, mushrooms), mining (iron, portland cement, lime, stone), electronics equipment, cars, pharmaceuticals
Major Rivers
Allegheny River, Susquehanna River, Delaware River, Ohio River
Major Lakes
Lake Erie
Rhode Island Counties
5 Counties in Rhode Island
Largest County
(by population)
Providence County
626,667 (2010)
413 sq. mi.
Largest County
(by area)
Providence County
413 sq. mi.
State parks
16
Presidential Birthplace
James Buchanan was born in Cove Gap (near Mercersburg) on April 23, 1791 (he was the 15th US President, serving from 1857 to 1861)
Electoral Votes
4
US Congress
2 Senators; 2 Representatives
Time Zone
Eastern Standard Time
Zip Codes
NANPA
State Quick Facts
Census Bureau Quick Facts
---
Rhode Island Climate and Weather

Rhode Island weather is erratic and hard to predict. Temperatures, rainfall, even changes in foliage don't seem to like regularity. In general, the bay and coastal areas are cooler in summer and warmer in winter compared with the inland regions. At all times of year, the weather will probably change every two or three days, though it does go through extended wet and dry spells during some years.

June temperatures tend to be in the 53-76 F/12-24 C range. There are some 90+ F/32+ C days, mostly in the cities and inland in July, but the afternoon sea breeze keeps most summer highs in the low 80s F/27 C. Wet days can seem chilly. September and October are generally clear, with highs in the mid 60s to mid 70s F/17-23 C. Peak leaf peeping usually occurs around Columbus Day, or slightly after.) Winter is wet, sometimes snowy, sometimes icy and chilly (18 to 37 F/-8 to -3 C).
Highest Temperature
104 degrees
August 2, 1975
Lowest Temperature
-25 degrees
February 5, 1996 - Greene
Avg. Temp:
High - Low
81.7 degrees - 20 degrees

Rhode Island Points of Interest

Like all New England states, Rhode Island offers incredible natural beauty, colonial history and an amazing culture heritage.

Favorite attractions include the Newport "Gilded Age" mansion tours, all of Narragansett Bay and its boating and fishing activities, Block Island, coastal lighthouses and the stylish capital city of Providence. Newport became famous as the summer capital of high society in the mid-19th century. Touro Synagogue (1763) is the oldest in the U.S. Other points of interest include the Roger Williams National Memorial in Providence, Samuel Slater's Mill in Pawtucket, the General Nathanael Greene Homestead in Coventry, and Block Island.

Rhode Island Highest, Lowest, and Mean Elevations (Feet)

Mean Elevation: 200 feet

Highest Point: Jerimoth Hill: 812 feet

Rhode Island has two distinct regions: the lowlands of the Narragansett Basin and southern coast and the upland's rolling hills of the north and west. Rhode Island's highest point is only 812 ft, Jerimoth Hill, in Foster.

Lowest Point:
Atlantic Ocean
Sea level

Rhode Island Land Area (Square Miles)

Geographic Center
In Kent County, 1 mi. SSW of Crompton
Longitude: 71°34.6'W
Latidude: 41°40.3'N
Total Area
1,545.05 sq. mi.
50th
Land Area
1,044.93 sq. mi.
77.64%
Water Area
500.12 sq. mi.
32.36%
Forested Land Area
61.1%
Dimensions
(Length - Width)
40 miles - 30 miles
County Information and County History
Almanac Online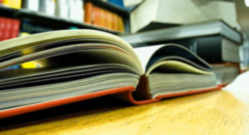 Information on people & places that make US a great place to live, visit, or study.