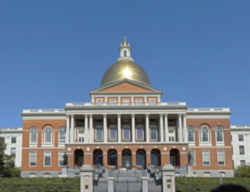 State Facts - History Firsts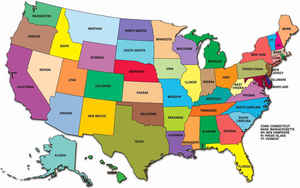 Massachusetts State Facts - Massachusetts Firsts
Catch up on your state trivia with these Massachusetts history firsts and interesting fun facts about the state.
Official Name
Massachusetts
Capital
Boston
Location
Region
42.33602 N, 071.01789 W
Northeast
Constitution Ratified
1780
Statehood
February 06, 1788
6th state
Number of Counties
14 Counties and 7 Geographical Census Areas
Largest County
(by population)
Middlesex County (No Form of County Government)
1,465,396
824 sq. mi.
1607 - World History: Jamestown Three ships arrived from England with 104 men and boys. The settlers named the nearby river James, after their king and then settled on a narrow peninsula of the river, and named it Jamestown.
1620 - Mass History: Pilgrims - Plymouth Colony The Mayflower sailed from Plymouth, England, arriving on the coast of Cape Cod instead of Virginia. After exploring the coast, the ship finally anchored in Plymouth harbor, and the Pilgrims established a settlement.
1621 - First Thanksgiving: The first Thanksgiving was celebrated in Plymouth. This feast, after the first Plymouth harvest, set the model for our current day feast.
1630 - Mass History: Puritans - Mass Bay Colony In September 1630, Governor John Winthrop and the Massachusetts Bay Colony settlers traveled to the peninsula, known as Shawmut by the Algonquins, and founded Dorchester, the first part of the city of Boston.
1634 - First Public Park Boston Common became the first public park in America.
1635, April 23 - First Secondary School: The Boston Latin School is a public exam school founded on April 23, 1635, in Boston, Massachusetts. It is both the first public school and oldest existing school in the United States.The Public Latin School was a bastion for educating the sons of the Boston elite, resulting in the school claiming many prominent Bostonians as alumni.
1636 - First College: Harvard College was established in 1636. It was named for after John Harvard of Charlestown, who left half his estate to the new institution upon his death in 1638.
1638 - First Printing Press: The first American printing press was set up in Cambridge by Stephen Daye.
1639 - First Post Office: The first Post Office in America was Richard Fairbanks' tavern in Boston. In 1939, it was named a repository for overseas mail.
1639 - First Free American Public School: First free American Public school, The Mather School, was founded in Dorchester.
1646 - First American Ironworks: First American Ironworks established in Saugus.
1653 - First American Public Library: Boston Public Library was established in Boston.
1686 - Mass History: First non-puritan town Oxford became the first non-puritan town.
1692 - The Peabody Essex Museum has over 500 original documents of the Salem witch trials in 1692. The Salem witch trials were a series of hearings and prosecutions of people accused of witchcraft in colonial Massachusetts between February 1692 and May 1693. Despite being generally known as the Salem witch trials, the preliminary hearings in 1692 were conducted in a variety of towns across the province: Salem Village (now Danvers), Ipswich, Andover and Salem Town.
1704 - First Newspaper: The first regularly issued American newspaper, The Boston News-Letter, was published in Boston.
1716 - First Lighthouse: America's first lighthouse, "The Boston Light" was built in Boston Harbor.
1763 - Mass History: End of Indian Wars (1760-'63)
1759 - Princeton was named after the Reverend Thomas Prince, Pastor of the Old South Church in Boston, and one of the first proprietors of the town. Princeton was incorporated in 1759.
End of Indian Wars in 1763 allows expansion in Western Massachusetts to a total of 184 towns by 1763.
1770 - World History: Boston Massacre Tensions aroused from British troops' presence in Boston, culminated in 5 men dying, when troops fired at colonists at the Customs House on March 5.
1775 - World History: American Revolution Battles of Lexington and Concord mark start of the American Revolution.
1778 - Although over 30 communities in the colonies eventually renamed themselves to honor Benjamin Franklin. The Massachusetts Town of Franklin was the first and changed its name in 1778.
1780 - Massachusetts State Great Seal: Find out more...
1784 - Hingham's Derby Academy founded in 1784 is the oldest co-educational school in the United States. Hingham's First Parish Old Ship Church is the oldest church structure in the United States in continuous use as a place of worship.
1785 - Mass History: Shay's Rebellion Daniel Shay led a rebellion by farmers protesting excessive taxes, oppressive governmental systems and unfair laws and treatment of working people.
1789 - First American Novel: William Hill Brown's, The Power of Sympathy, was published in Worcester and is considered the first American novel.
1806 - First Church Built By Free Blacks: The African Meeting House on Joy Street in Boston was the first church built by free blacks.
1815 - The Handel and Haydn Society, one of the nation's oldest continually performing musical groups, was formed in Boston in 1815 by Gottlieb Graupner.
1826 - First Railroad: The first horse drawn American railroad was built in Quincy to draw granite blocks from Quincy to Bunker Hill Monument in Charlestown.
1827 - First Swimming School: Francis Leiber opened the first swim school in America July 23, 1827. Among the first to enroll was John Quincy Adams.
1837 - First American Telegraph Samuel Morse invented the electric telegraph based on Morse Code, a simple pattern of "dots" and "dashes."
1838 - In 1838 the Boston & West Worcester Railroad was the first railroad to charge commuter fares.
1839 - First vulcanized rubber: In Woburn, after years of failed experimentation, Charles Goodyear discovered that steam under pressure applied to a sulfur-and gum formula produced rubber as we know it today.
1840 - In the 1840s the potato famine drove many Irish to Massachusetts, and they eventually became the state's largest ethnic group.
1840 - First Typewriter: The typewriter was invented by Charles Thurber in Worcester.
1845 - First Sewing Machine: The first sewing machine was made by Elias Howe in Boston.
1846 - First Use of Anesthesia: William T.G. Morton, a Boston dentist, first demonstrated the use of anesthesia in surgery at Massachusetts General Hospital, using a specially designed glass inhaler containing an ether-soaked sponge.
1850 - First Women's Rights Convention The first National Women's Rights Convention convenes in Worcester.
1861 - World History: 1861-65 US Civil War America's greatest internal conflict - 3 million fought and 600,000 died in the War Between the States before General Lee surrendered his Confederate Army to General Grant at the village of Appomattox Court House.
1865 - First Architect Training in America: Robert Ware, of MIT, began the first professional training program for architects. Prior to this, architects trained in Europe or learned through apprenticeship.
1866 - Mass History: First African-American Legislators First African-American legislators in New England were elected to the General Court.
1870 - Milford is known the world over for its unique pink granite, discovered in the 1870's and quarried for many years to grace the exteriors of museums, government buildings, monuments and railroad stations.
1875 - First Christmas Card: The first American Christmas card was printed by Louis Prang in Boston.
1876 - First Telephone The first telephone was demonstrated by Alexander Graham Bell in Boston on March 10, 1876 as he talked to his assistant, Mr. Watson, in the next room.
1877 - First Woman to Earn a Ph.D. Helen Magill White becomes the first woman to earn a Ph.D. in the US (Boston University)
1881 - First Country Club The Country Club in Brookline became the first country club in America dedicated to "outdoor pursuits".
1891 - First Basketball Game James Naismith invented the game of basketball game in Springfield, MA. The original game had 13 rules and was played with a soccer ball and peach baskets hung 10 feet in the air.
1891 - First Fig Newton Cookies The Kennedy Biscuit Works (later Nabisco) used a machine invented by James Henry Mitchell to mass- produce the first Fig Newton Cookies and named it for the town of Newton, MA.
1893 - First Automobile The first successful gasoline-powered automobile was perfected by Charles and Frank Duryea in Springfield.
1895 - First Volleyball Game The first volleyball game, originally called "mintonette", was played in Holyoke. The game was invented by William Morgan.
1896 - First Public Beach Landscape Architect Charles Eliot developed Revere Beach as the first public beach in America.
1897

April 19 - First American Marathon was the first Boston Marathon. The race was run from Boston to Ashland and the starting field was 15 runners. John J. MacDermott of New York emerged the winner.
Boston built the first subway system in the United States.
The USS Constitution 'Old Ironsides', the oldest fully commissioned vessel in the US Navy is permanently berthed at Charlestown Navy Yard. Since 1897 the ship has been overhauled several times in Dry Dock 1.

1898 - First Subway The first American subway system was opened in Boston.
1903

June - Massachusetts first began issuing drivers licenses and registration plates.
First Trans-Atlantic Radio Broadcast First Trans-Atlantic Radio Broadcast made by from Marconi Station at Wellfleet when President Theodore Roosevelt and King Edward VII of Great Britain exchanged greetings.

1907 - First Fire Truck World's first motorized fire wagon developed by Knox Manufacturing Company.
1908 - Miss Caroline O. Emmerton purchased The House of the Seven Gables - built in 1668 - restored it to its present state and, in 1910, opened the site to the touring public. The seven-gabled house inspired Nathaniel Hawthorne to write his famous novel of the same name.
1918 - Massachusetts State Flower or Flower Emblem: Mayflower was adopted
1924 - First Mutual Fund L. Sherman Adams introduced the world's first mutual fund.
1925 - First Woman U.S Legislator Edith Nourse Rogers (Republican - Massachusetts) was the first woman to serve in the U. S. House of Representatives. She was the longest serving women in House and introduced the GI Bill of Rights among other major initiatives.
1926 - First Liquid Fueled Rocket First successful liquid fueled rocket launched by Dr. Robbert Goddard in Auburn.
1928 - First Computer The first computer, a non-electronic "differential analyzer," was developed by Dr. Vannevar Bush of M.I.T. in Cambridge.
1930 - First Frozen Food Clarence Birdseye conducted first test of his quick-freezing process, including twenty-six different vegetables, fruits, fish, and meats.
1930s- First Chocolate Chip Cookie Ruth Wakefield invented the first chocolate chip cookie at the Toll House Inn in Whitman, Ma. by adding cut up pieces of chocolate to her butter drop cookies.
1941 - Massachusetts State Bird or Bird Emblem: Chickadee was adopted
1944 - First Digital Computer Howard Aiken of Harvard developed the first automatic digital computer. The machine was 50 feet long, 8 feet tall, and weighed approximately 5 tons!
1946 - Massachusetts State Tree: American Elm was adopted
1947

First Microwave Oven Percy Spencer of Raytheon Corp. invented the microwave oven, the Radarange. The first oven was 750 lb and 5-1/2 feet tall. Today over 200 million microwaves are in use.
First Instant Camera Edwin Land demonstrates "one-step photography system" - the first Poloroid Land Camera.
The First Use of Chemotherapy Dr. Sidney Farber introduced chemotherapy as a treatment for cancer, achieving the first cases of remission of acute childhood leukemia.

1954 - First Kidney Transplant First successful Kidney transplant between twins at Peter Bent Brigham Hospital in Boston.
1961 - First Nuclear Powered Surface Ship The first nuclear powered surface vessel, USS Long Beach CG(N) 9, was launched at Quincy.
1969 - First Beginnings of the Internet Bolt Beranek & Newman deploys ARPANET, precursor to the Internet.
1970 -
1971 -

First Email Ray Tomlinson of Beranek & Newman sent the first email. The first email message was "QWERTYUIOP" and was sent between two side by side computers connected via ARPANET.
Massachusetts State Flag: Find our more...

1974 - Massachusetts State Fish or Fish Emblem: Cod was adopted
1974 - Massachusetts State Insect or Insect Emblem: Lady Bug was adopted
1976

First "First Night" Boston was the first city in America to celebrate New Year's Eve with a "First Night" event.
First Reading Machine The Kurzweil Reading Machine is the first successful commercial product to incorporate artificial intelligence to create a print-to-speech reading machine for the blind.

1979 -
1980 -

First to Decode DNA Walter Gilbert was awarded a Nobel Prize in 1980 for discovering a technique to decode DNA.

1981 -
1983 -
1985 - Massachusetts State Ceremonial March: "The Road to Boston," composer unknown was adopted
1986 - Massachusetts State Muffin: Corn Muffin was adopted
1987 - Massachusetts State Shell: New England Neptune was adopted
1988 - Massachusetts State Cat: Tabby Cat was adopted
1989 - Massachusetts State Patriotic Song: "Massachusetts (Because of You Our Land is Free)," words and music by Bernard Davidson was adopted
1990 and 1997 - Barnstable County is the only Massachusetts county where resident deaths out numbered births between 1990 and 1997.
1990 -
1991 - Massachusetts State Game Bird and Game Bird Emblem: Wild Turkey was adopted
1993 - Massachusetts State Bean or Bean Emblem: Baked Navy Bean was adopted
1994 - Massachusetts State Berry: Cranberry was adopted
1996 -
1997 -
1998 -
2000 - Massachusetts State Ode: "Ode to the Commonwealth," words and music by Joseph Falzone was adopted
2003 -

Massachusetts State District Tartan: Bay State Tartan (ITI number: 4543) was adopted
Massachusetts State Donut: Boston Cream Donut was adopted
2003 - Massachusetts State Children's Author and Illustrator: Theodor Geisel, better known as Dr. Seuss
2003 - Massachusetts State Children's Book: Make Way for Ducklings, by Robert McCloskey

2005 - Massachusetts State Colors: Blue, green, and cranberry
2006 -

Massachusetts State Blues Artist: Henry St. Clair Fredericks, better known as Taj Mahal
Massachusetts State Sport: Basketball was adopted
Massachusetts State Inventor: Benjamin Franklin adopted

2007 - Massachusetts State Reptile: Garter Snake adopted
2008 - Massachusetts State Artist : Norman Rockwell adopted
2008 - Massachusetts State Glacial Rock: Rolling Rock in Fall River adopted
---
More Massachusetts History Firsts & State Facts
The 3rd Monday in April is a legal holiday, Patriot's Day, in Massachusetts
Norfolk County is the birthplace of four United States presidents: John Adams, John Quincy Adams, John Fitzgerald Kennedy and George Herbert Walker Bush.
There is a house in Rockport built entirely of newspaper.
The Fig Newton was named after Newton, Massachusetts.
The visible portion of Plymouth Rock is a lumpy fragment of glacial moraine about the size of a coffee table, with the date 1620 cut into its surface. After being broken, dragged about the town of Plymouth by ox teams used to inspire Revolution-aries, and reverently gouged and scraped by 19th-century souvenir hunters, it is now at rest near the head of Plymouth Harbor.
The Basketball Hall Of Fame is located in Springfield.
James Michael Curley was the first mayor of Boston to have an automobile. The plate number was "576" - the number of letters in "James Michael Curley." The mayor of Boston's official car still uses the same number on its plate.
The American industrial revolution began in Lowell. Lowell was America's first planned industrial city.
Massachusetts holds the two largest cites in New England, Boston, the largest, and Worcester.
The creation of the Cape Cod National Seashore, which was formerly private town and state owned land, marked the first time the federal government purchased land for a park.
Robert Goddard, inventor of the first liquid fueled rocket, was born and lived much of his life in Worcester and launched the first rocket fueled with liquid fuel from the neighboring town of Auburn.
Quincy boasts the first Dunkin Donuts on Hancock Street and the first Howard Johnson's on Newport Ave.
Glaciers formed the islands of Nantucket and Martha's Vineyard during the ice age.
The first US Postal zip code in Massachusetts is 01001 at Agawam.
Brewster has become the de facto "Wedding Capital of Cape Cod" because of its many small and larger inns that cater to weddings.
The birth control pill was invented at Clark University in Worcester.
The signs along the Massachusetts Turnpike reading "x miles to Boston" refer to the distance from that point to the gold dome of the state house.
The Boston University Bridge on Commonwealth Avenue in Boston is the only place in the world where a boat can sail under a train driving under a car driving under an airplane.
On top of the commercial building on Centre Street in Jamaica Plain sits a weather vane with a whale on it. The building was once state headquarters of Greenpeace. - "Save the whales"
John Adams and John Quincy Adams are buried in the crypt at the United First Parish Church in Quincy.
The Children's Museum in Boston displays a giant milk bottle on the museum's wharf. If it were real it would hold 50,000 gallons of milk and 8,620 gallons of cream.
The Pilgrim National Wax Museum in Plymouth is the only wax museum devoted entirely to the Pilgrim's story.
The Boston Tea Party reenactment takes place in Boston Harbor every December 16th.
Balance Rock in Lanesborough is named in honor of a 25' x 15' x 10 boulder that balances upon a small stone below it.
The fourteen counties in Massachusetts are made up of 43 cities and 308 towns.
Revere Beach was the first public beach in the United States and is host to Suffolk Downs horse racing track, Wonderland dog racing track and a 14-screen cinema complex.
Acushnet is the hometown of the Titleist golf ball company.
The Boston University Bridge on Commonwealth Avenue in Boston is the only place in the world where a boat can sail under a train driving under a car driving under an airplane.
There is displayed a giant milk bottle at the Children's Museum in Boston that if it were real could hold 50,000 gallons of milk and 8,620 gallons of cream.
Quincy is home to the first Dunkin Donuts and the first Howard Johnson's.
Among the many attractions of Boston is the Old South Meeting House, and the Old North Church, where lanterns signaled the start of Paul Revere's ride.
County Information and County History
State Facts & History Firsts