Massachusetts State Cookie
Chocolate Chip Cookie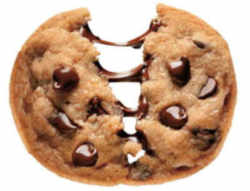 Adopted on July 9, 1997.
The Chocolate Chip Cookie was designated the official cookie of the Commonwealth on July 9, 1997. A third grade class from Somerset proposed the bill to honor the cookie invented in 1930 at the Toll House Restaurant in Whitman.
The chocolate chip cookie was invented by Ruth Graves Wakefield. She owned the Toll House Inn, in Whitman, Massachusetts, a very popular restaurant that featured home cooking in the 1930s. Her cookbook, Toll House Tried and True Recipes, was first published in 1936 by M. Barrows & Company, New York. The 1938 edition of the cookbook was the first to include the recipe "Toll House Chocolate Crunch Cookie" which rapidly became a favorite cookie in American homes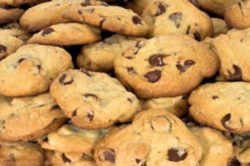 Ruth Wakefield, owner of the Toll House Inn in Massachusetts, is credited with inventing the chocolate chip cookie. The story goes that one day in 1930 she cut a Nestle's Semisweet Yellow Label Chocolate bar into small chunks and added it to her butter cookie dough. The cookies were an instant hit with her customers and word of their popularity reached the Nestle company. Nestle must have realized that adding small chunks of their chocolate bar to cookie dough would appeal to the mass market because by 1939 Nestle had come out with chocolate morsels (or chips). What a brilliant marketing plan it turned out to be when Nestle packaged the chips in a Yellow bag and then bought the rights to the Toll House name and Ruth Wakefield's recipe. They called her recipe "The Famous Toll House Cookie" and printed it on the back of the Yellow bag. This recipe is still to this day, although in a slightly altered form, on the back the Nestle chocolate chip bags.
Massachusetts Law
The law designating the chocolate chip cookie as the official Massachusetts state cookie is found in the General Laws of Massachusetts, Part 1, Title 1, Chapter 2, Section 42
PART I ADMINISTRATION OF THE GOVERNMENT
TITLE I JURISDICTION AND EMBLEMS OF THE COMMONWEALTH, THE GENERAL COURT, STATUTES AND PUBLIC DOCUMENTS
CHAPTER 2 ARMS, GREAT SEAL AND OTHER EMBLEMS OF THE COMMONWEALTH
Section 42 Cookie of commonwealth

Section 42. The chocolate chip cookie shall be the official cookie of the commonwealth.
---