Massachusetts State Dessert or Desert Emblem
Boston Cream Pie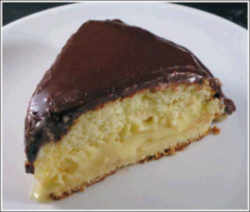 Adopted on December 12, 1996.
The Boston Cream Pie, created in the 19th century, was chosen as the official state dessert on December 12, 1996. A civics class from Norton High School sponsored the bill. The pie beat out other candidates, including the toll house cookie and Indian pudding.
Cooks in New England and Pennsylvania Dutch regions were known for their cakes and pies and the dividing line between them was very thin. This cake was probably called a pie because in the mid-nineteenth century, pie tins were more common than cake pans. The first versions might have been baked in pie tins. Boston Cream Pie is a remake of the early American"Pudding-cake pie."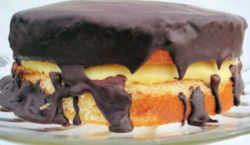 A Boston cream pie is a cake that is filled with a custard or cream filling and frosted with chocolate. Although it is called a Boston cream pie, it is in fact a cake, and not a pie. Created by Armenian-French chef M. Sanzian at Boston's Parker House Hotel in 1856, this pudding and cake combination comprises two layers of sponge cake filled with vanilla flavored custard or crème pâtissière. The cake is topped with a chocolate glaze (such as ganache) and sometimes powdered sugar or a cherry.

But many don't realize that the true, original Boston Cream Pie is a culinary creation of Boston's Parker House, now widely known as Omni Parker House. The recipe below was originally called the Parker House "Chocolate Cream Pie", and was created and served at Parker's Restaurant from the opening of the hotel in October 1856. It became so popular that in 1958 it was fashioned into a Betty Crocker boxed mix and sold nationally well into the 1990s.
What made the dessert so special was its chocolate icing. When the Parker House opened, chocolate was mainly consumed at home as a beverage or in puddings. So the Parker House cake might have become well known for its rather innovative use of chocolate. In fact, the Boston Cream Pie is not a pie at all, but a two layer golden cake filled with pastry cream. The Boston Cream Pie has been distinguished as Massachusetts' official state dessert over Toll House Cookies and the Fig Newton.
Massachusetts Law
The law designating the Boston cream pie as the official Massachusetts state dessert or dessert emblem is found in the General Laws of Massachusetts, Part 1, Title 1, Chapter 2, Section 41
PART I ADMINISTRATION OF THE GOVERNMENT
TITLE I JURISDICTION AND EMBLEMS OF THE COMMONWEALTH, THE GENERAL COURT, STATUTES AND PUBLIC DOCUMENTS
CHAPTER 2 ARMS, GREAT SEAL AND OTHER EMBLEMS OF THE COMMONWEALTH
Section 41 Dessert or dessert emblem of commonwealth

Section 41. The Boston cream pie shall be the official dessert or dessert emblem of the commonwealth.
---