Massachusetts State Beverage
Cranberry Juice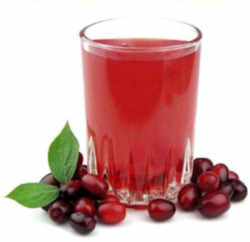 (Vaccinium macrocarpon)
Adopted on May 4, 1970.
Cranberry juice was named the beverage of the Commonwealth on May 4, 1970. This was a tribute to the great Massachusetts cranberry industry. This was a tribute to the great Massachusetts cranberry industry, which grows one of the largest crops in the world.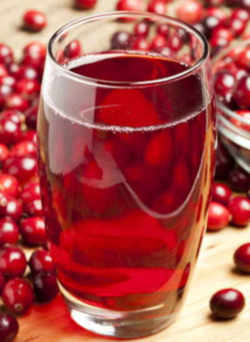 Cranberries are a group of evergreen dwarf shrubs or trailing vines in the subgenus Oxycoccus of the genus Vaccinium. In some methods of classification, Oxycoccus is regarded as a genus in its own right. They can be found in acidic bogs throughout the cooler regions of the northern hemisphere.
American cranberry has a low growing, trailing, and sprawling habit. It can reach 1 to 4 in. tall and spread indefinitely. The evergreen leaves are simple and alternate, reach ¼ to ¾ in. long by 1/10 to 1/3 in. wide, and are light green and maroon colored when young. With maturity, leaves become shiny dark green. Flowering occurs in early to mid-summer, and the flowers, in clusters of four or five, are light pink and 1/3 to ½ in. wide. The fruit is a red berry about 1/3 to 2/3 in. in diameter.
The vines thrive on the special combination of soils and water properties found in wetlands. Wetlands are nature's sponges; they store and purify water and help to maintain the water table.

In Massachusetts we call the place where cranberries grow a BOG. Natural bogs evolved from deposits left by the glaciers more than 10,000 years ago. These deposits were left in impermeable kettle holes lined with clay. The clay prevents materials from leaching into the groundwater.

Rocks and other organic materials were collected by the glaciers. When the ice finally melted deposits of heavy materials were layered on top of the clay.

These kettle holes were filled with water and organic matter which created the ideal environment for cranberries. In the early 1800s Henry Hall, a veteran of the Revolutionary War who lived in Dennis noticed that sand blown in from nearby dunes helped vines grow faster. Today, growers spread a inch or two of sand on their bogs every three years. The sand not only helps the vines grow but also slows the growth of weeds and insects.

Cranberry vines need an inch of water a week to grow. Growers use water to protect cranberries from frost and hot weather in summer.
Massachusetts Law
The law designating cranberry juic as the official Massachusetts state beverage is found in the General Laws of Massachusetts, Part 1, Title 1, Chapter 2, Section 12.
PART I ADMINISTRATION OF THE GOVERNMENT
TITLE I JURISDICTION AND EMBLEMS OF THE COMMONWEALTH, THE GENERAL COURT, STATUTES AND PUBLIC DOCUMENTS
CHAPTER 2 ARMS, GREAT SEAL AND OTHER EMBLEMS OF THE COMMONWEALTH
Section 10 Beverage of commonwealth

Section 10. Cranberry juice shall be the beverage of the commonwe
Taxonomic Hierarchy: Cranberry
Kingdom: Plantae - Plants
Subkingdom: Tracheobionta - Vascular plants
Superdivision: Spermatophyta - Seed plants
Division: Magnoliophyta - Flowering plants
Class: Magnoliopsida - Dicotyledons
Subclass: Dilleniidae
Order: Ericales
Family: Ericaceae - Heath family
Genus: Vaccinium L. - blueberry
Species: Vaccinium macrocarpon Aiton - cranberry
---