Massachusetts Famous People
Famous Americans: History and Biographies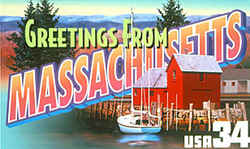 Links to histories and biographies of the famous people of Massachusetts. Many famous people of Massachusetts have made significant contributions to the history of our nation and the state of Massachusetts. These famous Americans, famous entertainers, famous players, famous scientist, famous singers, famous statesmen, famous women, heroes, great explorers, and others Massachusetts famous Americans have all made Massachusetts their home. This list includes Massachusetts historical figures, celebrities and those individuals of Massachusetts who have influenced the lives of others.
John Adams (1735 - 1826) The 2nd President of the United States; born in Quincy.
John Quincy Adams (1767 - 1848) The 6th President of the United States and son of John Adams; born in Quincy.
Samuel Adams (1722 - 1803) Revolutionist that organized the Boston Tea Party, referred to as the "Father of the American Revolution"; born in Boston.
Louisa May Alcott (November 29, 1832 - March 6, 1888) was an American novelist best known as author of the novel Little Women and its sequels Good Wives, Little Men and Jo's Boys. Alcott was born on November 29, 1832, in Germantown, which is now part of Philadelphia, Pennsylvania, on her father's 33rd birthday. Raised by her transcendentalist parents, Abigail May and Amos Bronson Alcott in New England, she grew up among many of the well-known intellectuals of the day such as Ralph Waldo Emerson, Nathaniel Hawthorne, and Henry David Thoreau. Nevertheless, her family suffered severe financial difficulties and Alcott worked to help support the family from an early age. She began to receive critical success for her writing in the 1860s. Early in her career, she sometimes used the pen name A. M. Barnard. With her pen name Louisa wrote novels for young adults in juvenile hall.
Florence Bascom (1862) Born in Williamstown, MA, Florence was the youngest of six children of a schoolteacher/women's suffragist and a professor at Williams College. She is best known as one of the first woman geologists in the US. She was the second woman to receive a Ph.D. in geology in the US, and the first woman hired by the US Geological Survey. In 1889, while studying for the Ph.D. at Johns Hopkins University, she was required to sit behind a screen in classrooms so she would not "disrupt" the attention of the male students. She was also the first woman to present a paper before the Geological Society of Washington. After the joined the faculty at Bryn Mawr College, she founded the college's geology department and went on to train many of the most accomplished woman geologists of the 20th century.
Alexander Graham Bell, the inventor of the telephone, was born in Salem, Massachusetts in 1847. He also invented the process by which sound is transmitted on a beam of light - a forerunner to fiber optics.
Leonard Bernstein (1918 - 1990) First American conductor of the New York Philharmonic Orchestra and famous for composing the music to West Side Story; born in Lawrence.
George H W Bush (1924 - ) The 41st President of the United States; born in Milton.
Bette Davis (1908 - 1989) Actress that earned ten Academy Award nominations and won twice, famous for The Little Foxes and All About Eve; born in Lowell
Emily Dickinson (1830 - 1886) Famous poet of American literature; born in Amherst.
Benjamin Franklin (1706 - 1790) Inventor, statesman, and publisher that helped write the Declaration of Independence; born in Boston.
Theodore Seuss Geisel (1904 - 1991) was born in Springfield, MA in 1904. He was an author and illustrator of children's books that are known for their zany humor and verse, catchy phrases, and whimsical illustrations. His books include The Cat in the Hat, Green Eggs and Ham, and Oh, the Places You'll Go. His pen name was Dr. Seuss.
John Hancock (1737 - 1793) Merchant, statesman, first signer of the Declaration of Independence, and first governor of the state of Massachusetts.
Nathaniel Hawthorne (1804 - 1864) Author of The Scarlet Letter; born in Salem.
Winslow Homer Born in Boston in 1836. He was one of the greatest American painters of the 19th century. Homer was a self-taught artist who became famous for his portraits of the American landscape and his seascapes along the coast of Maine.
John F. Kennedy (1917 - 1963) The 35th President of the United States; born in Brookline.
Henry Wadsworth Longfellow (1807 - 1882) Considered the most influential poet of his day with famous works such as "The Courtship of Miles Standish" and "Evangeline."
Horace Mann (1796 - 1859) The father of public education; helped to establish the nation's first board of education and was a leading figure in promoting nonreligious public education; born in Franklin.
Jo Dee Marie Messina (born August 25, 1970) is an American country music artist. She has charted six number one singles on the Billboard country music charts. She has been honored by the Country Music Association, the Academy of Country Music and has been nominated for two Grammy Awards. She was the first female country artist to score three multiple-week Number One songs from the same album. To date, she has two Platinum and three Gold-certified albums by the RIAA. Messina was born Jo Dee Marie Messina on August 25, 1970, in Framingham, Massachusetts to Vincent and Mary Messina. Her father was of Italian descent and her mother was of Irish descent. She was raised in Holliston, Massachusetts, with two sisters, Terese and Marianne, and a brother, Vincent
Edgar Allan Poe was born in Boston in 1809. Best known for his poetry and short stories, Poe is considered to be the father of the modern detective story. Some of his most famous works include The Raven, and The Telltale Heart.
Paul Revere (1734 - 1818), silversmith and patriot; born in Boston.
Samuel Slater built the first successful water-powered cotton mill near Pawtucket in 1793. His accomplishment led the growth of the Industrial Revolution in the United States.
Henry David Thoreau (1817 - 1862) Essayist, naturalist, and philosopher; born in Concord.
---
More Famous People of Massachusetts
Find more more Massachusetts famous people below. You may not even realize many of these famous people were born in Massachusetts or notable associated with Massachusetts, including actors, actresses, explorers, historical figures, inventors, musicians, novelists, professional athletes, important politicians, singers, sport stars and more.
Jack Albertson actor, Malden
Horatio Alger author, Revere
Susan B. Anthony woman suffragist, Adams
F. Lee Bailey defense attorney, Waltham
Clara Barton American Red Cross founder, Oxford
Forrest M. Bird inventor, Stoughton
Harold Stephen Black inventor, Leominster
Rachel Fuller Brown inventor, Springfield
William Cullen Bryant poet, editor, Cummington
Luther Burbank horticulturalist, Lancaster
John Chapman / Johnny Appleseed nurseryman, Leominster
William D. Coolidge inventor, Hudson
John Singleton Copley painter, Boston
E. E. Cummings poet, Cambridge
Cecil B. DeMille film director, Ashfield
Ralph Waldo Emerson philosopher, poet, Boston
Brian Evans singer, Haverhill
Ann Smith Franklin printer, almanac publisher, Boston
Buckminster Fuller architect, educator, Milton
Robert Hutchings Goddard rocketry, Worcester
Oliver Wendell Holmes poet, Cambridge
Oliver Wendell Holmes, Jr. jurist, Boston
Elias Howe inventor, Spencer
Helen Hunt Jackson writer, Amherst
John F. Kennedy US president, Brookline
Amy Lowell poet, Brookline
Percival Lowell astronomer, Boston
James Russell Lowell poet, Cambridge
Robert Lowell poet, Boston
Cotton Mather clergyman, Boston
Sharon Christa McAuliffe teacher, astronaut, Framingham
Samuel F. B. Morse painter, inventor, Charlestown
Leonard Nemoy actor, Boston
Albert Pike pioneer teacher, lawyer, Boston
Ella Raines actress, Snoquaimie
Robert H. Rines inventor, Boston
Dr. Seuss Theodore Geisel author, illustrator, Springfield
Lucy Stone woman suffragist, West Brookfield
Louis Henry Sullivan architect, Boston
Max Tishler inventor, Boston
James McNeill Whistler painter, Lowell
Eli Whitney inventor, Westborough
John Greenleaf Whittier poet, Haverhill
Eli Whitney inventor, Westboro