Massachusetts State Muffin
Corn Muffin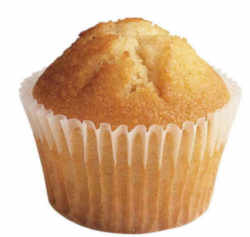 Adopted on May 27, 1986.
The school children of Massachusetts petitioned for the CORN MUFFIN, a staple of New England cooking, and the Legislature made it official on May 27, 1986.;
The Massachusetts corn muffin is one of the sweetest corn bread-based treats around. It is a signature type of corn muffin made in Massachusetts. It is a staple of New England cookery.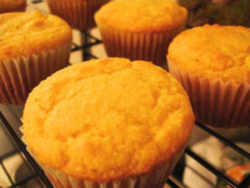 The term muffin typically refers to an individual sized quick bread product which can be sweet or savory. The typical American muffin is similar to a cupcake in size and cooking methods. These can come in both savory varieties, such as corn or cheese muffins, or sweet varieties such as blueberry or banana.

Muffin also refers to a flatter disk-shaped bread of English origin, commonly referred to as an English muffin outside the United Kingdom. These muffins are also popular in Commonwealth countries and the United States.
The name is first found in print in 1703, spelled moofin; it is of uncertain origin but possibly derived from the Low German Muffen, the plural of Muffe meaning a small cake, or possibly with some connection to the Old French moufflet meaning soft as said of bread.
Corn Muffins Recipe
Ingredients
Original recipe makes 1 dozen Change Servings
1/4 cup butter, softened
9 tablespoons white sugar
2 eggs
1 tablespoon vanilla extract
1 1/2 cups biscuit baking mix
1/4 cup yellow cornmeal
2/3 cup milk
Directions
Preheat oven to 375 degrees F (190 degrees C). Grease 12 muffin cups or line with paper muffin liners.
In a large bowl, cream together the butter and sugar until light and fluffy. Stir in the eggs one at a time, beating well with each addition, then stir in the vanilla.
In a separate bowl, stir together baking mix and cornmeal. Blend this mixture into the butter/egg mixture, alternately with the milk; stir just until combined. Spoon batter into prepared muffin cups.
Bake in preheated oven for 20 to 30 minutes, until golden.

Massachusetts Law
The law designating the corn muffin as the official Massachusetts state muffin is found in the General Laws of Massachusetts, Part 1, Title 1, Chapter 2, Section 28
PART I ADMINISTRATION OF THE GOVERNMENT
TITLE I JURISDICTION AND EMBLEMS OF THE COMMONWEALTH, THE GENERAL COURT, STATUTES AND PUBLIC DOCUMENTS
CHAPTER 2 ARMS, GREAT SEAL AND OTHER EMBLEMS OF THE COMMONWEALTH
Section 28 Muffin of commonwealth

Section 28. The corn muffin shall be the official muffin of the commonwealth.
---