Massachusetts State Beans
Baked Navy Bean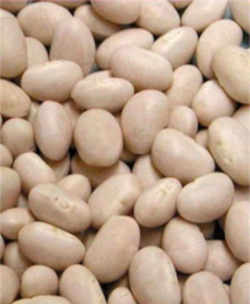 Adopted on June 23, 1993.
Cultivated plants and the colloquial names for them change over the centuries, but on June 23, 1993 the legislature finally determined that the NAVY BEAN had been the original bean in the famous and venerable Boston Baked Bean recipe.
This small white legume, also known as Yankee bean, gets its name from the fact that the US Navy has served it as a staple since the mid-1800s. The navy bean is widely used for commercially canned pork and beans. It also makes wonderful soups and is often used in the preparation of Boston baked beans (though New Englanders prefer using the smaller pea bean for this purpose). Navy beans require lengthy, slow cooking.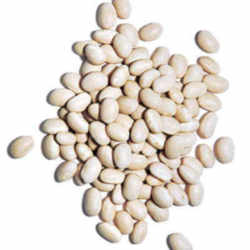 Navy bean or haricot bean is a variety of common beans (Phaseolus vulgaris). It is particularly popular in the United Kingdom and the United States (where it may also be called pea bean). It features in such dishes as baked beans and even pies, as well as in various soups such as Senate bean soup. Consumption of baked beans has been shown to lower total cholesterol levels and low-density lipoprotein cholesterol. This might be at least partly explained by high saponin content of navy bean. Saponins also exhibit antibacterial and anti-fungal activity, and have been found to inhibit cancer cell growth. Furthermore, navy bean is the richest source of ferulic acid and p-coumaric acid among the common bean varieties. It is commonly known as the "Navy Bean" due to its use as a staple of United States Navy rations in the 19th century.
Like its fellow white beans, Great Northern and cannellini, the navy bean comes from Europe. Its distinction is that it is the runt of the litter- it's about the size of a pea. However, with over five billion pounds grown in the United States each year, the navy bean is a major contender in the bean world, and except for the pinto tops most beans in popularity.
Boston Baked Beans Recipe
Ingredients
2 cups Navy Beans
1/2 cup brown sugar
1/4 cup molasses
1 cup bean liquid
1 teaspoon salt
Clean and rinse the beans. Bring the beans to a boil in 6 cups of water, then simmer for 2 hours. Drain the liquid into another container. Now get a 4 quart casserole dish. Mix together the beans, brown sugar, molasses, liquid and salt and then spread evenly into the casserole dish.
Bake at 350F for 1 hour.
Massachusetts Law
The law designating baked navy bean as the official Massachusetts state bean is found in the General Laws of Massachusetts, Part 1, Title 1, Chapter 2, Section 38.
PART I ADMINISTRATION OF THE GOVERNMENT
TITLE I JURISDICTION AND EMBLEMS OF THE COMMONWEALTH, THE GENERAL COURT, STATUTES AND PUBLIC DOCUMENTS
CHAPTER 2 ARMS, GREAT SEAL AND OTHER EMBLEMS OF THE COMMONWEALTH
Section 38 Bean of commonwealth

Section 38. The baked navy bean shall be the official bean of the commonwealth..
---