Massachusetts State Heroine
Deborah Samson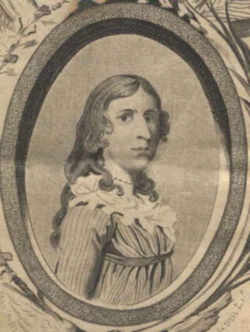 Died: April 29, 1827
Deborah Samson (note: while "Sampson" is the generally used spelling, "Samson" has also been said to be correct and is the spelling used in the statute) fought in the War of Independence under the name of Robert Shurtleff (also spelled "Shurtliff" and "Shurtlieff") with courage, determination, and outstanding service, and rendered a unique contribution as a woman to American independence. Her masquerade remained undiscovered until she was wounded in battle. In later years, she traveled extensively, lecturing about her experiences, and a grateful nation gave her the first military pension ever awarded to a woman. The Governor annually issues a proclamation setting apart May 23 as an anniversary day to appropriately observe her enlistment in the Continental Army. The Legislature recognized her heroism on July 22, 1983.
Deborah Sampson (1760-1827)
Deborah Sampson, who fought in the American Revolution disguised as the soldier Robert Shurtlieff, was born on December 1, 1760 in Plymton, Massachusetts, near Plymouth. Although descended from distinguished Pilgrim stock, the Sampson family was poor. When Deborah's father failed to return from a sea voyage, her mother, unable to provide for her seven children, placed them in various households.
After spending five years in two other homes, Deborah, at age 10, was bound out to Deacon Benjamin Thomas, a farmer in Middleborough, who had a large family. At age 18, when her time as an indentured servant was over, the self-educated Deborah made a living by teaching school during the summer sessions in 1779 and 1780 and by weaving in the winter.
Slowly the idea of joining the army dressed as a man took hold. After venturing out undetected in her disguise, she resolved to enlist, which she did in the spring of 1781. In May she arrived at the fortifications at West Point, New York, on the west bank of the Hudson River, where she was detached to Captain George Webb's Company of Light Infantry and issued a uniform and accoutrements.
It was soon after that she was assigned to a scouting party given the dangerous task of marching through the Neutral Ground of what is today Westchester County to assess the British buildup of men and materiel in Manhattan, which General Washington was contemplating attacking. On the return trip, she had her first taste of battle when her group was attacked by British sympathizers and troops.
Most of July was spent encamped with the French army in lower Westchester. The third week of August, however, found the soldiers on a forced march to Virginia where they began the siege of Yorktown. Deborah endured the incessant cannonade from the enemy, got blisters digging trenches, and was part of a detachment that stormed a British redoubt. On October 19, 1781, Lord Cornwallis surrendered to General Washington. Although this was the last major battle of the Revolution, the war was not officially over. The French stayed in the south, while the American soldiers headed back to West Point for the winter.
In June of 1782, Deborah and two sergeants led about 30 other infantrymen on an expedition into the Neutral Ground. They departed at sunset and went as far south as Eastchester. They were heading north again when they became engaged, often one-on-one, with a band of Tories. During this encounter, Deborah received a gash from a sword on her forehead, which covered her left side in blood. Her distress increased immeasurably, however, when she discovered that she had been shot in her left thigh just below the groin. She was able to conceal this wound from the doctor and extracted the pistol ball herself. She took care of this injury as best she could, but before it was completely healed, she was pronounced fit enough to rejoin the army.
She was thankful when she received permission to nurse a sick soldier in a private home because it would give her leg more time to recover. Unknowingly, she was placed in the house of a Tory, Abraham Van Tassel, who consigned her and the ill private, Richard Snow, to a stuffy attic made hot by the August sun. After Snow died, Deborah left, but was determined to avenge Van Tassel's hospitality to marauding gangs. With the help of Van Tassel's daughter, Private Shurtlieff led a night raid on his house, capturing 15 men.
In February, 1783, Deborah was removed from the ranks to serve as a waiter to General John Paterson, who commanded the First Massachusetts Brigade. Although the cessation of all hostilities had been proclaimed in April, troops were sent to Philadelphia the last week of June to quell a protest by disgruntled soldiers. By the time Deborah arrived, the mutiny was over, but she fell victim to an epidemic stalking the city's streets. In late July, she was carried to the hospital where she lost consciousness.
For over two years, Deborah's true sex had escaped detection. She had had close calls with both discovery and death: fainting on that first march to West Point, lying that she had had smallpox when the soldiers were culled for vaccination in the winter of 1782, receiving a revealing wound in June of 1781, and nearly drowning in the Croton River in December of that year. In the first half of 1783, she had taken a perilous trip through the snow to the frontiers of upstate New York, had been attacked by robbers, and had avoided bathing in the Hudson River with the rest of the troops. All this and more she had successfully navigated. She knew that unconsciousness was her greatest danger because then she could not rely on quick thinking to get her out of trouble. She also feared being in a hospital where she could be subjected to the unwanted probing of the doctor. Now both things that she had dreaded the most, even more than the prospect of death, had happened. Dr. Benjamin Binney did discover her secret, which he eventually made known in a letter to General Peterson on Deborah's return to the army.
Receiving an honorable discharge on October 23, 1783, Deborah traveled home to Massachusetts. On April 7, 1785 she married Benjamin Gannet, from Sharon, and they had three children, Earl, Polly, and Patia. Although Deborah's life after the army was mostly typical of a farmer's wife, she was the first woman in the country to go on a lecture tour. This lasted almost a year beginning in June of 1802.
She died on April 29, 1827 at the age of 66. Benjamin later petitioned for pay as the spouse of a soldier. Although he was not married to Deborah at the time of her service, the committee concluded that the history of the Revolution "furnished no other similar example of female heroism, fidelity and courage"and he was awarded the money.
Massachusetts Law
The law designating Deborah Samson as the official Massachusetts state heroine is found in the General Laws of Massachusetts, Part 1, Title 1, Chapter 2, Section 26
PART I ADMINISTRATION OF THE GOVERNMENT
TITLE I JURISDICTION AND EMBLEMS OF THE COMMONWEALTH, THE GENERAL COURT, STATUTES AND PUBLIC DOCUMENTS
CHAPTER 2 ARMS, GREAT SEAL AND OTHER EMBLEMS OF THE COMMONWEALTH
Section 26 Official heroine of commonwealth

Universal Citation: MA Gen L ch 2 § 26

Section 26. Deborah Samson, who fought in the War of Independence, shall be the official heroine of the commonwealth.
---