Arkansas Famous People
Famous Americans: History and Biographies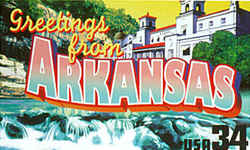 Links to histories and biographies of the famous people of Arkansas. Many famous people of Arkansas have made significant contributions to the history of our nation and the state of Arkansas. These famous Americans, famous entertainers, famous players, famous scientist, famous singers, famous statesmen, famous women, heroes, great explorers, and others Arkansas famous Americans have all made Arkansas their home. This list includes Arkansas historical figures, celebrities and those individuals of Arkansas who have influenced the lives of others.
Maya Angelou (1928 - ) Poet and author of many books, including I Know Why the Caged Bird Sings.
Pearl Buck was born Pearl Comfort Sydenstricker in Hillsboro, Arkansas, the daughter of Southern Presbyterian missionaries who spent most of their lives in China. Pearl was born while her parents were on a furlough in the US, but returned to China when she was only 3 months old. She enrolled in Randolph-Macon Woman's College in Virginia, and returned to China after graduation where she met John Lossing Buck, an American agricultural economist. Pearl and her husband both took teaching positions at Nanking University. In the 1920s, Pearl began to publish stories and essays, and her first novel East Wind, West Wind, was published in 1930. Her second book, The Good Earth won a Pulitzer Prize, was a best selling book of both 1931 and 1932, and was adapted as a major film in 1937. By 1938, Buck had won the Nobel Prize in literature, the first American woman to do so.
Paul Bryant was born in Moro Bottom and raised in Fordyce, Arkansas. He earned his nicknamed as a young man by wrestling a bear at the Fordyce Theater. He served as the head coach of the University of Alabama's Crimson Tide from 1958-1983 and became the college football coach with the best record having earned 323 victories and six national championships. Five weeks after retiring as head coach, he died of a heart attack.
Hattie Caraway (February 1, 1878 - December 21, 1950) was the first woman elected to serve a full term as a United States Senator. Senator Caraway represented Arkansas. Hattie Wyatt was born near Bakerville, Tennessee, in Humphreys County, the daughter of William Carroll Wyatt, a farmer and shopkeeper, and Lucy Mildred Burch. At the age of four she moved with her family to Hustburg, Tennessee. After briefly attending Ebenezer College in Hustburg, she transferred to Dickson (Tenn.) Normal College, where she received her B.A. degree in 1896. She taught school for a time before marrying in 1902 Thaddeus Horatius Caraway, whom she had met in college; they had three children, Paul Caraway, Forrest, and Robert; Paul and Forrest became Generals in the United States Army. The couple settled in Jonesboro, Arkansas where he established a legal practice while she cared for the children, tended the household and kitchen garden, and helped to oversee the family's cotton farm.
Johnny Cash (February 26, 1932 - September 12, 2003) was an American singer-songwriter, actor, and author who was considered one of the most influential musicians of the 20th century. Although he is primarily remembered as a country icon, his songs and sound spanned other genres including rock and roll and rockabilly- especially early in his career- and blues, folk, and gospel. This crossover appeal won Cash the rare honor of induction in the Country Music Hall of Fame, the Rock and Roll Hall of Fame, and the Gospel Music Hall of Fame.
Leroy Eldridge Cleaver (August 31, 1935 - May 1, 1998), better known as Eldridge Cleaver, was a writer and political activist who became an early leader of the Black Panther Party. His book Soul On Ice is a collection of essays praised by The New York Times Book Review at the time of its publication as "brilliant and revealing". As a teenager he was involved in petty crime and spent time in youth detention centers. At the age of eighteen he was convicted of a felony drug charge and sent to the adult prison at Soledad. In 1958, he was further convicted of rape and assault with intent to murder and eventually served time in Folsom and San Quentin prisons Born in Wabbaseka, Arkansas, as a child Cleaver moved with his family to Phoenix and then to Los Angeles. In 1967, he married Kathleen Neal Cleaver; they divorced in 1987. They had a son, Ahmad Maceo Eldridge Cleaver, and a daughter, Jojuyounghi Cleaver
William Jefferson (Bill) Clinton (1946- ) 42nd President of the United States; born in Hope.
Jay Hanna (Dizzy) Dean (1910 - 1974) Baseball player; born in Lucas.
Scott Joplin (1867 - 1917) Musician, composer; lived in Texarkana.
John Grisham (1955 - ) was born in Jonesboro, Arkansas, the son of a cotton farmer. His father also was an itinerant construction worker, and moved the family throughout the Deep South. Although neither of his parents attended college, they encouraged him to pursue his education, and he entered the University of Mississippi law school to prepare for a career as a tax lawyer. He established a practice and was elected to the Mississippi House of Representatives in 1983. Inspired by cases he had observed in his law career, he decided to begin writing novels, and eventually closed his law practice to write full time. He is now the best-selling author of such books as "A Time to Kill," "The Rainmaker," "The Firm," "The Pelican Brief," "The Client" and "The Chamber," all of which) have been successfully translated into movies.
General Douglas MacArthur (1880-1964) Famous soldier and statesman; born in Little Rock.
Scottie Pippen (1965 - ) NBA player, played for the University of Central Arkansas; born in Hamburg.
Mary Steenburgen (born February 8, 1953) is an American actress. Steenburgen was born in Newport, Arkansas, the daughter of Nellie Mae (née Wall), a school-board secretary, and Maurice Steenburgen, a freight-train conductor who worked at the Missouri Pacific Railroad. She won an Academy Award and a Golden Globe for playing the role of Lynda Dummar in Jonathan Demme's 1980 film Melvin and Howard.
Saracen (1735 - 1832) The last Quapaw chief in Arkansas; he is buried in Pine Bluff. Saracen was a chief of the Quapaws during the tragic era when their numbers dwindled and they were moved out of Arkansas through treaties with the U.S. Government.
Sam Walton (1918 - 1992) Founder of Wal-Mart; lived in Bentonville.
---
More Famous People of Arkansas
Find more more Arkansas famous people below. You may not even realize many of these famous people were born in Arkansas or notable associated with Arkansas, including actors, actresses, explorers, historical figures, inventors, musicians, novelists, professional athletes, important politicians, singers, sport stars and more.
G. M. (Broncho Billy) Anderson actor, Little Rock
Helen Gurley Brown editor, Green Forest
Glen Campbell singer, Delight
Eldridge Cleaver black activist, Walbaseha
Jay Hanna (Dizzy) Dean baseball player, Lucas
Orval Faubus former governor, Combs
John Gould Fletcher writer, Little Rock
John H. Johnson publisher, Arkansas City
Scott Joplin musician, composer, Texarkana
Alan Ladd actor, Hot Springs
Dick Powell actor, Mountain View
Edward Durrell Stone architect, Fayettville