Arkansas State Flower or Floral Emblem
Apple Blossom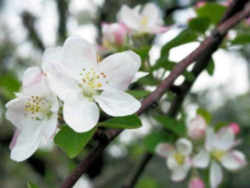 (Pyrus malus)
Adopted in 1901.
The apple blossom, (Pyrus malus,) was adopted as the Arkansas State Flower by the Thirty-third General Assembly of 1901. Apple blossoms have pink and white petals and green leaves. At one time Arkansas was a major apple-producing state. The town of Lincoln in Washington County hosts the annual Arkansas Apple Festival.
The apple blossom was chosen because at that time Arkansas was known as the apple state and sometimes called "The Land of the Big Red Apple." At one time Benton County was the chief apple-producing county in the US Today Arkansas ranks 32ndin apple production.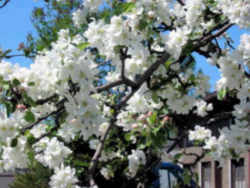 Synonyms/other Latin names: = Malus coronaria var. coronaria (L.) Mill. (NoR)
Common name(s): sweet crabapple
This is a well-known tree, growing from 20 to 40 feet high, with rigid, crooked, spreading branches, and a rough, blackish bark. The apple tree is a native of Europe, naturalized in this country, and flowers from April to June. There are, probably, nearly 1000 varieties cultivated in the United States, and all of which are said to be derived from the Wild crab (Pyrus coronaria, Linne). From the fruit cider is manufactured, and both the fruit and its cider are much used for domestic and medicinal purposes.
Characteristics of the Apple Blossom
Lifespan: Perennial
Height: 9 m
Leaves: The leaves are from 2 to 3 inches long, about 2/3 as wide, ovate, or oblong-ovate, serrate, acute, or short-acuminate, pubescent above, tomentose beneath, and on petioles from 1/2 to 1 inch in length.
Flower Color: The flowers are pink, sometimes fading to white, and very fragrant. The attractive flowers resemble the common apple bloom. Flowers scent the May landscape. Fruit is greenish and ripens in September.
Flower Size: The flowers are large (4 cm) fragrant, expanding with the leaves, of pale-rose color, and borne in subumbellate corymbs. The calyx-tube is urn-shaped, with limb 5-cleft; the pedicels and calyx villose-tomentose. Petals 5, roundish, or obovate, with short claws. Stamens numerous; styles 5, united, and villose at base.
Bloom Season: April-May
Fruit: 2.5-3 cm in diameter; like a small apple; yellow-green, maturing in late summer
Conditions: Moist soils in openings and borders of forests
The Arkansas Code (Non annotated)
The law designating the apple blossom as the official Arkansas state flower is found in the 2014 Arkansas Code Title 1 - General Provisions Chapter 4 - State Symbols, Motto, Etc. Section 1-4-109
TITLE 1. GENERAL PROVISIONS.
CHAPTER 4.STATE SYMBOLS, MOTTO, ETC.
SECTION 1-4-109.

1-4-109. State flower.

The apple blossom is declared to be the state floral emblem of Arkansas.

History. Senate Concurrent Resolution, No. 1, Acts 1901, p. 408; A.S.A. 1947, § 5-109.
Taxonomic Hierarchy: Apple
Kingdom: Plantae - Plants
Subkingdom: Tracheobionta - Vascular plants
Superdivision: Spermatophyta - Seed plants
Division: Magnoliophyta - Flowering plants
Class: Magnoliopsida - Dicotyledons
Subclass: Rosidae
Order: Rosales
Family: Rosaceae - Rose family
Genus: Malus Mill. - apple
Species: M. domestica -
Synonym: Pyrus malus L
---
State Flowers
State Floral Emblems