Arkansas Counties: History and Information
Find a brief history of Arkansas Counties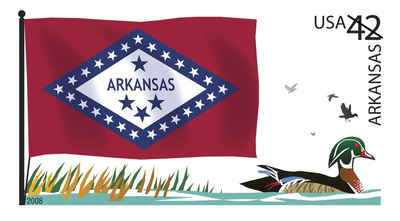 Arkansas is a state located in the Southern region of the United States. Arkansas shares borders with six states: Missouri, Tennessee, Mississippi Louisiana, Texas and Oklahoma, is the 29th most extensive and the 32nd most populous of the 50 United States. The capital and most populous city is Little Rock. On June 15, 1836, the state of Arkansas was admitted to the Union as the 25th state.
The first of the state's 75 present-day counties to be created, Arkansas County was formed on 13 December 1813, when this area was part of the Missouri Territory.
Five counties were organized when Arkansas was established as a territory to the United States in 1819. They were Arkansas, Clark, Hempstead, Lawrence and Pulaski. These counties had been carved out of the Territory of Missouri and from American Indian lands. The titles to the Indian lands are extinguished and today the counties number 75.
There are 75 counties in the state of Arkansas. Arkansas is tied with Mississippi for the most counties with two county seats, at ten
County
2000
Population
Square
Miles
County Seat
Created
Arkansas County
20,749
988
DeWitt
1813
Ashley County
24,209
921
Hamburg
1848
Baxter County
38,386
554
Mountain Home
1873
Benton County
153,406
843
Bentonville
1836
Boone County
33,948
591
Harrison
1869
Bradley County
12,600
651
Warren
1840
Calhoun County
5,744
628
Hampton
1850
Carroll County
25,357
634
Berryville
1833
Chicot County
14,117
644
Lake Village
1823
Clark County
23,546
866
Arkadelphia
Clay County
17,609
639
Piggott
1873
Cleburne County
24,046
553
Heber Springs
1883
Cleveland County
8,571
598
Rison
1873
Columbia County
25,603
766
Magnolia
1852
Conway County
20,336
556
Morrilton
1825
Craighead County
82,148
711
Jonesboro
1859
Crawford County
53,247
596
Van Buren
1820
Crittenden County
50,866
610
Marion
1825
Cross County
19,526
616
Wynne
1862
Dallas County
9,210
668
Fordyce
1845
Desha County
15,341
765
Arkansas City
1838
Drew County
18,723
828
Monticello
1846
Faulkner County
86,014
647
Conway
1873
Franklin County
17,771
610
Ozark
1837
Fulton County
11,642
618
Salem
1842
Garland County
88,068
678
Hot Springs
1873
Grant County
16,464
632
Sheridan
1869
Greene County
37,331
578
Paragould
1833
Hempstead County
23,587
729
Hope
Hot Spring County
30,353
615
Malvern
1829
Howard County
14,300
588
Nashville
1873
Independence County
34,233
764
Batesville
1820
Izard County
13,249
581
Melbourne
1825
Jackson County
18,418
634
Newport
1829
Jefferson County
84,278
885
Pine Bluff
1829
Johnson County
22,781
662
Clarksville
1833
Lafayette County
8,559
526
Lewisville
1827
Lawrence County
17,774
587
Walnut Ridge
1815
Lee County
12,580
602
Marianna
1873
Lincoln County
14,492
561
Star City
1871
Little River County
13,628
532
Ashdown
1867
Logan County
22,486
710
Paris
1871
Lonoke County
52,828
766
Lonoke
1873
Madison County
14,243
837
Huntsville
1836
Marion County
16,140
598
Yellville
1835
Miller County
40,443
624
Texarkana
1862
Mississippi County
51,979
898
Blytheville
1883
Monroe County
10,254
607
Clarendon
1839
Montgomery County
9,245
781
Mount Ida
1842
Nevada County
9,955
620
Prescott
1871
Newton County
8,608
823
Jasper
1842
Ouachita County
28,790
732
Camden
1842
Perry County
10,209
551
Perryville
1840
Phillips County
26,445
693
Helena
1820
Pike County
11,303
603
Murfreesboro
1833
Poinsett County
25,614
758
Harrisburg
1838
Polk County
20,229
860
Mena
1844
Pope County
54,469
812
Russellville
1829
Prairie County
9,539
646
Des Arc
1846
Pulaski County
361,474
771
Little Rock
1818
Randolph County
18,195
652
Pocahontas
1835
Saline County
83,529
725
Benton
1835
Scott County
10,996
894
Waldron
1833
Searcy County
8,261
667
Marshall
1838
Sebastian County
115,071
536
Fort Smith
1851
Sevier County
15,757
564
De Queen
1828
Sharp County
17,119
604
Ash Flat
1868
St. Francis County
29,329
634
Forrest City
1827
Stone County
11,499
607
Mountain View
1873
Union County
45,629
1,039
El Dorado
1829
Van Buren County
16,192
712
Clinton
1833
Washington County
157,715
950
Fayetteville
1828
White County
67,165
1,034
Searcy
1835
Woodruff County
8,741
587
Augusta
1862
Yell County
21,139
928
Danville
1840
---