Maryland State Dessert
Smith Island Cake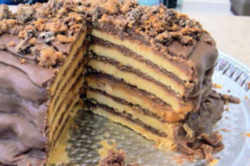 Adopted in 2008
Effective October 1, 2008, the Smith Island Cake became the State Dessert of Maryland (Chapters 164 & 165, Acts of 2008; Code State Government Article, sec. 13-320). Traditionally, the cake consists of eight to ten layers of yellow cake with chocolate frosting between each layer and slathered over the whole. However, many variations have evolved, both in the flavors for frosting and the cake itself.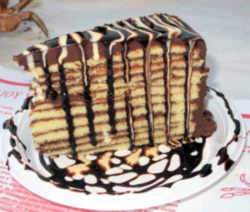 Smith Island, home to the State Dessert, is Maryland's last inhabited island, reachable only by boat. Straddling the Maryland - Virginia line, Smith Island is twelve miles west of Crisfield in Somerset County and 95 miles south of Baltimore.
Originally settled in the 1600s, Smith Island has been home to watermen and their families for centuries. Given their isolation, an island culture and tradition developed and has been preserved, including their penchant for multi-layered cakes.
Smith Island Baking Co - home of the Smith Island Cake.
Founded in Ewell, Smith Island, Maryland, the Smith Island Baking Co. is the only bakery on Smith Island. They specialize in Authentic Smith Island Cakes, Maryland's State Dessert, and we proudly ship their products to customers throughout the United States and around the world.
History
Smith Island, Maryland, is the birthplace of the Smith Island Cake. The Smith Island Baking Co. is the only bakery on Smith Island. Our story has been told and retold by satisfied customers and journalists alike from around the world. It's a story of the right people, the right vision, and the right community. And, of course, the right cake!
Smith Island, Maryland, is a 400-year-old fishing village of only 250 residents. Located 10 miles offshore in the Chesapeake Bay, and accessible only by ferry, map of smith island map of smith island it was here that the Smith Island Cake was born. Smith Island has always been a waterman's community. In the 1800's, when Smith Island men went on the autumn oyster harvest, their wives would send Smith Island Cakes as a special treat to remind them of their families and the community they had left behind. The bakers took pride in making Smith Island Cakes with the thinnest possible layers and they began using fudge instead of buttercream frosting. The watermen loved the presentation, and cakes frosted with fudge lasted much longer than cakes with other frostings.

National Geographic logo In 2008, Maryland named the Smith Island Cake its State Dessert. In spite of our remote location, National Geographic says we're "Worth the Trip." While Smith Island Cakes are deservedly famous, and delicious, there were no significant bakeries on the island. That was, until the stars aligned.
Maryland Law
The law designating the Smith Island cake as the official Maryland state dessert is found in the Maryland Statutes, Title 13, Section 13-312.
STATE GOVERNMENT
§ 13-320 - Dessert

Universal Citation: MD State Govt Code § 13-320 (2013)

§13-320.

Smith Island cake is the State dessert.
---