Maryland State Reptile
Diamondback Terrapin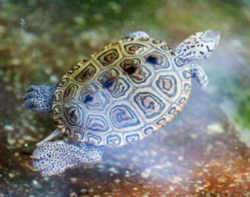 (Malaclemys terrapin)
Adopted in 1994.
The
Diamondback Terrapin
(
Malaclemys terrapin
) was made the State reptile and official mascot of the University of Maryland College Park in 1994 (Chapter 476, Acts of 1994; Code State Government Article, sec. 13-313). As mascot (also known as Testudo), the Terrapin, however, has been affiliated with the University's athletic program since 1933.
Maryland has acted to protect Diamondback Terrapins. Effective July 1, 2007, it is unlawful to take or possess them for commercial purposes (Chapters 117 & 118, Acts of 2007; Code Natural Resources Article, sec. 4-902).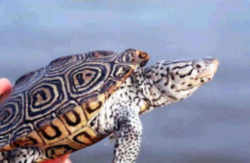 The name "terrapin" is derived from the Algonquian word torope. It applies to Malaclemys terrapin in both British English and American English. The name originally was used by early European settlers in North America to describe these brackish-water turtles that inhabited neither freshwater habitats nor the sea. It retains this primary meaning in American English. In British English, however, other semi-aquatic turtle species, such as the red-eared slider, might be called a terrapin.
The diamondback terrapin (Malaclemys terrapin) or simply terrapin, is a species of turtle native to the brackish coastal swamps of the eastern and southern United States. It belongs to the monotypic genus, Malaclemys. It has one of the largest ranges of all turtles in North America, stretching as far south as Florida Keys and as far north as Cape Cod.
Chesapeake diamondbacks are distinguished by diamond-shaped, concentric rings on the scutes of their upper shells. They are predators whose preference for unpolluted saltwater make them indicators of healthy marsh and river systems. In winter, they hibernate underwater in mud. Around late May, diamondback terrapin emerge to mate, nest, and bask in the sun on coastal dunes or narrow sandy beaches.
The species is sexually dimorphic in that the males grow to approximately 13 cm (5.1 in), while the females grow to an average of around 19 cm (7.5 in), though they are capable of growing larger. The largest female on record was just over 23 cm (9.1 in) in length. Specimens from regions that are consistently warmer in temperature tend to be larger than those from cooler, more northern areas. Male diamondback terrapins weigh 300 g (11 oz) on average, while females weigh around 500 g (18 oz). The largest females can weigh up to 1,000 g (35 oz).
Chesapeake colonists ate terrapin prepared Native-American fashion, roasted whole in live coals. Abundant and easy to catch, terrapin were so ample that landowners often fed their slaves and indentured servants a staple diet of terrapin meat. Later, in the 19th century, the turtle was appreciated as gourmet food, especially in a stew laced with cream and sherry. Subsequently, tremendous retail demand and heavy fishing of the terrapin nearly depleted its supply, and protective laws were enacted.
In 1891, some 89,000 lbs. of terrapin were harvested from Maryland waters. With few exceptions, annual harvests since 1956 have remained below 11,000 lbs
Maryland Law
The law designating the diamondback terrapin as the official Maryland state reptile and official mascot of the State's flagship university at College Park is found in the Maryland Statutes, Title 13, Section 13-320.
STATE GOVERNMENT
§ 13-320 - State reptile and official mascot of the State's flagship university at College Park

§ 13-320.
The diamondback terrapin (Malaclemys terrapin) is the State reptile and official mascot of the State's flagship university at College Park.
Taxonomic Hierarchy: Diamondback Terrapin
Kingdom: Animalia - animals
Phylum: Chordata - chordates
Subphylum: Vertebrata - vertebrates
Class: Reptilia
Order: Testudines
Family: Emydidae
SubFamily: Deirochelyinae
Genus: Malaclemys - Gray, 1844
---
State Reptiles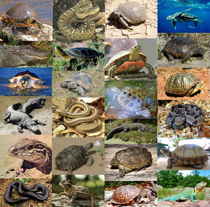 Twenty-six U.S. states have named an official state reptile.