Maryland State Exercise
Walking
Adopted 0n Oct 1, 2008
Walking became the State Exercise of Maryland on October 1, 2008 (Chapters 400 & 401, Acts of 2008; Code State Government Article, sec. 13-320). The city of Baltimore offers a fascinating historical walk named Heritage Walk. The Baltimore Heritage Walk is a heritage trail that links 20 historic sites and museums in Baltimore, Maryland. It is 3.2 miles long.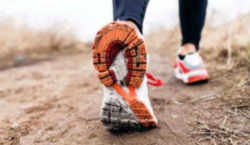 Walking is one of the easiest and least expensive ways to stay physically fit. It's also a versatile form of exercise that can be done indoors (many malls and public buildings offer walking routes) or outdoors, and you can tailor the intensity of your exercise based upon your individual abilities and goals.
The health benefits of walking include improved cardiovascular fitness, reduced risk of developing high blood pressure, and prevention of heart attacks, colon and breast cancer, and osteoporosis. Physical activity also elevates mood and reduces anxiety. The U.S. Surgeon General recommends that all Americans walk at least 30 minutes per day, five days a week.
A walking program may include using a treadmill, or walking outside at an average speed of 3 to 4 miles per hour. To minimize the risk of injury, it is important to warm up and stretch muscles before each session, wear good walking shoes, remain hydrated, and cool down before finishing.
Many Marylanders belong to clubs which sponsor walking events throughout the year. The Maryland Volkssport Association, for example, conducts events which are noncompetitive and family-friendly.
Maryland Law
The law designating walking as the official Maryland state exercise is found in the Maryland Statutes, Title 13, Section 13-321.
STATE GOVERNMENT
§ 13-321 - Exercise

Universal Citation: MD State Govt Code § 13-321 (2013)

§13-321.

Walking is the State exercise.
---