Maryland State Almanac: Facts and Figures
Quick Facts, Figures, and Overview of the State of Maryland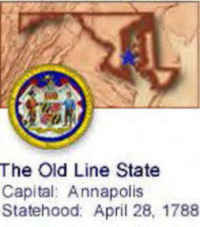 Maryland is one of the South Atlantic states of the US. It is bordered by Virginia, West Virginia, the District of Columbia, Pennsylvania and Delaware. Maryland named to honor King Charles' wife Queen Henrietta Maria (Queen Mary)
The economy of the state, known for the production of tobacco in colonial times, became dominated by manufacturing in the late 19th century and depends primarily on the service and government sectors today.
Important agricultural products are greenhouse and nursery products, broiler chickens, dairy products, eggs, and soybeans. Stone, coal, sand, gravel, cement, and clay are the chief mineral products.
Manufacturing industries include food products, chemicals, computer and electronic products, transportation equipment, and primary metals. Baltimore, home of the Johns Hopkins University and Hospital, ranks as the nation's second port in foreign tonnage. The capital, Annapolis, is the site of the US Naval Academy.
Official Name
Maryland
Capital
Annapolis
Nicknames
Old Line State ...and more
Motto
Fatti Maschii Parole Femine (Strong Deeds, Gentle Words)
Location
Region
38.97165 N, 076.50303 W
Middle Atlantic
Appalachia
Northeastern
Constitution Ratified
1867
Statehood
April 28, 1788
7th state
Population
5,773,552 (2010)
541.84 sq. mi.
19th
Largest City
(by population)
10 largest cities (2010): Baltimore, 620,961; Frederick, 65,239; Rockville, 61,209; Gaithersburg, 59,933; Bowie, 54,727; Hagerstown, 39,662; Annapolis, 38,394; College Park, 30,413; Salisbury, 30,343; Greenbelt, 23,068
Bordering States
North: Pennsylvania
East: Delaware and the Atlantic Ocean (Chesapeake Bay deeply indents the Eastern section of the state)
South: Virginia
South West and West: West Virginia. (The District of Columbia, site of the US capital, is an enclave in the Western part of the state) (Potomac River forms most of Maryland's Western boundary)
Coastline: 31 mi.
Major Industry
farming (corn, soybeans, tobacco, poultry and dairy products), mining (coal), steel products, communications equipment, fishing (crabs and oysters), government services
Major Rivers
Potomac River, Patapsco River, Patuxent River, Susquehanna River
Major Lakes
Lake Oakland, Deep Creek Lake, Prettyboy Reservoir, Loch Raven Reservoir
Maryland Counties
24 Counties in Maryland
Largest County
(by population)
Montgomery County
971,777 (2010)
495 sq. mi.
Largest County
(by area)
Frederick County
663 sq. mi.
State forests
7 (136,907 ac.)
State parks
40 (90,239 ac.)
Electoral Votes
10
US Congress
2 Senators; 8 Representatives
Time Zone
Eastern Standard Time
Zip Codes
NANPA
State Quick Facts
Census Bureau Quick Facts
---
Maryland Climate and Weather

Maryland has four distinct seasons and its landscape varies from sea-level plain to low mountains, the weather is generally not that extreme. The state is prettiest in the spring, when the dogwoods and fruit trees are blooming, and in October, when the landscape glows with myriad shades of gold. At those times, weather is changeable, with warm temperatures (50-77 F/10-25 C). Summers can be quite warm, with average temperatures in the mid 80s F/29 C. Fairly high humidity (near 70 %) July-August can make for some uncomfortable touring, but sea breezes help keep coastal areas more comfortable, and cooler night temperatures give a break from the heat. The mountains in the western part of Maryland are generally cooler and wetter than elsewhere. Maryland does get snow most winters, with accumulations of 1-70 in/2.5-178 cm (the mountains get the most). A few attractions close during the winter months, but nearly all are open during the spring, summer and fall seasons.
Highest Temperature
109 degrees
July 10, 1936 - Cumberland and Frederick
Lowest Temperature
-40 degrees
January 13th, 1912 - Oakland
Avg. Temp:
High - Low
87.1 degrees
24.3 degrees

Maryland Points of Interest

Maryland, the birthplace of "The Star-Spangled Banner," America's National Anthem, offers a wide variety of things to see or do.

Major points-of interest include the Fort McHenry National Monument; Harpers Ferry and Chesapeake and Ohio Canal National Historic Parks; Antietam National Battlefield; National Aquarium, USS Constellation, and Maryland Science Center at Baltimore's Inner Harbor; Historic St. Mary's City; Jefferson Patterson Historical Park and Museum at St. Leonard; US Naval Academy in Annapolis; Goddard Space Flight Center at Greenbelt; Assateague Island National Park Seashore; Ocean City beach resort; and Catoctin Mountain, Fort Frederick, and Piscataway parks; and nearby Washington, DC.

The Chesapeake and Ohio Canal is a not-to-be-missed attraction. It parallels the Potomac River from Georgetown to Cumberland. This 185-mile-long adventure for the entire family offers numerous, cultural and outdoor recreational opportunities.

Maryland Highest, Lowest, and Mean Elevations (Feet)

Mean Elevation: 350 feet
Highest Point: Backbone Mountain: 3360 feet

The highest point in Maryland is Hoye-Crest on Backbone Mountain at 3,360 feet above sea level about two miles north of the mountain's highest point in West Virginia. Backbone Mountain is a long ridge that runs diagonally southwest-to-northeast in the extreme southwest corner of Maryland, extending into West Virginia. The highest point on the mountain is actually in West Virginia and is the Preston county (WV) highpoint.

Lowest Point:
Atlantic Ocean
Sea level

Maryland Land Area (Square Miles)

Geographic Center
In Prince Georges County, 41/2 mi. NW of Davidsonville
Longitude: 77°22.3'W
Latitude: 39°29.5'N
Total Area
12,406.68 sq. mi.
42nd
Land Area
9,773.82 sq. mi.
Water Area
2,632.86 sq. mi.
21.21%
Forested Land Area
42.9%
Dimensions
(Length - Width)
250 miles - 90 miles
County Information and County History
Almanac Online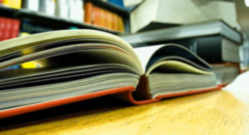 Information on people & places that make US a great place to live, visit, or study.