Maryland State Team Sport
LACROSSE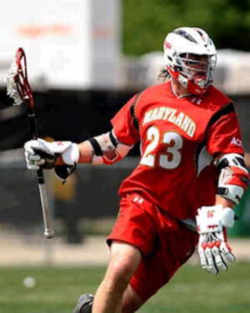 Adopted on October 1, 2004
Effective October 1, 2004, Lacrosse became the official team sport of Maryland (Chapter 272, Acts of 2004; Code State Government Article, sec. 13-308).
Known as the oldest sport in North America, lacrosse was played by native American tribes probably for centuries before the first account of it was written in 1636 by a French Jesuit missionary in Canada. Among native Americans, lacrosse was played by tribes throughout the Great Lakes region, and in what is now the southeastern United States, and all along the East Coast, a range which encompasses Maryland.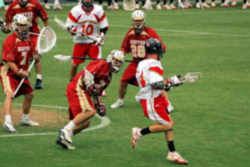 Lacrosse is a fast-paced game played on a field in which the ten players on each team attempt to get a small ball into their opponent's goal while keeping it out of their own goal. A team consists of a goalie, three attackers, three midfielders, and three defenders. A long-handled stick with a net pocket on the end is used to throw, catch, and scoop the ball. From the stick, the game derives its name. To early French Canadians, the stick resembled a bishop's crosier, la Crosse.

In the United States, lacrosse became popular on college campuses in the late 1800s, beginning with New York University in 1877. The University of Maryland fielded its first team in 1910. In 1926, the first women's lacrosse team in the country was established at the Bryn Mawr School in Baltimore. Lacrosse made its Olympic debut in 1928, with the Johns Hopkins University team representing the United States. That school has remained a lacrosse power-house, ranked number one in the postseason coaches poll in 2002, 2003, and 2004. Other Maryland teams have performed well. The US Naval Academy in Annapolis won its eighth consecutive intercollegiate title in 1967, and in 2005 is ranked fifth in the nation, behind Johns Hopkins, Duke, Georgetown, and University of Virginia. In 1997, the University of Maryland won its fifth National Collegiate Athletic Association (NCAA) women's championship.

Since 1995, lacrosse has grown rapidly as a club sport and at middle- and high-school levels in Maryland.

In 1997, Maryland became home to the Lacrosse Museum and National Hall of Fame.

The Baltimore Bayhawks debuted in the Nationals Division of Major League Lacrosse in June 2001. They play at Ravens Stadium in the Camden Yards Sports Complex in Baltimore.

On May 30, 2005, The Johns Hopkins University Blue Jays defeated Duke University's Blue Devils to win the Division I Men's Lacrosse championship of the National Collegiate Athletic Association (NCAA).

Maryland Law
The law designating lacrosse as the official Maryland state team sport is found in the Maryland Statutes, Title 13, Section 13-308.
STATE GOVERNMENT
§ 13-308 - Sport

Universal Citation: MD State Govt Code § 13-308 (2013)

§13-308.

(a) Jousting is the State sport.

(b) Lacrosse is the State team sport.
---