Pennsylvania State Almanac: Facts and Figures
Quick Facts, Figures, and Overview of the State of Pennsylvania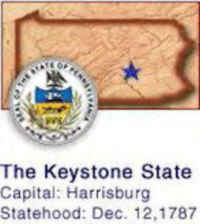 Pennsylvania in full, Commonwealth of Pennsylvania, one of the Middle Atlantic states of the US. Surrounded by New Jersey, Lake Erie, New York, West Virginia, Maryland, and Delaware, it has an 880 mile long boundary. Pennsylvania's name was derived from the charter given to William Penn by England's Charles II in 1680. The Latin Sylvania meaning "woodlands" was added to Penn to create "Penn's woods."
The nation's first oil well was dug at Titusville in 1859, and the mining of iron ore and coal led to the development of the state's steel industry. More recently Pennsylvania's industry has diversified, although the state still leads the country in the production of specialty steel. The service, retail trade, and manufacturing sectors provide the most jobs; Pennsylvania is a leader in the production of chemicals and pharmaceuticals, food products, and electronic equipment.
Pennsylvania's 63,200 farms (occupying nearly 8 million acres) are the backbone of the state's economy, producing a wide variety of crops. Leading commodities are dairy products, corn, cattle and calves, mushrooms, poultry and eggs, a variety of fruits, sweet corn, potatoes, maple syrup, and Christmas trees.
Official Name
Pennsylvania
Capital
Harrisburg
Nicknames
Keystone State ...and more
Motto
Virtue, liberty and independence
Location
Region
40.27605 N, 076.88450 W
Middle Atlantic
Northeastern
Appalachia
Constitution Ratified
1968
Statehood
December 12, 1787
2nd state
Population
12,702,379 (2010)
274.01 sq. mi.
6th
Largest City
(by population)
10 largest cities (2010 est.):Philadelphia, 1,526,006; Pittsburgh, 305,704; Allentown, 118,032; Erie, 101,786; Reading, 88,082; Scranton, 76,415; Bethlehem, 71,329; Lancaster, 56,348, Harrisburg, 48,950, Altoona, 49,523
Bordering States
North: Lake Erie and New York
East: New York and New Jersey (Delaware River forms the entire Eastern boundary of the state)
South: Delaware, Maryland, and West Virginia
West: West Virginia and Ohio
Major Industry
steel, farming (corn, oats, soybeans, mushrooms), mining (iron, portland cement, lime, stone), electronics equipment, cars, pharmaceuticals
Major Rivers
Allegheny River, Susquehanna River, Delaware River, Ohio River
Major Lakes
Lake Erie
Pennsylvania Counties
67 Counties in Pennsylvania
Largest County
(by population)
Philadelphia County
1,526,006 (2010)
135 sq. mi.
Largest County
(by area)
Lycoming County
1,235 sq. mi.
State forests
over 2 mil. ac.
State parks
116
Presidential Birthplace
James Buchanan was born in Cove Gap (near Mercersburg) on April 23, 1791 (he was the 15th US President, serving from 1857 to 1861)
Electoral Votes
21 (as of the 2004 Presidential Election)
US Congress
2 Senators; 19 Representatives
Time Zone
Eastern Standard Time
Zip Codes
NANPA
State Quick Facts
Census Bureau Quick Facts
---
Pennsylvania Climate and Weather

Pennsylvania has four distinct seasons, though their length and intensity vary around the state. In general, as you move into the more mountainous regions, the temperatures become cooler, and rain and snow are more frequent.

Spring and summer tend to be wetter than the rest of the year. In the southeast, expect long summers, sometimes uncomfortably hot and humid. Temperatures of 90 F/32 C and higher aren't unusual, though average highs run in the mid 80s F/29 C. Midsummer lows are usually in the 60s F/15-21 C. The western part of the state is somewhat cooler but still tends to be sticky in the summer. Both the humidity and the temperatures are lower in the mountains.

Fall offers warm days - highs running 66-75 F/17-23 C, with nighttime lows in the 40s and 50s F/4-14 C. Winter is colder and more severe in the north and the mountains. Snowfall ranges from less than 10 in/25 cm in some parts of the state to more than 100 in/255 cm. In the southeast, the winters are rather mild, with snow cover about a third of the time and January temperatures ranging from 21 to 48 F/-5 to -8 C. The mountains are colder, with some days below 0 F/-18 C.

Highest Temperature
111 degrees
July 10, 1936 - Phoenixville
Lowest Temperature
-42 degrees
January 5, 1904 - Smethport
Avg. Temp:
High - Low
86.2 degrees
18.0 degrees

Pennsylvania Points of Interest

Pennsylvania, the Keystone State, offers a wide variety of things to see or do.

Some of the favorite attractions include Philadelphia, metropolitan Pittsburgh; Dutch Amish country; Allegheny and Pocono Mountains; Gettysburg Battlefield and Valley Forge. Gettysburg National Military Park, Valley Forge National Historical Park, Independence National Historical Park in Philadelphia, the Pennsylvania Dutch region, the Eisenhower farm near Gettysburg, and the Delaware Water Gap National Recreation Area.

In addition, across the state there are numerous historic attractions and natural wonders, all offering opportunities for family fun and learning.

Pennsylvania Highest, Lowest, and Mean Elevations (Feet)

Mean Elevation: 1,100 feet

Highest Point: Mt. Davis: 3,213 feet

The highest point in Pennsylvania is Mount Davis at 3,213 feet. Mount Davis is located on the next ridge west of the Allegheny Front, in southern Somerset County, which is in the 12th District. This ridge comes into Pennsylvania from West Virginia and stops just north of Mount Davis, while the other ridges in the area run much farther to the north, especially Allegheny Ridge. Mount Davis has an observation tower and trails, and is part of Forbes State Forest.

Lowest Point:
Delaware River
Sea level

Pennsylvania Land Area (Square Miles)

Geographic Center
In Centre County, 21/2 mi. SW of Bellefonte
Longitude: 77°44.8'W
Latitude: 40°53.8'N
Total Area
46,055.24 sq. mi.
33rd
Land Area
44,816.61 sq. mi.
97.32%
Water Area
sq. mi.1,238.63
2.68%
Forested Land Area
58.9%
Dimensions
(Length - Width)
283 miles - 160 miles
County Information and County History
Adams, Allegheny, Armstrong, Beaver, Bedford, Berks, Blair, Bradford, Bucks, Butler, Cambria, Cameron, Carbon, Centre, Chester, Clarion, Clearfield, Clinton, Columbia, Crawford, Cumberland, Dauphin, Delaware, Elk, Erie, Fayette, Forest, Franklin, Fulton, Greene, Huntingdon, Indiana, Jefferson, Juniata, Lackawanna, Lancaster, Lawrence, Lebanon, Lehigh, Luzerne, Lycoming, McKean, Mercer, Mifflin, Monroe, Montgomery, Montour, Northampton, Northumberland, Perry, Philadelphia, Pike, Potter, Schuylkill, Snyder, Somerset, Sullivan, Susquehanna, Tioga, Union, Venango, Warren, Washington, Wayne, Westmoreland, Wyoming, York
Almanac Online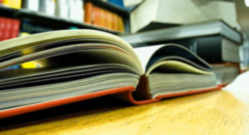 Information on people & places that make US a great place to live, visit, or study.