Tennessee State Ambassador of Letters
Dr. Harriette Bias-Insignares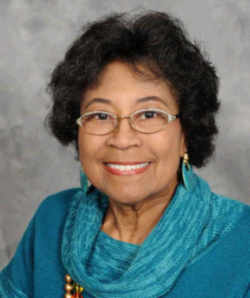 Adopted on May 12, 1977
Dr. Harriette Bias-Insignares , former Director of Forensics in the Department of Dramatics and Speech at Fisk University, was named Tennessee's "Ambassador of Letters'' by House Joint Resolution 222 on May 12, 1977. Insignares holds the distinction of being the first African American Poet Laureate/Ambassador of Letters for the State of Tennessee and first official Poet Laureate for the city of Nashville.
A native of Savannah, Georgia, Ms. Allen is widely recognized as a poetess, storyteller, and oral interpreter.
Since 1977,
Dr. Harriette Bias-Insignares
has served the state of Tennessee as its Official State Poet and Arts Advocate under the title Tennessee's Ambassador of Letters. To honor her for her many years of service to the people of Tennessee through poetry, Bias-Insignares was named the first Poet Laureate of Nashville. A graduate of Fisk University, the University of Wisconsin-Whitewater, and George Peabody College of Vanderbilt University, Bias-Insignares has been an educator for more than forty years. She has taught English as a Second Language, Rhetoric and Public Address, Theatre, and Journalism. Awards in Education: TSU Outstanding Teacher Award TSU Foundation Scholars Award TSU National Broadcasting Society Journalism Teacher of the Year Award Consortium of Doctors Trailblazer Award Society of Professional Journalists' David L. Eshelman Award Bias-Insignares started writing poetry in earnest following the assassinations of John F. Kennedy, Dr. Martin Luther King Jr., and Bobby Kennedy. In her role as Tennessee's state poet she has written poetry honoring men and women like Al Gore, Colin Powell, and Eartha Kitt, as well as groups like The National Urban League and the Negro Ensemble Company. Awards in Poetry: Society of Poets International Poet of Merit Medallion Phyllis Wheatley Poetry Award Alpha Kappa Alpha Award for Contributions to American Literature Tennessee Governor's Spotlight Award for Contributions to the Arts In addition to these awards, Bias-Insignares has also been recognized for the Desert Storm Poetry Memorial she created. The memorial is the first poetry memorial to the military in the nation. For her efforts she received the Adjutant General's Distinguished Patriot Medallion, for "singular sacrifice and commitment to sustaining the pride and patriotism of our armed forces."Dr. Harriette Bias-Insignares decided to collect her poems in this volume after the death of her father in 2006. She lives in Nashville with her husband and is the mother of four children.
---