Tennessee State Historian
Wilma Dykeman
(Mrs. James R. Stokely)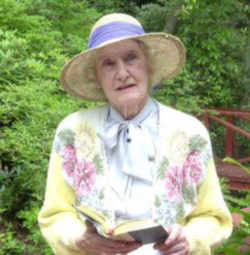 Appointed in 1981.
Adopted in 1955
The office of state historian was created in 1955 by the General Assembly. Dr. Robert H. White, the first appointed state historian, served in that capacity from 1955 until his death in 1970. During his appointment he compiled the eight-volume series, Messages of the Governors, a record of Tennessee's governmental affairs from 1796-1907, which was published by the Tennessee Historical Commission. Dr. Dan H. Robison served as state historian from 1970 to 1972, and Stanley F. Horn served from 1972 until his death in 1980. The position, an honorary one, is now held by Wilma Dykeman, who was appointed by Gov. Lamar Alexander on Jan. 17, 1981. It is the responsibility of the state historian to prepare for publication and to disseminate Tennessee historical data and to conduct negotiations for historical publications.
Mrs. James R. Stokely
Mrs. James R. Stokely is a resident of Newport, where she has been honored as the town's first lady. A graduate of Northwestern University, she is an honorary Phi Beta Kappa and the recipient of several honorary doctoral degrees. She has been a Guggenheim Fellow, a Senior Fellow of the National Endowment for the Humanities, and recipient of many awards, including the Tennessee Conservation Writer of the Year Award, Chicago Friends of American Writers Award, the Distinguished Southern Writer of the Year Award and the Outstanding Speaker of the Year Award by the Tennessee Teachers of Speech Association. Dykeman, with her husband, was recipient of the prestigious Hillman Award for the best book published in America on civil liberties, race relations or world peace. The author of numerous books, Wilma Dykeman has taught at the University of Tennessee Knoxville and numerous workshops for writers. She has lectured at Harvard, Duke, the University of Minnesota and many other universities and colleges. Each year she fills some 30 to 50 speaking engagements in all parts of the United States. Dykeman has published articles in the nation's leading magazines and newspapers, reviews in historical and literary journals, and contributed to the Encyclopedia Britannica. A member of the board of Berea College and the University of North Carolina, she serves on many regional and national committees dealing with history, current affairs, conservation, women's issues and studies of literature and the humanities. She has traveled widely throughout the United States and the world, and has written numerous travel articles. Referring to life in Tennessee, writing and traveling, Wilma Dykeman has said, "A sense of one's place and of history makes distant places less strange and the past more pertinent to the present."
Wilma Dykeman (1920-) (Mrs. James R. Stokely)
Biography and Accolades:
Wilma Dykeman, born in Asheville, North Carolina, has lived her entire life near the banks of the famous French Broad River that winds through the mountains of North Carolina and Tennessee. She was an only child born to a family with its roots in these mountains since the seventeen hundreds. Writing throughout her young life, Dykeman attended Biltmore Junior College in Asheville, and later left the mountains to pursue a bachelor's degree in speech at Northwestern University.
After she graduated, she met her soon-to-be husband James R. Stokely of Newport, Tennessee, a poet and nonfiction writer. Dykeman and her husband lived in both Asheville and Newport and collaborated on several books dealing with race issues in the South: Neither Black Nor White (1957), a personal view of integration in the South; Seeds of Southern Change (1976); and Prophet of Plenty (1966) about the life of Will W. Alexander, a Southern leader who worked for racial peace and justice. Dykeman's husband died in 1977.
Dykeman began writing short stories and later began writing articles for magazines such as Harper's, New York Times Magazine, and Reader's Digest. To date, she has published sixteen books. The French Broad (1955), which she completed in one year, is a lifetime look at life on the French Broad River. Her histories, biographies, and legends bring readers into the mountains that she loves so dearly.
Wilma Dykeman has received many awards including the Guggenheim Fellowship, the Thomas Wolfe Memorial Trophy, a Senior Fellowship from the National Endowment for the Humanities, the Chicago Friends of the American Writers Award, and the 1985 North Carolina Award for Literature. She is currently, and has been since 1981, the honorary Historian of the State of Tennessee. She has taught courses for over twenty years at the University of Tennessee at Knoxville, and is a prized lecturer around the South.
Dykeman steps down from state historian post (June 2002)
NASHVILLE - Tennessee State Historian Wilma Dykeman Stokely announced last week she is stepping down from her post after 22 years. Tennessee Historical Commission's Executive Director Herbert Harper said the Newport native has served the state well and helped raise awareness of the state's rich heritage during her time as state historian. Wilma Dykeman was first appointed to the post in 1980 by then-governor Lamar Alexander. Among the many reasons cited for her appointment was her award-winning work as a writer and contri
In addition, she has authored numerous books, lectured at some of the nation's most prestigious colleges and universities and fills 30 to 50 speaking engagements every year. Dykeman-Stokely is also noted for her work with women's studies and as a travel writer. She sits on numerous boards and has been a force in conservation on both a state and national level.
After more than 20 years as state historian, Dykeman says she just feels it is time to step down.
"I have really enjoyed what this position has allowed me to accomplish," said Dykeman from her home in Newport. "It has taken me across the state speaking and raising awareness of Tennessee's rich and diverse heritage. The time has come for someone else to take over the position. I am still writing my books and will continue my work."
Dykeman says she hopes whoever is chosen for the position will continue raising awareness of the state's heritage. While a lot has been accomplished over the last 20 years, she is concerned that many public schools have diminished their programs on Tennessee history in the last few years and would like to see more importance placed on the subject and history taught differently than it is now.
"The biggest problem with the way history is taught is the emphasis on times and dates," said Dykeman. "The last part of history is 'story' and students should first learn the stories and then go back and find the dates. It makes the subject much more meaningful. History tells us who we are and why. It is a subject that you can't place enough importance on in a classroom because it shows us how to interpret the present and the future."
Dykeman is the first person to hold the honorary position of state historian. Since it is a gubernatorial appointment, it is officially separate from the Tennessee Historical Commission.
"Wilma Dykeman has done a lot for Tennessee history," said Tennessee Historical Commissioner Executive Director Herbert Harper. "She has written a lot of books on the subject and really worked to raise awareness of it across the state."
---