Tennessee State Historian
Walter T. Durhamn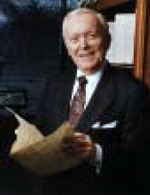 Appointed in 2002 to May 24, 2013
Adopted in 1955
The office of state historian was created in 1955 by the General Assembly. Dr. Robert H. White, the first appointed state historian, served in that capacity from 1955 until his death in 1970. Dan H. Robison served as state historian from 1970 to 1972, and Stanley F. Horn served from 1972 until his death in 1980. Wilma Dykeman was appointed by Gov. Lamar Alexander on Jan. 17, 1981. Walter T. Durhamn was appointed in 2002
Retired Gallatin businessman and public affairs activist, Walter T. Durham has been engaged in writing Tennessee history for the past thirty-five years. Holder of the B.A. and M.A. degrees from Vanderbilt University, he is a member of the Phi Beta Kappa and Pi Sigma Alpha honorary societies. During World War II, he served with the Air Force in Italy and Africa. He has received national honors in the business community for his leadership in the manufacture and sales of building materials. A practiced public speaker, he is a former chairman of the Tennessee Historical Commission and past president of the Tennessee Historical Society. Durham's writing first reached public print outside of Gallatin when, at the age of fifteen, he became Sumner County correspondent for the daily Nashville Banner. In 1969 he published The Great Leap Westward, the first of his seventeen Tennessee books, four of which were done with collaborators. His works have received several awards. He has written more than one hundred articles for magazines, journals, and newspapers, and he has contributed entries to Simon and Schuster's Encyclopedia of the Confederacy, 1993, and the Tennessee Encyclopedia of History and Culture, 1998. He has written chapters for other books and a number of book reviews. His support of libraries, archives, and education earned the Library Leadership Award from Vanderbilt University, the John H. Thweatt Archival Advancement Award from the Society of Tennessee Archivists, and the Glass Apple from Vanderbilt's Peabody College. A former member of the board of trustees of Monmouth College (IL) and the alumni board of Vanderbilt, Durham was chairman of the year-long celebration of the Gallatin Bicentennial, 1802-2002. Governor Don Sundquist appointed him State Historian in 2002. Advocating a candid, unadorned view of history, Durham noted, "We can see much of what is good and bad about America in Tennessee history, but rest assured, there is more glory than shame."
May 24, 2013
DURHAM, Walter Thomas Born on October 7, 1924, died at the age of 88 on May 24, 2013. Currently serving as the Tennessee State Historian, was the son of George Franklin and Celeste McAlister Durham. He is survived by his wife of 64 years, Anna Armstrong Coile Durham....
July 10, 2013
West replaces the late Walter T. Durham

NASHVILLE - Tennessee Gov. Bill Haslam today announced the appointment of Dr. Carroll Van West as state historian.

West replaces the late Walter T. Durham, who served 11 years in the honorary position.

"Dr. West's faithful service to his field for many years reflects a commitment to excellence that will serve the citizens of Tennessee very well,"Haslam said. "His incredible body of work speaks for itself, and we are fortunate and grateful to have him as our state historian."
---