Tennessee State Theatre:
Tennessee Theatre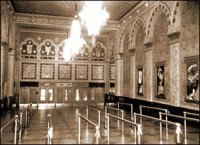 Knoxville
Adopted on May 17, 1999.
The Tennessee Theatre is a jewel of historic Knoxville, located in the heart of Downtown. Listed on the National Register of Historic Places and honored as the Official State Theatre of Tennessee, "Knoxville's Grand Entertainment Palace" has something for everyone: classical music, vintage films, dance, theater, and stellar performances by today's hottest musicians. It was adopted on May 17, 1999 as the Tennessee State Theatre.
The Tennessee Theatre is in its last season before it closes for a complete restoration and renovation. Architects McCarty Holsaple McCarty and Denark Construction, both Knoxville companies, are well into designing and planning the restoration of the Tennessee Theatre. This $20 Million project will begin in summer of 2003, at which time the facility will go dark for about 18 months.
The Tennessee Theatre is one of the few great movie palaces from the Roaring Twenties still in operation. Opening its doors on October 1, 1928, the Tennessee made kings and queens of all who entered its lavish interior. After all, the idea of the movie palace was to create a fantasy land, a place where people could go to forget the outside world and its troubles - at least while they were inside the castle on Gay Street.
Today, the Tennessee Theatre is used for much more than movies and simple stage shows. It is owned by the Historic Tennessee Theatre Foundation, Inc., and managed by AC Entertainment. Local arts organizations such as the Knoxville Symphony Orchestra, the Knoxville Opera Company, the Appalachian Ballet, and City Ballet use the Theatre for concerts and performances throughout the year.
Tennessee Senate Bill No. 883
PUBLIC ACTS, 1999 367
CHAPTER NO. 166
SENATE BILL NO. 883

By Atchley
Substituted for: House Bill No. 1096
By Buttry, Hagood, Bittle, Boyer, Tindell, Armstrong, Dunn

AN ACT To designate the Tennessee Theatre in Knoxville as "The State Theatre of ennessee".

WHEREAS, The Tennessee Theatre in Knoxville recently celebrated its 70th anniversary; and

WHEREAS, Today, the Tennessee Theatre holds the distinction of being the only theatre in Tennessee to be named in honor of our great state; and

WHEREAS, Several years ago, the Historic Tennessee Theatre Foundation was formed to preserve this historic edifice through non-profit ownership and operation; and

WHEREAS, With the aid of an architectural firm specializing in theatre restorations, plans have been developed for the phased renovation and facility modernization of the 1928 structure; and

WHEREAS, These modifications will add to the versatility of the stage in accommodating opera and stage productions; the Tennessee Theatre's capacity will be restored to its original 1,800 seats, and all occupants will enjoy the new climate control system; and

WHEREAS, As the restoration plans have progressed, it has become abundantly clear that a great number of Tennessee memories reside within the walls of this historic building, as well as in the minds of those fortunate people who once watched the Saturday movies and serials at the Tennessee Theatre; and

WHEREAS, With the capacity to serve a full theatrical spectrum, the Tennessee Theatre will become a unique entity representing the past and projecting the future of the region; and

WHEREAS, The Board of Directors of the Historic Tennessee Theatre Foundation, in concurrence with the organizations represented thereon, has unanimously requested this General Assembly to recognize the Tennessee Theatre in Knoxville as the official state theatre of Tennessee; and

WHEREAS, This General Assembly most heartily concurs in this excellent proposal; now, therefore,

BE IT ENACTED BY THE GENERAL ASSEMBLY OF THE STATE OF TENNESSEE:

SECTION 1. Notwithstanding any provision of law to the contrary, the Tennessee Theatre is hereby designated as "The State Theatre of Tennessee". 368 PUBLIC ACTS, 1999 [Chapter No. 166

SECTION 2. This act shall take effect upon becoming a law, the public welfare requiring it.

PASSED: May 3, 1999
APPROVED this 17th day of May 1999

Tennessee Law
The law designating the Tennessee Theatre as the official Tennessee state theatre is found in the Tennessee Code Annotated, title 4, chapter 1, part 3, section 4 -1-324
Title 4 State Government
Chapter 1 General Provisions
Part 4 Miscellaneous

4-1-324. State theatre of Tennessee.

Notwithstanding any provision of law to the contrary, the Tennessee Theatre is hereby designated as "The State Theatre of Tennessee."

[Acts 1999, ch. 166, § 1.]
---