Find the Right School
Online Colleges
Campus Colleges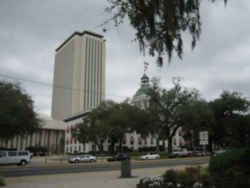 US Famous People
Florida Symbols
Air Fair
,
Animal
,
Anthem
,
Band
,
Beverage
,
Bird
,
Butterfly
,
Citrus Archive
,
Day
,
Festival
,
Fiddle Contest
,
Freshwater Fish
,
Flag
,
Flower
,
Fossil
,
Fruit
,
Gem
,
Sports Hall of Fame
,
Horse
,
Litter Control Symbol
,
Marine Mammal
,
Motto
,
Moving Image Center and Archive
,
Nicknames
,
Opera Program
,
Pageant
,
Pie
,
Play
,
Quarter
,
Railroad Museums
,
Renaissance Festival
,
Reptile
,
Rodeo
,
Salt Water Fish
,
Salt Water Mammal
,
Salt Water Reptile
,
Seal
,
Shell
,
Soil
,
Song
,
Song (Retired,)
Sports Hall of Fame
,
Stone
,
Tortoise
,
Transportation Museum
,
Tree
,
Welcome Song
,
Wild Flower
National & State Symbols

Florida Famous People
Famous Americans: History and Biographies
Links to histories and biographies of the famous people of Florida. Many famous people of Florida have made significant contributions to the history of our nation and the state of Florida. These famous Americans, famous entertainers, famous players, famous scientist, famous singers, famous statesmen, famous women, heroes, great explorers, and others Florida famous Americans have all made Florida their home. This list includes Florida historical figures, celebrities and those individuals of Florida who have influenced the lives of others.
More Famous Floridians:
Julian Cannonball Adderley jazz saxophonist, Tampa
Pat Boone singer, Jacksonville
Howie Dorough singer, Orlando
Fay Dunaway actress, Bascom
Stepin Fetchit comedian, Key West
Zora Neale Hurston Although author Zora Neale Hurston was actually born in Alabama, she considered Florida her home. She attended Howard University and had her first manuscript published there. Later, she moved to New York and became part of the Harlem Renaissance of the 1920s along with other African American writers like Langston Hughes. Her most powerful work is usually considered to be "Their Eyes are Watching God."
James Weldon Johnson author, educator, Jacksonville
Frances Langford singer, Lakeland
A. J. McLean singer, West Palm Beach
Butterfly McQueen actress, Tampa
Joseph W. Stilwell army general, Palatka
Don Sutton baseball player, Pensacola
Norman E. Thargard astronaut
Ben Vereen Born in Miami, Ben Vereen won a Tony award for his performance as the "Leading Player" in Bob Fosse's Pippin. Despite a near fatal car accident in 1992, Vereen has continued to sing and dance on Broadway, most recently in Jelly's Last Jam, and has also appeared on television and in film.
US Famous People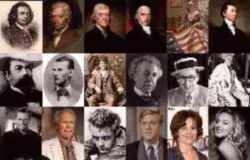 Links to histories and biographies of
famous people from each of the 50 states
. Learn history through the biographies of the famous people from your state. These famous Americans have influenced the lives of others and all have made the US their home. People listed are almost always native to the state. We do (on occasion) include those that have either lived within a state for most of their adult life, or have made a significant contribution to the state in their personal endeavors.