IT Technical Certification Programs
The CompTIA A+ certification is the starting point for a career in IT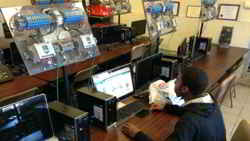 With our growing dependence on computers comes a high demand for specialists to provide advice to users, as well as day-to-day administration, maintenance, and support of computer systems and networks.
Technical certification programs such as A+, Cisco Certified Network Associate (CCNA) and Microsoft Certified System Engineer (MCSE) allow working technical professionals to remain current in their chosen fields of employment.
A+ is a solid certification that employers consider the standard for entry-level computer technicians. Having an A+ certification proves that you have a broad base of knowledge and competency in core hardware and operating system technologies including installation, configuration, diagnosing, preventive maintenance and basic networking.
CCNA certification prepares students for constantly changing face of network administration. CCNA certification is the first of many paths to success in the field of network administration and students who achieve CCNA certification can learn to create global intranets, improve network performance and security, and apply a wide range of application-oriented solutions.
A Microsoft Certified Systems Engineer (MCSE) program is a certification for information technology professionals who work in complex computing environments in medium or large organizations implementing and administering a Microsoft network operating system. A MCSE credential shows employers that you have the training needed to design and implement infrastructure solutions based on the Windows platform and Microsoft SQL Server software.
---
Computer Support Services Schools
Compare More Colleges and Universities

Find more schools to match to your needs.