Kentucky Famous People
Famous Americans: History and Biographies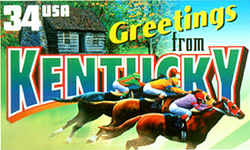 Links to histories and biographies of the famous people of Kentucky. Many famous people of Kentucky have made significant contributions to the history of our nation and the state of Kentucky. These famous Americans, famous entertainers, famous players, famous scientist, famous singers, famous statesmen, famous women, heroes, great explorers, and others Kentucky famous Americans have all made Kentucky their home. This list includes Kentucky historical figures, celebrities and those individuals of Kentucky who have influenced the lives of others.
Muhammad Ali (born Cassius Marcellus Clay, Jr.; January 17, 1942) is an American former professional boxer, generally considered among the greatest heavyweights in the sport's history. A controversial and polarizing figure during his early career, Ali is today widely regarded for not only the skills he displayed in the ring but also the values he exemplified outside of it: religious freedom, racial justice and the triumph of principle over expedience. He is one of the most recognized sports figures of the past 100 years, crowned "Sportsman of the Century" by Sports Illustrated and "Sports Personality of the Century" by the BBC. Born Cassius Clay in Louisville, Kentucky, and at the age of 22 he won the world heavyweight championship in 1964 from Sonny Liston in a stunning upset. Shortly after that bout, Ali joined the Nation of Islam and changed his name. He subsequently converted to Sunni Islam in 1975. Nicknamed "The Greatest", Ali was involved in several historic boxing matches. Notable among these were the first Liston fight, three with rival Joe Frazier, and one with George Foreman, where he regained titles he had been stripped of seven years earlier.
Alben W. Barkley (1877 - 1956) Vice president; born in Graves County.
Daniel Boone (1734) While not a native Kentuckian, Daniel Boone achieved much of his fame as an American Pioneer and explorer in Kentucky. In his travels through Kentucky, Boone had many run-ins with the Indian tribes that claimed the rich hunting ground. The most harrowing occurred in 1778 when a salt-making party that Boone was leading was ambushed at Blue Licks. Boone surrendered his men in order to spare their lives and delay an attack on the fort. Boone spent more than five months with the Shawnee and was adopted by Chief Blackfish and given the name Sheltowee, or Big Turtle. Boone escaped in June and returned to Boonesborough in time to warn them of an impending raid. Following a ten-day siege, the Indians finally withdrew and the hostilities lessened. During the Revolutionary War, Boone served as a captain in the local militia, and after the War, continued his exploration west. He died in St. Charles, Missouri in 1820.
James Bowie (1796 - 1836) Known for his famous "Bowie knife" and a sometimes reckless adventurer, Jim Bowie is now immortalized as one of the true folk heroes in early Texas; born near Spring Creek.
Kit Carson (1809 - 1868), Scout and Indian agent; born in Madison County.
George Clooney (1961 - ) Actor made famous in the television show ER; born in Lexington.
Jefferson Davis (1808 - 1889) President of the Confederate States of America; born in Todd County.
Johnny Depp (1963 - ) - Famous actor; born in Owensoboro.
Irene Dunne (December 20, 1898 - September 4, 1990) was an American film actress and singer of the 1930s, 1940s and early 1950s. Dunne was nominated five times for the Academy Award for Best Actress, for her performances in Cimarron (1931), Theodora Goes Wild (1936), The Awful Truth (1937), Love Affair (1939) and I Remember Mama (1948). She was named to the International Best Dressed List Hall of Fame in 1958. Born Irene Marie Dunn in Louisville, Kentucky, to Joseph Dunn, a steamboat inspector for the United States government, and Adelaide Henry, a concert pianist/music teacher from Newport, Kentucky, Irene Dunn would later write, "No triumph of either my stage or screen career has ever rivalled the excitement of trips down the Mississippi on the river boats with my father."
Duncan Hines (1880 - 1959) Founder of Duncan Hines company; born in Bowling Green.
Abraham Lincoln (1809 - 1865) The 16th President of the United States; born in Hardin County.
Loretta Lynn (1935 - ) Country music singer; born in Butcher Holler.
Bill Monroe (1911 - 1996) Songwriter, considered the "father of bluegrass"; born in Jerusalem Ridge.
Carry Amelia Nation Six feet tall and weighing 180 pounds, Carry Amelia Moore Nation, (Carrie Nation, as she is better known), was intimidating. Carrying a hatchet and using it to destroy bars and saloons, she was downright frightful. Nation, who described herself as "a bulldog running along at the feet of Jesus, barking at what he doesn't like," felt God had called her to promote temperance. Between 1900 and 1910 she was arrested some 30 times after leading her followers in the destruction of one saloon after another with cries of "Smash, ladies, smash!"
Harold "Pee Wee" Reese (1918 - 1999) Baseball shortstop with Brooklyn Dodgers; born in Ekron.
Colonel Harland Sanders (1890 - 1980) Harland Sanders, better known as "Colonel Sanders", the creator of Kentucky Fried Chicken, was 40 before he began to develop his recipe for chicken. He began cooking for hungry travelers who stopped at his service station in Corbin, Kentucky. He served his customers at his own dining table in the living quarters of his service station.

As word spread of Sanders' good food, business expanded rapidly and by 1937, his café could seat nearly 150 customers. Over the next nine years, he perfected his "secret blend of 11 herbs and spices" and experimented with faster ways to cook chicken.
Diane Sawyer (1945 - ) The first female reporter on 60 Minutes; born in Glasgow.
Jim Varney (1949 - 2000) - Actor/Comedian. Best known for his portrayal of Ernest P. Worrell; born in Lexington.
Robert Penn Warren (1905 - 1989) Author known for works such as All the King's Men and Band of Angels; born in Guthrie.
---
More Famous People of Kentucky
Find more more Kentucky famous people below. You may not even realize many of these famous people were born in Kentucky or notable associated with Kentucky, including actors, actresses, explorers, historical figures, inventors, musicians, novelists, professional athletes, important politicians, singers, sport stars and more.
Louis D. Brandeis jurist, Louisville
John Mason Brown critic, Louisville
Champ Clark politician, Anderson Cty
Rosemary Clooney singer, Maysville
Irvin S. Cobb humorist, Paducah
Crystal Gayle singer, Paintsville
David W. Griffith film producer, Oldham Cty
Casey Jones locomotive engineer, Cayce
Brian Littrell singer, Lexington
Patricia Neal actress, Packard
Kevin Richardson singer, Lexington
Wiley B. Rutledge jurist, Cloverport
Allen Tate poet and critic, Winchester
Hunter Thompson writer, Louisville
Frederick M. Vinson jurist, Lousia