Kentucky State Steam Locomotive
Steam locomotive #152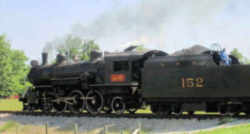 Adopted on March 6, 2000.
No. 152 had first gone on line in 1905 - and at $13,400 was the biggest and best passenger engine the L&N Railroad had to offer. It then loomed large, awe-inspiring and loud; powerful driving wheels almost 6 feet tall; each rail-polished set weighing 11 tons. When hooked to a tender it carried 10,000 gallons of water and 19 tons of hand-shoveled coal - a pre-EPA-regulations 14 miles to the ton. It is also the "Official State Locomotive of Kentucky", designated as such on March 6, 2000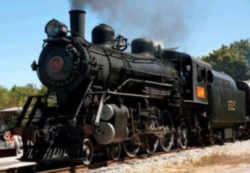 It pulled special cars hauling presidents Theodore Roosevelt, Herbert Hoover and Harry Truman. It belched steam, fire, black smoke and memories, and the sound of its whistle would carry for miles.

Louisville and Nashville 4-6-2 #152 is one of the oldest (1905) operating Pacific type steam locomotives in the United States, and is currently run at the Kentucky Railway Museum in New Haven, Kentucky. However back in the late 1980s 152 was a mainline excursion engine in Kentucky.
L&N #152 is a 4-6-2 Pacific type locomotive built in 1905 by Rogers Locomotive Works. #152 is the official steam locomotive of the Commonwealth of Kentucky as designated by an act of the Kentucky Legislature. It is also listed on the national registry of Historic Places by the US Department of the Interior. It operates on selected weekends throughout the summer and fall.
No: 152
Class: K-2A
Type: 4-6-2
F.M. Whyte
Gauge: 4'-8½"
Railroad Line: L&N
Location: Kentucky Railway Museum, New Haven, KY
Status: Operational
Kentucky Law
The law designating the Steam locomotive #152, a 4-6-2 Light Pacific as the official Kentucky state steam locomotive is found in the Kentucky Revised Statutes, Title 1, Chapter 2, Section 2.280.
TITLE I - SOVEREIGNTY AND JURISDICTION OF THE COMMONWEALTH.
CHAPTER 2 - CITIZENSHIP, EMBLEMS, HOLIDAYS, AND TIME.

2.280 Official steam locomotive of Kentucky.
Steam locomotive #152, a 4-6-2 Light Pacific, formerly of the Louisville and Nashville Railroad and restored to operation by the volunteer members of the Kentucky Railway Museum, is named and designated as the official steam locomotive of the Commonwealth of Kentucky.
Effective: July 14, 2000

History: Created 2000 Ky. Acts ch. 59, sec. 1, effective July 14, 2000.
---