Kentucky 50 State Quarter
50 State Quarter of Kentucky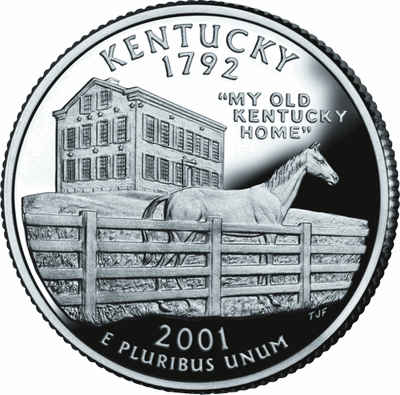 Designed by T. James Ferrell
Released October 15, 2001
Kentucky is a southeastern state bounded by the Ohio River in the north and the Appalachian Mountains in the east. Kentucky became the first state to be carved from the great western wilderness on June 1, 1792. Never a territory, it was part of Virginia until statehood. Kentucky is one of four US states constituted as a commonwealth.
Mintage: 723,564,000
The Kentucky quarter, the fifth and last quarter in the 2001 series. The 50 State Quarter of Kentucky was released on October 15, 2001 and featuring a thoroughbred racehorse and Federal Hill the stately home which was the inspiration for Stephen Foster's famous ballad and now the state song "My Old Kentucky Home."The racehorse signifies Kentuckian's pride in the state's hosting of the Kentucky Derby and its heritage in thoroughbred horses. Inscription: My Old Kentucky Home.
The Kentucky quarter, the fifth and last quarter in the 2001 series, shows the stately mansion, Federal Hill, with an inscription that reads, "My Old Kentucky Home." A thoroughbred racehorse is positioned behind a fence in the foreground of the quarter.
Kentucky was the first state on the western frontier to join the Union and is one of four states to call itself a "commonwealth." Kentucky is home of the longest running annual horse race in the country, the Kentucky Derby. The famous Kentucky Bluegrass country is also grazing ground for some of the world's finest racehorses. Also featured on the new quarter is another prominent symbol of Kentucky, Federal Hill, which has become known as "My Old Kentucky Home." The design shows a side view of the famous Bardstown home where Stephen Foster wrote the state song, "My Old Kentucky Home."
Kentucky's First Lady Judi Patton led the Kentucky Quarter Project Committee. The Committee received 1,800 design suggestions statewide and narrowed the submissions down to 12 finalists. The final designs were displayed in the front lobby of the Capitol and over the Internet from June 15-17, 1999. Over 50,000 residents of Kentucky cast votes for their favorite concepts that included "My Old Kentucky Home", a horse and a jockey, Abraham Lincoln's birthplace, and Daniel Boone. Governor Paul E. Patton selected the final design that features "My Old Kentucky Home."
Source: United States Mint's 50 State Quarters Program
---
50 State Quarters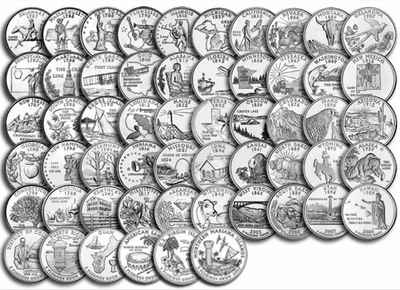 The 50 State Quarters program (Pub.L. 105-124, 111 Stat. 2534, enacted December 1, 1997) was the release of a series of circulating commemorative coins by the United States Mint. From 1999 through 2008, it featured each of the 50 U.S. states on unique designs for the reverse of the quarter.