Kentucky State Science Center
Louisville Science Center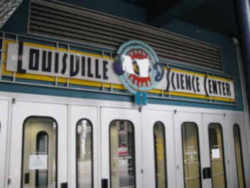 Adopted on July 15, 2002
The Louisville Science Center encourages people of all ages to enjoy science, mathematics, and technology in a stimulating and engaging environment that is educational as well as entertaining. The Kentucky Science Center encourages people of all ages to do science in engaging, educational, and entertaining ways to inspire a lifetime of learning.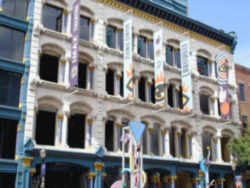 The Louisville Science Center, founded in 1871 as a natural history collection, has experienced more than a century of growth to become Kentucky's largest hands-on science center, serving more than 550,000 people annually. The Science Center is a 501(c)(3) non-profit agency that strives to improve the public's understanding of science, math and technology through interactive exhibits, IMAX® films, educational programs and technology networks. The 150,000-square-foot facility is located on historic West Main Street and receives generous support annually from the Louisville/Jefferson County Metro Government.

To affirm its role as the region's leading resource for hands-on science education, the Louisville Science Center plans a complete transformation by September 2005 with the opening of the exhibit THE WORLD AROUND US, which will focus on the natural sciences and environmental issues.

This will be the third and final phase of The Worlds of Wonder transformation, which began in June of 1997 with the opening of THE WORLD WE CREATE. This 12,500-square-foot permanent exhibit challenges visitors of all ages to make use of their creativity and problem-solving skills in over 40 interactive activity stations involving the fields in the fields of chemistry, physics, engineering, telecommunications and manufacturing.

The Science Center came another step closer to its goal in March of 2001 with the opening of THE WORLD WITHIN US, a new life and health sciences exhibit which focuses on anatomy, physiology, nutrition, health awareness and lifestyle choices.
Location:
Louisville Science Center
727 West Main Street
Louisville, KY 40202
Fax: (502) 561-6145
Kentucky Law
The law designating the 'Louisville Science Center' as the official Kentucky state science center is found in the Kentucky Revised Statutes, Title 1, Chapter 2, Section 2.098.
TITLE I - SOVEREIGNTY AND JURISDICTION OF THE COMMONWEALTH.
CHAPTER 2 - CITIZENSHIP, EMBLEMS, HOLIDAYS, AND TIME.

2.098 State Science Center.
The Louisville Science Center shall be designated as the
State Science Center of Kentucky.
Effective: July 15, 2002
History: Created 2002 Ky. Acts ch. 334, sec. 1, effective July 15, 2002.
---