Kentucky State Silverware Pattern
Old Kentucky Blue Grass - The Georgetown Pattern

Adopted on July 15, 1996
State lawmakers adopted an official silverware pattern called Old Kentucky Blue Grass, the Georgetown Pattern, in 1996.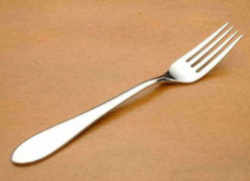 Kentucky Law
The law designating the Old Kentucky Blue Grass - The Georgetown Pattern as the official Kentucky state silverware pattern is found in the Kentucky Revised Statutes, Title 1, Chapter 2, Section 2.300.
TITLE I - SOVEREIGNTY AND JURISDICTION OF THE COMMONWEALTH.
CHAPTER 2 - CITIZENSHIP, EMBLEMS, HOLIDAYS, AND TIME.

2.300 State silverware pattern.
Old Kentucky Blue Grass-The Georgetown Pattern is named and designated as the official state silverware pattern.
Effective: July 15, 1996
History: Created 1996 Ky. Acts ch. 278, sec. 1, effective July 15, 1996.
---