Kentucky State Original Soft Drink
Ale-8-One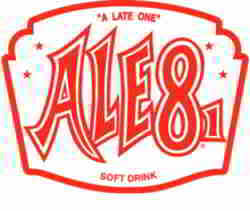 Adopted in 2013
Governor Steve Beshear signed House Bill No. 205 on March 23, 2013 naming Ale-8-One an original Kentucky soft drink.
Ale-8-One, known colloquially as Ale-8, is a regional ginger and citrus flavored soft drink, distributed primarily to brick and mortar retailers in Kentucky. It is bottled by the Ale-8-One Bottling Company, a family-owned enterprise in the small town of Winchester, Kentucky, near Lexington, where the beverage is especially popular.

Ale-8 could be described as a ginger ale with a "kick". It is a ginger and citrus blend, containing less carbonation, and fewer calories than conventional soda.
History of Ale-8-One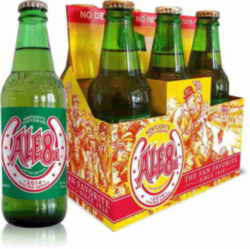 The formula for Ale-8-One was developed by soda bottler G. L. Wainscott in the 1920s. According to text on the back of some Ale-8 bottles, "Wainscott was an eccentric old man; however, there was nothing odd about his creation." Wainscott, who had been in the soda business in Winchester, Kentucky since 1902, had developed Roxa-Kola, his previous flagship product, in 1906. In creating the formula for Ale-8-One, Wainscott drew upon his knowledge of ginger-based recipes acquired during extensive travels in northern Europe.

Wainscott began bottling his new creation in 1926. To choose a name for the drink, he sponsored one of the first name-the-product contests in the United States; "A Late One" was chosen as the winning entry. The "Ale-8-One" logo is a pun of the phrase suggesting that his product was "the latest thing" in soft drinks.

In 1935, Wainscott purchased a livery stable in Winchester and converted it to a bottling factory to expand his operation. Upon Wainscott's death in 1944, half of his company stock went to his wife; the other half was divided among his employees. When his wife died in 1954, her stock was left to her brother, Frank A. Rogers, Sr. Rogers bought the remaining company stock in 1962 and incorporated the Ale-8-One Bottling Company. He named his son, Frank Rogers, Jr. manager of the new company. The company grew rapidly, and the younger Rogers was elevated to president.

The Ale-8-One Bottling Company constructed a new plant in Winchester in 1965. It ceased production of Roxa-Kola in 1968, and by 1974, had halted production of all its other drinks to focus on Ale-8-One when Frank A. Rogers III joined the management team. The facility has been expanded several times, including the addition of a warehouse in 1976, a syrup room in 1981, and a two-story office complex in 1989.The company remains under the control of the Rogers family. The current president is Wainscott's great, great-nephew, Fielding A. Rogers.
Kentucky House Bill No.205
UNOFFICIAL COPY AS OF 03/23/13
13 REG. SESS. 3 RS HB 205/GA

Title

AN ACT designating Ale-8-One as an original Kentucky soft drink.

Be it enacted by the General Assembly of the Commonwealth of Kentucky:

SECTION 1. A NEW SECTION OF KRS CHAPTER 2 IS CREATED TO READ AS FOLLOWS:

Ale-8-One is named and designated as an original Kentucky soft drink.
Kentucky Law
The law designating Ale-8-One as the official Kentucky state soft drink is found in the Kentucky Revised Statutes, Title 1, Chapter 2, Section 2.086.
TITLE I - SOVEREIGNTY AND JURISDICTION OF THE COMMONWEALTH.
CHAPTER 2 - CITIZENSHIP, EMBLEMS, HOLIDAYS, AND TIME.

2.086 Original Kentucky soft drink.
Ale-8-One is named and designated as an original Kentucky soft drink.

Effective: June 25, 2013
History: Created 2013 Ky. Acts ch. 85, sec. 1, effective June 25, 2013.
---