Virginia State Freshwater Fish
Brook Trout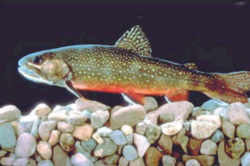 (Salvelinus fontinalis)
Adopted on March 17, 1993.
The Brook Trout, (Salvelinus fontinalis,) was designated as the official fish of the Commonwealth in 1993. In 2011 Virginia changed designation of the Brook trout (Salvelinus fontinalis) from State Fish (1993) to State Freshwater Fish. Salvelinus fontinalis or Speckled Trout, Aurora Trout, Brookie, Square-Tail, Speckled Char, Sea Trout, Common Brook Trout, Mud Trout, Breac. The brook trout is of the salmon family. It survives only in clear, cold water and populates the mountain rivers and streams of Virginia.
The Brook Trout takes first place for the most popular state fish with these states claiming it for their Official State Fish; Maine, Michigan, New Hampshire, New Jersey, New York, Pennsylvania, Vermont, Virginia, and West Virginia. Taken as a whole, trout dominate the Official State Fish category with 18 states calling some type of trout their Official State Fish.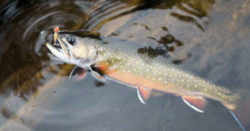 The brook trout (Salvelinus fontinalis), sometimes called the eastern brook trout, is a species of fish in the salmon family of order Salmoniformes. It is native to Eastern North America in the United States and Canada. In many parts of its range, it is known as the speckled trout or squaretail.
Characteristics of the Brook Trout
The average length is 10-12 inches but Brook Trout can be caught measuring up to 21 inches and weighing 4-6 pounds. The largest Brook trout on record was 14.5 pounds and caught in 1916 in the Nipigon River in Ontario. Breeding males develop a hook at the front of the lower jaw. Typical coloring is olive-green to dark brown on the back with silvery sides and pale spotting. All colors intensify at spawning time.
Common Names:
Eastern Brook Trout, Brookie, Speckled Trout, Native Trout, Squaretail
Description:
Brook trout have a dark olive body with a brownish to greenish back and light worm-like markings. The sides are pale with several small blue-bordered red spots. The lower fins have dark and light edges.
Typical Adult:
Length: Up to 18 inches (sometimes up to 34 inches)
Weight: Up to 3 pounds (may reach 14 pounds)
Life span: Up to 15 years
Distribution:
The brook trout is native to northern North America and is widely distributed throughout the maritime provinces. It occurs in clear, cool, well-oxygenated streams and lakes.
Habitat:
Brook trout live in clear and cold streams, lakes, and ponds, often with access to sea, but are mostly found in the headwaters of spring-fed streams. The preferred water temperature is 53-56 °F.
Feeding Behavior:
Brook trout feed on a wide variety of aquatic insects and other invertebrates. Often they will feed on other fish and vertebrates such as salamanders, tadpoles, small snakes, and mammals that get too close or fall into the water.
Reproductive Behavior (Spawning):
When: Brook trout spawn in the fall between mid-October to early December.
Preferred Water Temperature: 40-49 °F
How: The female digs the redd where she lays 100-5000 eggs depending on her size. They hatch 50-100 days later. The life expectancy is an average of five years. The brook trout is carnivorous and feed upon a wide range of organisms. They have been known to eat their own eggs at spawning time and even their own young.
Code of Virginia, Title 1, Chapter 5, Section 1-510. Virginia symbols were re-organized under one section of the Code of Virginia in 2005.
CHAPTER 671
An Act to amend and reenact § 1-510 of the Code of Virginia, relating to official emblems and designations; state saltwater fish designated.
[S 940]

Approved March 26, 2011

Be it enacted by the General Assembly of Virginia:

1. That § 1-510 of the Code of Virginia is amended and reenacted as follows:

§ 1-510. Official emblems and designations.

The following are hereby designated official emblems and designations of the Commonwealth:

Artisan Center - "Virginia Artisans Center," located in the City of Waynesboro.

Bat - Virginia Big-eared bat (Corynorhinos townsendii virginianus).

Beverage - Milk.

Blue Ridge Folklore State Center - Blue Ridge Institute located in the village of Ferrum.

Boat - "Chesapeake Bay Deadrise."

Cabin Capital of Virginia - Page County.

Coal Miners' Memorial - The Richlands Coal Miners' Memorial located in Tazewell County.

Covered Bridge Capital of the Commonwealth - Patrick County.

Covered Bridge Festival - Virginia Covered Bridge Festival held in Patrick County.

Dog - American Foxhound.

Emergency medical services museum - "To The Rescue," located in the City of Roanoke.

Fish (Freshwater) - Brook Trout.

Fish (Saltwater) - Striped Bass.

Fleet - Replicas of the three ships, Susan Constant, Godspeed, and Discovery, which comprised the Commonwealth's founding fleet that brought the first permanent English settlers to Jamestown in 1607, and which are exhibited at the Jamestown Settlement in Williamsburg.

Flower - American Dogwood (Cornus florida).

Folk dance - Square dancing, the American folk dance that traces its ancestry to the English Country Dance and the French Ballroom Dance, and is called, cued, or prompted to the dancers, and includes squares, rounds, clogging, contra, line, the Virginia Reel, and heritage dances.

Fossil - Chesapecten jeffersonius.

Gold mining interpretive center - Monroe Park, located in the County of Fauquier.

Insect - Tiger Swallowtail Butterfly (Papilio glaucus Linne).

Motor sports museum - "Wood Brothers Racing Museum and Virginia Motor Sports Hall of Fame," located in Patrick County.

Outdoor drama - "The Trail of the Lonesome Pine Outdoor Drama," adapted for the stage by Clara Lou Kelly and performed in the Town of Big Stone Gap.

Outdoor drama, historical - "The Long Way Home" based on the life of Mary Draper Ingles, adapted for the stage by Earl Hobson Smith, and performed in the City of Radford.

Shell - Oyster shell (Crassostrea virginica).

Song emeritus - "Carry Me Back to Old Virginia," by James A. Bland, as set out in the House Joint Resolution 10, adopted by the General Assembly of Virginia at the Session of 1940.

Sports hall of fame - "Virginia Sports Hall of Fame," located in the City of Portsmouth.

War memorial museum - "Virginia War Museum," (formerly known as the War Memorial Museum of Virginia), located in the City of Newport News.
Taxonomic Hierarchy: Brook Trout
Kingdom: Animalia - animals
Phylum: Chordata - chordates
Subphylum: Vertebrata
Superclass: Osteichthyes - bony fishes
Class: Actinopterygii - ray-finned and spiny rayed fishes
Order: Salmoniformes - salmon and trout
Family: Salmonidae - salmon and trout
Genus: Salvelinus --
Species: Salvelinus fontinalis
---