Georgia Famous People
Famous Americans: History and Biographies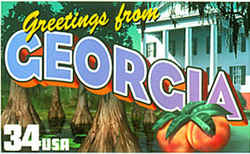 Links to histories and biographies of the famous people of Georgia. Many famous people of Georgia have made significant contributions to the history of our nation and the state of Georgia. These famous Americans, famous entertainers, famous players, famous scientist, famous singers, famous statesmen, famous women, heroes, great explorers, and others Georgia famous Americans have all made Georgia their home. This list includes Georgia historical figures, celebrities and those individuals of Georgia who have influenced the lives of others.
---
More Famous Georgians:
Find more more Georgia famous people below. You may not even realize many of these famous people were born in Georgia or notable associated with Georgia, including actors, actresses, explorers, historical figures, inventors, musicians, novelists, professional athletes, important politicians, singers, sport stars and more.
Conrad Aiken poet, Savannah
James Bowie soldier, Burke County
Jim Brown actor, athlete, St. Simons Island
Erskine Caldwell writer, Moreland
James E. Carter US president, Plains
Ray Charles singer, Albany
Lucius D. Clay banker, general, Marietta
Charles Coburn movie and TV actor, Macon
Ossie Davis actor, writer, Cogdell
James Dickey poet, Atlanta
Mattiwilda Dobbs soprano, Atlanta
Melvyn Douglas actor, Macon
Pete Drake musician/record producer, Augusta
Rebecca Latimer Felton first appointed woman US senator, Decatur
Lawrence Fishburne III actor, Augusta
Henry W. Grady journalist, Athens
Amy Grant singer, Augusta
Oliver Hardy comedian, Harlem
Roland Hayes singer, Curyville
Fletcher Henderson musician/songwriter, Cuthbert
Hulk Hogan professional wrestler, Augusta
John Henry Doc Holliday western hero, Griffin
Larry Holmes boxer, Cuthert
Miriam Hopkins actress, Bainbridge
Harry James trumpeter, Albany
Jasper Johns painter, sculptor, Augusta
Bobby Jones golfer, Atlanta
Stacy Keach actor, Savannah
DeForest Kelley actor, Atlanta
Joseph R. Lamar jurist, Elbert
Brenda Lee singer, Lithonia
Carson McCullers author, Columbus
Blind Willie McTell blues pioneer, Thomson
Johnny Mercer songwriter, Savannah
John Robert Johnny Mize baseball player, Demorest
Jessye Norman singer, Augusta
Otis Redding singer, Dawson
Jerry Reed singer/songwriter/actor, Atlanta
Burt Reynolds actor, Waycross
Tommy Roe singer/songwriter, Alpharetta
Billy Joe Royal singer, Valdosta
Dean Rusk secretary of state, Cherokee Cty
Nipsey Russell comedian, Atlanta
Ray Stevens singer/songwriter, Clarksdale
Janelle Taylor romance novelist, Athens
Clarence Thomas supreme court associate justice, Savannah
Joanne Woodward actress, Thomasville