Georgia State First Mural City
City of Colquitt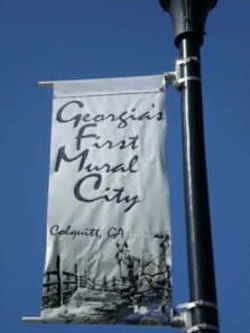 Adopted in 2006
The state legislature designated Colquitt "Georgia's First Mural City" in 2006.
Swamp Gravy, Colquitt's folk life play, is performed in Cotton Hall, a theater and museum that at one time was a cotton warehouse. The museum features antique furniture, farm implements and military memorabilia. Mural paintings depicting eleven Swamp Gravy stories decorate the walls of the local high school and several downtown buildings.

The presence of the murals moved Georgia legislators to designate Colquitt as Georgia's First Mural City. Scotland's Global Mural Arts and Cultural Tourism Association designated Colquitt as host of the 2010 Global Mural Conference.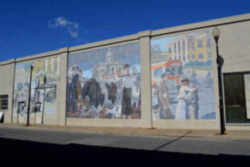 Deep in the heart of Southwest Georgia, near the junction of Georgia, Florida and Alabama, is Colquitt Georgia, a rural town that is an example of successful economic revitalization through cultural tourism.
Colquitt, incorporated December 19, 1860, is the county seat for Miller County. The city remembers U.S. Senator Walter Colquitt.
Residents often think of Colquitt as the "Mayhaw Capital of the World". A mayhaw is a small, red berry often used for jams and jellies.
Colquitt is the site of a 23-foot Red Oak tree that sculptor Peter Toth carved into the head of an Indian brave. Also in memory of Native American Indian culture is the Native American and Early Pioneer Museum that houses more than 100,000 artifacts.
Georgia Law
The law designating the City of Colquitt as the official Georgia State First Mural City is found in the Georgia Code, Title 50, Chapter 3, Section 50-3-84.
TITLE 50 - STATE GOVERNMENT
CHAPTER 3 - STATE FLAG, SEAL, AND OTHER SYMBOLS
ARTICLE 3 - OTHER STATE SYMBOLS
§ 50-3-84 - Official designation of First Mural City
O.C.G.A. 50-3-84 (2010)
50-3-84. Official designation of First Mural City

(a) The City of Colquitt is designated as Georgia's First Mural City.

(b) The Department of Economic Development and other public agencies and leaders in the tourism industry are encouraged to work together to maximize advertising programs which permit citizens of other states and nations to learn of Georgia's First Mural City and to visit the State of Georgia for tourism purposes.
---