Georgia State Historical Drama
"The Reach of Song"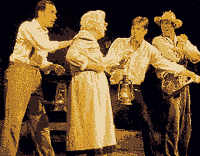 Adopted in 1990
Bluegrass, gospel, folk tales and inspiring poetry echo through an amphitheater set high in the mountains. Staged for two months each summer, "The Reach of Song" is a performance that celebrates the heritage of Appalachia. This nationally acclaimed show presents the pleasures and the sorrows of mountain life in an auditorium on the Georgia Mountain Fairgrounds near Hiawassee. The General Assembly declared it the State Historic Drama in 1990.
In a career cut short by illness and suicide, Byron Herbert Reece produced an enduring body of poetry and fiction from the sounds andspirits of his North Georgia homeland. His five volumes of verse draw deeply from the lyrical wellsprings of Nature and the Bible, twinlegacies of an upbringing in the agricultural uplands of Union County, around Blairsville. His two novels, in turn, are remarkable regional portraits - one a mountain family drama of overland journey to Old Testament rhythms, the other a morality play of a small-town lynching.
In recent years Byron Herbert Reece's enduring contribution to Georgia's life has been immortalized in the name of the state's land and literature. A trail in Vogel State Park near the site of Reece's home is named in his honor, and a play inspired by his writing, The Reach of Song, was named the state's official drama in 1990.
Georgia Law
The law designating "The Reach of Song" as the official Georgia state historic drama is found in the Georgia Code, Title 50, Chapter 3, Section 50-3-64.
TITLE 50 - STATE GOVERNMENT
CHAPTER 3 - STATE FLAG, SEAL, AND OTHER SYMBOLS
ARTICLE 3 - OTHER STATE SYMBOLS
§ 50-3-64 - Official historic drama
O.C.G.A. 50-3-64 (2010)
50-3-64. Official historic drama

(a) The drama, The Reach of Song, is designated as the official historic drama of the State of Georgia.

(b) The Department of Economic Development and other public agencies and leaders in the tourism industry are encouraged to work together to maximize advertising programs which permit citizens of other states and nations to learn of the historic drama and to visit the State of Georgia for tourism purposes.
---