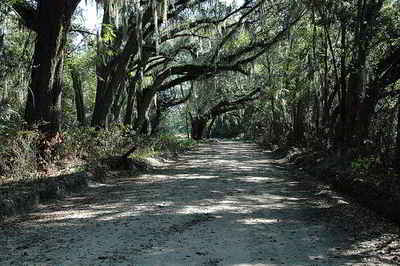 Georgia Counties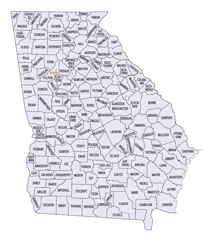 Click Image to Enlarge
Georgia Counties
Georgia is divided into one hundred and fifty-nine counties. The original eight counties of the State of Georgia were Burke, Camden, Chatham, Effingham, Glynn, Liberty, Richmond and Wilkes all created on February 5, 1777. The last new county to be established in Georgia was Peach County, established in 1924.
Georgia Counties: History and Information
Find a brief history of Georgia Counties
There are 159 Counties in Georgia. Under the Georgia State Constitution, all of its counties are granted home rule to deal with problems that are purely local in nature. Georgia has the second largest number of counties of any state in the United States, following Texas, which has 254 counties. Also, seven consolidated city-counties have been established in Georgia: Athens - Clarke County, Augusta - Richmond County, Columbus - Muscogee County, Georgetown - Quitman County, Statenville - Echols County, Macon- Bibb County, and Cusseta - Chattahoochee County.
Georgia is 300 miles long and 230 miles wide. Georgia's land area of 57,906 square miles makes it the largest state east of the Mississippi River (24th overall). The total area of the state's three largest counties-Ware, Burke, and Clinch (2,565 square miles)-is greater than the area of the entire state of Delaware (1,954 square miles).
Over 60% of the state's land area is forested. The forests tend to modulate the flow of water, filter it, and decrease erosion and sedimentation.
All of Georgia's rivers are formed either within the state or along its boundaries; no river flows into Georgia from another state. The Altamaha, Savannah, and Chattahoochee have the highest average flow rates. Among other major rivers are the Flint, Oconee, Ocmulgee, Coosa, Ogeechee, and Satilla. Recently, there has been a growing concern regarding Georgia's water resources due to drought conditions and population growth.
County
2000
Population
Square
Miles
County Seat
Created
Appling County
17,419
509
Baxley
Athens-Clarke County
101,489
121
Athens
1801
Atkinson County
7,609
338
Pearson
1919
Augusta-Richmond County
199,775
324
Augusta
1777
Bacon County
10,103
285
Alma
1914
Baker County
4,074
343
Newton
1825
Baldwin County
44,700
258
Milledgeville
1803
Banks County
14,422
234
Homer
1858
Barrow County
46,144
162
Winder
1914
Bartow County
76,019
460
Cartersville
1832
Ben Hill County
17,484
252
Fitzgerald
1906
Berrien County
16,235
452
Nashville
1856
Bibb County
153,887
250
Macon
1822
Bleckley County
11,666
217
Cochran
1912
Brantley County
14,629
444
Nahunta
1920
Brooks County
16,450
494
Quitman
1858
Bryan County
23,417
442
Pembroke
1793
Bulloch County
55,983
683
Statesboro
1796
Burke County
22,243
831
Waynesboro
1777
Butts County
19,522
187
Jackson
1825
Calhoun County
6,320
280
Morgan
1854
Camden County
43,664
630
Woodbine
1777
Candler County
9,577
247
Metter
1914
Carroll County
87,268
499
Carrollton
1826
Catoosa County
53,282
162
Ringgold
1853
Charlton County
10,282
781
Folkston
1854
Chatham County
232,048
440
Savannah
1777
Chattooga County
25,470
314
Summerville
1838
Cherokee County
141,903
424
Canton
1832
Clay County
3,357
195
Fort Gaines
1854
Clayton County
236,517
143
Jonesboro
1858
Clinch County
6,878
809
Homerville
1850
Cobb County
607,751
340
Marietta
1832
Coffee County
37,413
599
Douglas
1854
Colquitt County
42,053
552
Moultrie
1856
Columbia County
89,288
290
Appling
1790
Columbus-Muscogee County
186,291
216
Columbus
1826
Cook County
15,771
229
Adel
1918
Coweta County
89,215
443
Newnan
1826
Crawford County
12,495
325
Knoxville
1822
Crisp County
21,996
274
Cordele
1905
Cusetta-Chattahoochee County
14,882
249
Cusseta
1854
Dade County
15,154
174
Trenton
1837
Dawson County
15,999
211
Dawsonville
1857
Decatur County
28,240
597
Bainbridge
1823
DeKalb County
665,865
268
Decatur
1822
Dodge County
19,171
501
Eastman
1870
Dooly County
11,525
393
Vienna
1821
Dougherty County
96,065
330
Albany
1853
Douglas County
92,174
199
Douglasville
1870
Early County
12,354
511
Blakely
Echols County
3,754
404
Statenville
1858
Effingham County
37,535
480
Springfield
1777
Elbert County
20,511
369
Elberton
1790
Emanuel County
21,837
686
Swainsboro
1812
Evans County
10,495
185
Claxton
1914
Fannin County
19,798
386
Blue Ridge
1854
Fayette County
91,263
197
Fayetteville
1821
Floyd County
90,565
513
Rome
1832
Forsyth County
98,407
226
Cumming
1832
Franklin County
20,285
263
Carnesville
1784
Fulton County
816,006
529
Atlanta
1853
Gilmer County
23,456
427
Ellijay
1832
Glascock County
2,556
144
Gibson
1857
Glynn County
67,568
422
Brunswick
1777
Gordon County
44,104
355
Calhoun
1850
Grady County
23,659
458
Cairo
1906
Greene County
14,406
388
Greensboro
1786
Gwinnett County
588,448
433
Lawrenceville
Habersham County
35,902
278
Clarkesville
Hall County
139,277
394
Gainesville
Hancock County
10,076
473
Sparta
1793
Haralson County
25,690
282
Buchanan
1856
Harris County
23,695
464
Hamilton
1827
Hart County
22,997
232
Hartwell
1853
Heard County
11,012
296
Franklin
1830
Henry County
119,341
323
McDonough
1821
Houston County
110,765
377
Perry
1821
Irwin County
9,931
357
Ocilla
Jackson County
41,589
342
Jefferson
1796
Jasper County
11,426
370
Monticello
1807
Jeff Davis County
12,684
333
Hazlehurst
1905
Jefferson County
17,266
528
Louisville
1796
Jenkins County
8,575
350
Millen
1905
Johnson County
8,560
304
Wrightsville
1858
Jones County
23,639
394
Gray
1807
Lamar County
15,912
185
Barnesville
1920
Lanier County
7,241
187
Lakeland
1920
Laurens County
44,874
813
Dublin
1807
Lee County
24,757
356
Leesburg
1826
Liberty County
61,610
519
Hinesville
1777
Lincoln County
8,348
211
Lincolnton
1796
Long County
10,304
401
Ludowici
1920
Lowndes County
92,115
504
Valdosta
1825
Lumpkin County
21,016
284
Dahlonega
1832
Macon County
14,074
403
Oglethorpe
1837
Madison County
25,730
284
Danielsville
1811
Marion County
7,144
367
Buena Vista
1827
McDuffie County
21,231
260
Thomson
1870
McIntosh County
10,847
434
Darien
1793
Meriwether County
22,534
503
Greenville
1827
Miller County
6,383
283
Colquitt
1856
Mitchell County
23,932
512
Camilla
1857
Monroe County
21,757
396
Forsyth
1821
Montgomery County
8,270
245
Mount Vernon
1793
Morgan County
15,457
350
Madison
1807
Murray County
36,506
344
Chatsworth
1832
Newton County
62,001
276
Covington
1821
Oconee County
26,225
186
Watkinsville
1875
Oglethorpe County
12,635
441
Lexington
1793
Paulding County
81,678
314
Dallas
1832
Peach County
23,668
151
Fort Valley
1824
Pickens County
22,983
232
Jasper
1853
Pierce County
15,636
343
Blackshear
1857
Pike County
13,688
218
Zebulon
1822
Polk County
38,127
311
Cedartown
1851
Pulaski County
9,588
247
Hawkinsville
1808
Putnam County
18,812
344
Eatonton
1807
Quitman County
2,598
152
Georgetown
1858
Rabun County
15,050
371
Clayton
1819
Randolph County
7,791
429
Cuthbert
1828
Rockdale County
70,111
131
Conyers
1870
Schley County
3,766
168
Ellaville
1857
Screven County
15,374
648
Sylvania
1793
Seminole County
9,369
238
Donalsonville
1920
Spalding County
58,417
198
Griffin
1851
Stephens County
25,435
179
Toccoa
1905
Stewart County
5,252
459
Lumpkin
1830
Sumter County
33,200
485
Americus
1831
Talbot County
6,498
393
Talbotton
1827
Taliaferro County
2,077
195
Crawfordville
1825
Tattnall County
22,305
484
Reidsville
1801
Taylor County
8,815
378
Butler
1852
Telfair County
11,794
441
McRae
1807
Terrell County
10,970
336
Dawson
1856
Thomas County
42,737
548
Thomasville
1825
Tift County
38,407
265
Tifton
1905
Toombs County
26,067
367
Lyons
1905
Towns County
9,319
166
Hiawassee
1856
Treutlen County
6,854
201
Soperton
1917
Troup County
58,779
414
Lagrange
1826
Turner County
9,504
286
Ashburn
1905
Twiggs County
10,590
360
Jeffersonville
1809
Union County
17,289
323
Blairsville
1832
Upson County
27,597
326
Thomaston
1824
Walker County
61,053
446
Lafayette
1833
Walton County
60,687
329
Monroe
1803
Ware County
35,483
903
Waycross
1824
Warren County
6,336
286
Warrenton
1793
Washington County
21,176
680
Sandersville
1784
Wayne County
26,565
645
Jesup
1803
Webster County
2,390
210
Preston
1853
Wheeler County
6,179
298
Alamo
1912
White County
19,944
242
Cleveland
1857
Whitfield County
83,525
290
Dalton
1851
Wilcox County
8,577
380
Abbeville
1857
Wilkes County
10,687
471
Washington
1777
Wilkinson County
10,220
447
Irwinton
1803
Worth County
21,967
570
Sylvester
1853
---