Georgia State Folk Festival
Georgia Folk Festival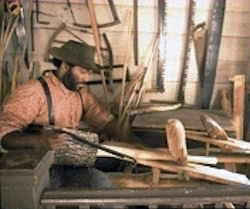 Adopted in 1992
Thousands of delighted Georgians and tourists watch seamstresses spin yarn, blacksmiths hammer horseshoes, basket makers weave strips of white oak, and musicians play fiddles and banjos at the Georgia Folk Festival. First organized by the Georgia 4-H Foundation and the University of Georgia's Cooperative Extension Service, the annual Georgia Folk Festival introduces today's television generation to the handmade goods and joys of yesteryear.
Georgia Law
The law designating the Georgia Folk Festival as the official Georgia state folk festival is found in the Georgia Code, Title 50, Chapter 3, Section 50-3-67.
TITLE 50. STATE GOVERNMENT
CHAPTER 3. STATE FLAG, SEAL, AND OTHER SYMBOLS
ARTICLE 3. OTHER STATE SYMBOLS

O.C.G.A. § 50-3-67 (2014)

§ 50-3-67. Official state folk festival

The Georgia Folk Festival is designated as the official Georgia state folk festival.

HISTORY: Code 1981, § 50-3-67, enacted by Ga. L. 1992, p. 2363, § 1.

---