Georgia State 'Possum
Pogo 'Possum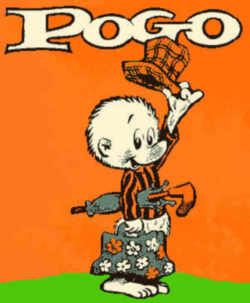 Adopted on April 20, 1992
Pogo the rather self-effacing 'possum was the star of a long-running (1948-1975) comic strip by the late cartoonist Walt Kelly and his most famous phrase is "We have met the enemy and he is us," a rallying cry for a generation of conservationists.
The resolution to name an official state 'possum was authored by state Representative Harry Dixon and amended to House Bill No. 1548. Rep. Dixon represented the 151st District that included a large portion of the Okefonokee Swamp and Waycross, often mentioned in the comic strip and home to the annual Pogofest. According to the 'Waycross Journal-Herald,' the idea was initiated by organizers of Pogofest "for whatever promotional purposes there might be."
Walk Kelly, born in 1913, started working as a Disney animator (Pinocchio, Dumbo, Fantasia) when he was 22 years old. He left Disney during the infamous labor dispute at the studio in 1941, and began drawing comic books. A year later, after he visited Okefenokee Swamp in 1942, he created the character of Pogo, a friendly cartoon swamp creature comments wryly on politics and philosophy ( wise/naïve) possum who lives in the Okefenokee swamp with a menagerie of colorful swamp critters, including Albert Alligator, Churchy LaFemme (turtle), Porky Pine, Cousin Downwind (skunk), Rackety Coon Chile, and many other characters who who were, at turns, manipulative, generous, foolish, obstinate, and forgiving. Pogo 'Possum appeared in comic books in the early 1940's and became the star of a nationally syndicated newspaper comic strip in 1949. Declaring "We have met the enemy and he is us," Pogo poked fun at the vanity and shortcomings of people everywhere. Presenting his characters as animals gave Kelly the ability to explore human nature without the distraction that cartoon humans would have bought along with them. His illustration style was warm, highly expressive, and detailed without looking crowded. It's hard to think of another newspaper cartoonist who equalled his talents.
The General Assembly voted Pogo the State 'Possum in 1992.
Georgia Law
The law designating Pogo 'Possum, created by Walt Kelly as the official Georgia state 'Possum is found in the Georgia Code, Title 50, Chapter 3, Section 50-3-68.
TITLE 50. STATE GOVERNMENT
CHAPTER 3. STATE FLAG, SEAL, AND OTHER SYMBOLS
ARTICLE 3. OTHER STATE SYMBOLS
50-3-68

§ 50-3-68. Official 'Possum

Pogo 'Possum, created by Walt Kelly, is adopted as the official Georgia State 'Possum.

HISTORY: Code 1981, § 50-3-68, enacted by Ga. L. 1992, p. 2391, § 9
---